How to Wash Cloth Nappies

Disclosure: This article may contain affiliate links, this means at no cost to you, we may earn a small commission if you purchase a product through them.
How to Wash Reusable Nappies!
Want to keep your reusable nappies in tip-top condition? Leading reusable nappy brand TotsBots offers a handy step-by-step guide to get the best out of your reusable nappies.
The idea of washing reusable nappies can often trick us into imagining a long and complicated process, but 21st-century reusables are nothing like the terry towel days of the '50s.
Washing reusable nappies is just like your everyday laundry routine! Simply, pop the nappies in the wash, hang them to dry, and store them away. With there being so many benefits of using cloth nappies vs disposable nappies, it is definitely worth adding the extra steps involved with washing them!
How often should I wash my baby's cloth nappies?
To keep nappies looking sparkling and new, TotsBots recommends washing them every second day, and you can even wash your reusable nappies in with your regular laundry. Many parents wash them with towels and bedding so they're putting on a full load. The few extra loads seem easy once you realise all the good that reusables do for the planet. By using reusable nappies instead of disposable ones, your environmental impact is reduced by 40% – and that's even with the water use from laundering taken into consideration.
Preparing your baby's reusable nappy for use.
TotsBots also recommends washing reusable nappies a few times prior to use to increase their absorbency. To get them to full absorbency, you'll need to wash them ten times. If you can't wait, you can use them after a couple of washes. And always use reusable fleece or disposable nappy liners to catch the waste (which then gets tipped down the loo) and protects your washable nappies. Plus, fleece liners are great for keeping baby's bottom dry.
How do I prepare my baby's cloth nappy for the washing machine?
To prepare your reusable TotsBots nappy for the wash, simply remove the reusable liner from the soiled nappy and flush any waste down the loo. Pop the nappy and reusable liner in a waterproof storage bag or lidded nappy bucket. Remember to line your nappy bucket with a laundry mesh, such as TotsBots two pack with one area for the wash and one for the bucket. Using a laundry mesh makes getting all the dirty soiled nappies into the washing machine a doddle and it saves you from having to touch them.
If using a two-part nappy, you can re-use the waterproof wrap 3-5 times before washing. On wash day, lift the mesh containing the liners and nappies out of the bucket and chuck the whole lot into the washing machine. If you use reusable wipes, you can also store them in the bucket ready for wash day.
What temperature should I wash the cloth nappy?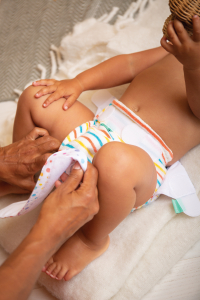 You should wash dirty nappies at up to 60 degrees with non-biological powder, which is better for baby's skin and there's an enzyme present in some bio detergents which corrodes bamboo fibre and cotton. Most washing machines will automatically run a cold rinse cycle before the main wash, but if yours does not, we recommend that you perform a quick rinse cycle or wash cycle first, as this will help to remove any poo or stains left in the nappy.
TotsBots own Potion wash gets nappies sparkling at 30 degrees. Please don't use fabric softener when washing nappies as this reduces their absorbency. TotsBots nappies can be tumble dried on cool, but it's better for the environment to air dry them. TotsBots recommends line drying outside whenever possible; not only will sunlight bleach stains out of your nappies but the UV radiation will kill bacteria too.
Now you're armed with all the know-how you'll need, you're ready to wash your reusable nappies!
We hope this post has made the idea of washing reusable nappies less overwhelming. It really is simple once you've tried it, we promise! If you still have questions, feel free to check out TotsBots do's and don'ts for reusable nappies or get in touch at [email protected] where help is on hand to go over any troubleshooting with you. www.totsbots.com
Fiona Smyth is the Cofounder of TotsBots brand who have built the business literally from the kitchen table up! They developed their original reusable nappy prototype 20 years ago, shortly after the birth of their second child Maia.
https://www.mybump2baby.com/wp-content/uploads/2021/10/tots-bots.png
630
1200
Fiona Smyth
https://www.mybump2baby.com/wp-content/uploads/2016/10/Logo-MyBump2Baby_transparent-bg-1-1.png
Fiona Smyth
2021-10-11 11:41:53
2021-10-14 11:29:36
How to Wash Cloth Nappies