In the swim – the benefits of swimming early with your baby
Disclosure: This article may contain affiliate links, this means at no cost to you, we may earn a small commission if you purchase a product through them.
Your baby was totally immersed in fluid in the womb for nine months so it seems natural that they have an affinity with water.  Whether it is in the bath, at the pool or playing in a paddling pool, water holds a fascination for young children and it is one place where they can be free to enjoy their full range and scope of movement without being tied down by gravity.
Why take your baby to baby swim classes?
From the moment you immerse your baby in water, they develop!  The resistance of the water will help muscle development; practising balancing activities with the support of the water around your baby will strengthen their core which is so important for balance and a lovely straight back!  All of this is a good foundation for good posture and physical strength as they grow.
A baby's brain is like a blank canvas and every tiny experience they have will build links between the left and right side of the brain.  As you can begin swimming from such a young age, your baby will develop these links and through repetition of activities, these links are re-enforced and strengthened.  This can be anything from reaching forward to holding on; skills which are fundamental within a child's development.  The watery world is an amazing space for a child to explore; splash, blow bubbles and kick – all activities which bring delight to a child.
Swimming with your Baby
Whether you are holding your child or they are moving independently, in water they have freedom to move; your role is to support them.  Swimming with your baby is as much of a new experience for you as your baby.  I totally understand that it can be an anxious experience for you – how will my baby react, will they enjoy this, how do I cope with dressing and undressing, will my baby cry?  The important thing to think about is that your baby does not know any different – this is completely new for them so how you approach all new experiences, including swimming, with your baby will have an effect on your baby; so, ask questions, voice any concerns, talk to your baby at all times, relax and enjoy the whole experience and learn together; there is so much to learn.
Being your child's support in water means supporting them rather than holding them tightly.  Give them a little freedom to explore as they will want to make decisions themselves and try things out too.  Let them hold onto you rather than you holding onto them when they are old enough to do so; they will choose to let go when they are confident enough to do so.  Swim with your child and take part in activities with them; your child will watch and mirror what you are doing and if you show them that it is okay, they are more than likely to have a go and do it with you too.  Be in for a surprise when you see what they are capable of at a very young age.
What if my Baby Cries?
All babies cry; crying is communicating and might just be a hungry cry, I'm tired or I would like your attention so please interact with me!  Babies may cry in the pool or in the bath but they also cry on dry land too.  So, if your baby cries, it may have nothing to do with the pool at all.  Be prepared to try new experiences more than once; quite often you may feel more relaxed because you know what you are doing and your baby will pick up on this and relax too.  But do remember a swimming pool is a new environment; noises are different and may be amplified or echo, there may be drafts on the water surface so keep yourself and your baby warm by staying low in the water, floors may be slippery there may be light reflecting on the water – all new experiences for you both!
The Benefits of Swimming With your Baby
There are so many good experiences for you both in a pool. Water is supportive so you can float and relax with your baby.   Babies will kick in water because they can feel it and this will strengthen their leg muscles ready for crawling and walking.  You can practise rotational skills with your little one which helps with rolling and standing up and allowing them to taste the water leads to bubble blowing and thus, control of their breath.  This is a place where you can spend time together uninterrupted by technology, where the nearly skin to skin contact promotes and enhances bonding.  For toddlers it is a place of imagination where they can look for treasure or be mermaids or sharks.  They can feel what it is like to push from the side or pull themselves through the water or how effective a strong leg kick is for propelling themselves through the water.  Children don't just imagine, they live the character, fish or rocket they have chosen to be so join them and relive those childhood memories.
We all like to be praised at times and children of all ages are no different.  We are continually learning and for babies, this happens at a tremendous pace including physical growth, the development of the brain, learning to roll, sit up, crawl, walk and talk, to separate from you as they become more independent and become their own small person – the list is endless!  These may appear as tiny steps or great leaps so praise your little one and be specific about what you are praising them for. By doing this they will continue to grow, develop and keep trying. If they fail, be honest, but praise them for having a go and trying again.  Failing is not a negative at all and can help them learn how to deal with situations and new skills by taking some control and trying again.
So, there is so much more to taking your baby swimming.  On the one hand baby swimming is the starting point for the all the strokes they will learn if they want to swim and on the other, it provides you and your baby the chance to explore the new, yet familiar medium of water.  Swimming is a life skill and will open up the world of other water activities as your child grows.  It also promotes confidence and independence which will transfer into other aspects of their lives – so take the plunge and join us at Water Babies.
Contact Us
Tamsin Brewis
01295709221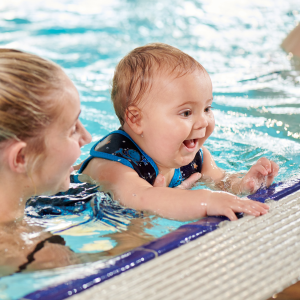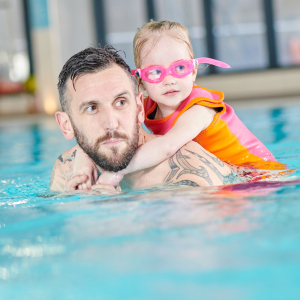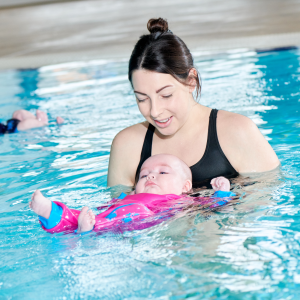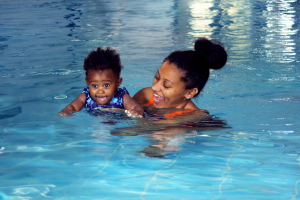 Tamsin Brewis, owner of Water Babies Bucks and Beds has been involved in the baby and pre-school sector for over 20 years and has always had a fascination for child development and the progress of the pre-school child.  Tamsin has run her Water Babies franchise for 17 years and prior to that, gained swimming experience as a mainstream teacher.
https://www.mybump2baby.com/wp-content/uploads/2021/06/In-the-swim-–-the-benefits-of-swimming-early-with-your-baby.png
630
1200
TamsinBrewis
https://www.mybump2baby.com/wp-content/uploads/2016/10/Logo-MyBump2Baby_transparent-bg-1-1.png
TamsinBrewis
2021-06-22 10:48:03
2022-02-17 14:00:11
In the swim – the benefits of swimming early with your baby