Is Laser Safe For New Mums?
Motherhood is a challenging task as you have to go to the edge of a lot of trials, pain, joy, and more just to see your baby happily and healthily stepping onto this world to bring forth joy in your life, and your entire family.
Being a mother is a blessing because every woman at a certain stage desires to be and to enjoy the experience that comes along with being a mother. But during and after pregnancy, their unsightly hair is the big nuisance that every woman faces and is constantly annoyed about. Unwanted body hair is always seen as a burden and a hard to accept fact for most of the women. Especially when you are pregnant, your body is flooded with hormones such as higher levels of estrogens and androgens, which can cause hair to grow in places such as your belly, neck, face, breasts, and arms where it never appeared before, especially during the third trimester.
The good news is that such hair growth is common and the hair will fall off once you give birth to your little angel. Pregnancy hormones affect not only the growth of hair in some places but also changes the growth cycle of your hair. This will make the newly grown or the existing hair on your body look fuller and thicker than before. This is the reason and the time when most of the women desire for Laser hair removal treatment and other skin treatments to get rid of all the hair and skin issues. Laser treatment is a FDA-approved treatment successfully treating both men and women since the late 1990s. It is one of the famous cosmetic treatments known so far as it always proves to give satisfactory results. But since its invention, there are no studies or researches that have proven laser hair removal treatment to be unsafe for pregnant or new mums.
As a new mum, if you opt for laser treatment rather than the old hair removal methods such as plucking, shaving, and waxing, you will just have to book an appointment with the well-known, reputed and branded clinic such as Therapie Clinic, and wait for the treatment and its outcomes. As the clinic is equipped with FDA-approved technology and experienced doctors, dermatologists or cosmetologists, you can be confident that you are in safe hands. During pregnancy, you will also notice darkening of your skin and skin sensitivity because of increased blood flow and stretching of the skin. So, you need to identify and choose the right time to treat your sensitive skin with a laser. As there is no safety data available on treating pregnant or new mums with lasers, scientists and dermatologists advise women to wait until their delivery to wipe away all their unwanted body hair so that both the baby and the mother are safe.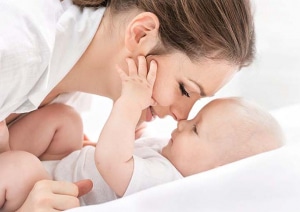 After delivery, even if you are breast-feeding, the laser is found to be safe as long as it is not done in the areola or breast tissue. But again, it is your choice to look for and choose the right time so that the treatment is comfortable and perfectly safe to enjoy your lovely days as a new mum.
Carla is the founder of MyBump2Baby. Carla has a huge passion for linking together small businesses and growing families. Carla's humorous, non-filtered honesty has won the hearts of thousands of parents throughout the UK.
She has previously written for the Metro and made appearances on BBC News, BBC 5 live, LBC etc. Carla is a finalist for Blogger of the Year award with Simply Ladies inc. Carla is also the host of the popular Fifty Shades of Motherhood podcast and The MyBump2Baby Expert podcast.
https://www.mybump2baby.com/wp-content/uploads/2017/10/mum-and-baby-small.jpg
484
684
Carla Lett
https://www.mybump2baby.com/wp-content/uploads/2016/10/Logo-MyBump2Baby_transparent-bg-1-1.png
Carla Lett
2020-07-02 08:34:04
2020-07-02 08:34:04
Is Laser Safe For New Mums?