Jungle Jims Blackpool Review
I hadn't been to Jungle Jims in Blackpool for over 20 years so when I was asked to carry out a review on the place I was really looking forward to it. The main reason why is so I could have a good play in the play area myself. I decided to bring my nephew Rocco (5 years old), My son George (11 months old) and my parents to babysit whilst I go and act like a child again.
As a child I remembered that Jungle Jim's was THE place to be, when family and friends would come and visit us from London we would head to Blackpool tower and visit Jungle Jims, our parents would sit down and chill out whilst we ran riot in the massive play area… they would hope that we tire each other out and be in bed early so they could enjoy their wine and play cards and I am pretty sure it worked.
It was Easter half term so I was aware that Jungle Jim's, Blackpool could be extremely busy, however I was advised that in busy times it now operates on an hourly session which means you can spend an hour in there and then the next group comes in. It is a good way to manage the amount of children in the play area at any one time and it also ensures that all parents have a table to sit at.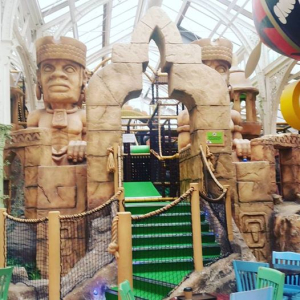 We arrived in Blackpool around 11:15am, we parked in the Houndshill shopping centre car park and walked to Jungle Jim's which took a few minutes. Our play slot was at 11:30am and when we first joined the queue it seemed quite long but once it reached 11:30am the gates were opened and the queue soon dwindled down. The room doesn't look too much different to how it was all those years ago and coming back as an adult made me appreciate the idea behind it all and the layout and presentation.
We sat at a table and got ourselves some drinks and sandwiches. I used my new annual pass which meant that I got 20% discount off the food and drinks which was great. Just as I sat down with my sandwich George did his usual "perfectly timed poop" so I headed to the baby changing room… Now I don't know about you but a simple bathroom trip can put me off my dinner… not so much with George but I hate dirty baby changing rooms. I was so impressed with Jungle Jim's baby changing facilities, not only was it completely safe but it was also very clean. I could have sat in there all day… well I wouldn't but I could have.
I located a high chair and we had our drinks and sandwiches. My nephew Rocco decided he was ready to head off in to the Jungle Jim's play area, off he ran through the Incan God statues and disappeared.
Jungle Jim's, Blackpool Soft Play area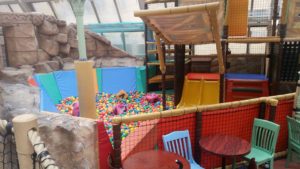 After George and I finished our lunch, Rocco came back and the three of us headed to the soft play area and ball pond. I saw it as a great opportunity to have some fun with the little guys so I got my shoes off and jumped in. After some fun in the ball pond we decided to climb in to the soft play area and play inside for a little while. We all slid down the slides and got back in to the ball pond for more fun. Rocco enjoyed throwing balls and George enjoyed eating them.
As you can see from the pictures I found the soft play area in Jungle Jim's very safe for babies. They have matts all around the side of the play area to ensure that babies are completely safe when they are in there. I felt completely at ease in the soft play area and George loved it. Every time I tried to pull him out of the soft play area he began screaming which was a big thumbs up for Jungle Jim's Blackpool but a little embarrassing for me having to carry a very angry child out under my arm through the room. Luckily it was quite noisy with screaming and laughing so George's screams weren't as bad as usual.
Jungle Jim's main play area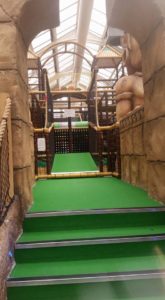 Now this is where the grandparents came in very handy. They looked after George whilst I made sure that Rocco was ok… being the caring auntie that I am of course and the only way that I can look after him properly is if I head in to the play area with him. So I did. We played for the remainder of the time in the brill play area, we climbed, rode the slides and chased each other for a good 30 minutes and then we headed back to my mum and dad for a drink… I felt about 5 again. The play area has a wonderful range of swinging, sliding and climbing facilities. It has a huge four lane Glide Slide.
When the sirens rang it was the end of our session, we were told we could queue again for another play session we were tempted but we were absolutely shattered.
Jungle Jim's Blackpool overall experience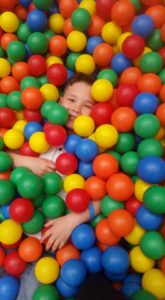 We all had a lovely time and I was really happy with the cleanliness of the baby changing facilities, the annual pass allowing 20% off at the café and of course the wonderful play area. It is a shame that in busy periods they only allow an hour at a time but they did explain that this was due to safety and you can also leave and queue again to come back in with the next group. If you want your kids to have fun, tire them out and have a brew in peace then Jungle Jim's Blackpool is the place to be. I will definitely be heading back there more often now I have my annual pass.
[rwp_box id="0″]
Jungle Jim's Blackpool Opens at 10am daily and has different closing hours depending on the time of year, to find out the closing times please click the following link.
A day pass to visit Jungle Jim's Blackpool are as follows;
Toddler (under 90cm) – £3.00
An annual pass to Jungle Jim's Blackpool is;
An annual pass allows a child and two adults unlimited access to Jungle Jim's for 12 months. In addition, season ticket holders also get 20% at the gift shop, 20% off food and drink as well as 50% off at other attractions including The Blackpool Tower Eye and The Blackpool Tower Circus. You can also read our review on Blackpool Sea Life Centre by clicking here.
To buy an annual pass, people should complete the form found on The Blackpool Tower website and return it to the main reception along with a passport size photo.
Carla is the founder of MyBump2Baby. Carla has a huge passion for linking together small businesses and growing families. Carla's humorous, non-filtered honesty has won the hearts of thousands of parents throughout the UK.
She has previously written for the Metro and made appearances on BBC News, BBC 5 live, LBC etc. Carla is a finalist for Blogger of the Year award with Simply Ladies inc. Carla is also the host of the popular Fifty Shades of Motherhood podcast and The MyBump2Baby Expert podcast.
https://www.mybump2baby.com/wp-content/uploads/2017/04/Jungle-Jims-pic-7.jpg
540
960
Carla Lett
https://www.mybump2baby.com/wp-content/uploads/2016/10/Logo-MyBump2Baby_transparent-bg-1-1.png
Carla Lett
2017-04-27 21:02:46
2018-09-24 12:26:23
Jungle Jims Blackpool Review