Korbell Nappy Bin Bundle Review
Disclosure: This article may contain affiliate links, which means at no cost to you, we may earn a small commission if you purchase a product through them.
Today we want to share our Korbell Nappy Bin Bundle Review with you.
Why should I have a bin in my babies nursery?
Having a bin in your babies nursery- given that it is clean, conceals odours and is childproof- makes nappy changes much more convenient!
With young babies needing as many as 10 – 12 nappy changes per day, having a bin right next to your baby's changing station will definitely save a lot of time and energy- especially for those middle-of-the-night nappy changes!
First Impressions of Korbell Nappy Bin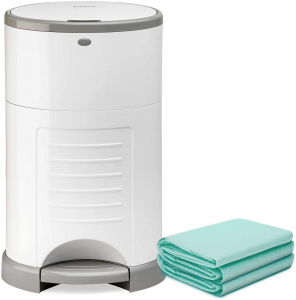 [content-egg-block template=custom/mb2b limit=1 offset=0]
[content-egg-block template=custom/mb2b modules=Ebay limit=1 offset=0]
The 16L Korbell bin has a modern and sleek design, and comes available in both neutral, cool and pastel colours, allowing it to easily match up with any home's colour scheme. The modern design combined with the hands-free practicality of the bin makes for a great addition to your child's nursery.
It is also a good size and will hold plenty of newborn nappies.
This particular bundle is great because it comes with 4 liners, which will last a long time!
Special features of the Korbell Bin Bundle
Long-Lasting
The 16-litre Korbell nappy bin is made of durable plastic and can hold up to 45 newborn nappies at any one time. The Korbell classic 16L bin comes with 4 bin liners as part of the bundle. One liner alone lasts for up to 495 nappy changes (or 10-11 weeks!).
That means this bundle will last you up to 44 weeks before you need to buy any more liners!
Odour Trap
The Korbell bin features a unique three-part approach to keep odours sealed within the bin- to keep your nursery smelling clean. The three-part mechanism consists of a sealed spring-loaded trap door (which automatically shuts immediately after nappies are passed through it) which acts as the first seal, a top lid that acts as a secondary seal and fragranced liners to cover up any bad smells.
Safety Lock
The double-seal system on the Korbell Nappy Bin ensures that your little one won't be able to open it.
Economical Liners
The unique waste-free refill system makes it easy to change the bin liner when full. Simply pull the full bag out, cut from the roll using the inbuilt cutting tool on the door of the bin, tie the remaining liner and it is ready to use again.
Easy to Use
The Korbell Classic nappy bin is very easy to use- simply use the bin's foot pedal to open and drop the soiled nappy through.
What sizes does the Korbell bin come in?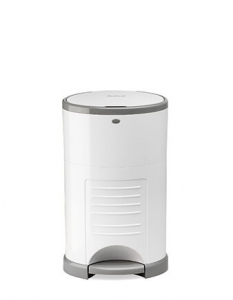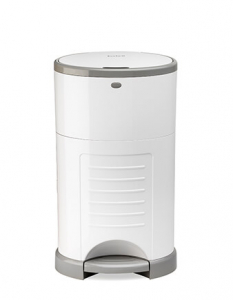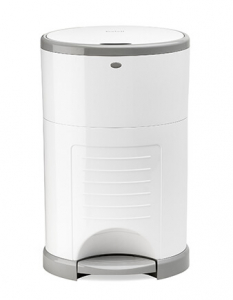 [content-egg-block template=custom/mb2b limit=1 offset=0]
[content-egg-block template=custom/mb2b modules=Ebay limit=1 offset=0]
Korbell nappy bins come in three sizes:
Mini: – The Korbell mini bin is perfect for small sizes, measuring just 9 litres in volume.
Standard: – The Korbell standard bin will fit most nurseries, and holds up to 45 nappies at a time- measuring 16 litres in volume.
Plus: – The Korbell Plus nappy bin measures 26 litres in capacity! This bin would be great for parents who:
Have multiple young children.
Are very busy and may have less time to empty the bin.
Have a child who produces a lot of dirty nappies!
What colours does the Korbell Nappy bin come in?
The Korbell standard nappy bin comes in four different colours:
Pastel blue
Soft pink
Pure white
Mint green
If you are looking to be more Eco-friendly you can read our nappy review on the fantastic Eco Friendly Mama Bamboo Review here.
Hi, I'm Louise- mum of one to a little boy called Mason.
I am the Digital Marketing and Admin Assistant for MyBump2Baby.
I enjoy working to provide excellent service to MyBump2Baby's growing families.
Nice to meet you!
You can email me at [email protected]
https://www.mybump2baby.com/wp-content/uploads/2021/10/korbell-nappy-bin-bundle-review.png
630
1200
Louise McCamily
https://www.mybump2baby.com/wp-content/uploads/2016/10/Logo-MyBump2Baby_transparent-bg-1-1.png
Louise McCamily
2021-10-15 11:47:19
2021-11-15 14:39:16
Korbell Nappy Bin Bundle Review