Maternity Photoshoot Ideas & Tips

Maternity photos (baby bump photos) are becoming increasingly popular amongst parents. The thought of not capturing your adorable baby bump before your baby's arrival is just not worth thinking about.
Before we get on to maternity photoshoot ideas we asked Chris Hall from Lighthouse Creations in Liverpool to answer some commonly asked questions on maternity photoshoots.
What is a Maternity Photo Shoot?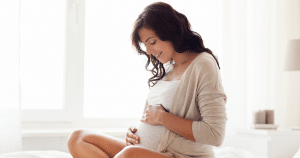 A maternity shoot is a photoshoot or series of photoshoots taken by a photographer highlighting the stages or main stage of pregnancy for a mum to be. Some soon to be mums opt for a selection of images to be taken at stages i.e. 3, 6 & 9 months. However; in our experience, most opt for just one shoot, usually at the later stages of pregnancy anywhere between 32 – 40 weeks.
Why Do Women Have Maternity Shoots?
Maternity shoots are a growing trend and we're seeing more and more women booking maternity shoots with us as time goes on. Society seems to celebrate the beauty and miracle that is pregnancy more these days, and so we should. Maternity photoshoots are a lasting memory of how your body transforms and creates new life, why would you not want these memories and lasting visual images of this amazing stage of your life?
What Week in Pregnancy Should I Have a Maternity Shoot Done?
Our normal guidance is between 32 – 40 weeks but everyone is different. Some show earlier than others, some prefer photos with a smaller bump as opposed to more fully developed bumps which you'd expect in the last couple of weeks before birth. Personally though and most of all, we want you to feel comfortable and enjoy your experience. We like to keep in regular contact with mums to be before their shoot to make sure we book your session for when you look and feel your best.
What should I wear to a Maternity Photoshoot?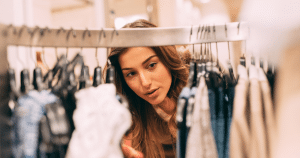 There is no right answer to this as everyone has different styles or potentially a theme but again, comfort is key. We advise everyone to bring what they think will work, what they feel comfortable in and we give our suggestions and ultimately come to an agreement of what will give you the best outcome. We have dresses, gowns, flowing fabrics in all sizes and colours which we encourage clients to have look through and feel free to use for any of our shoots.
How Long Does a Maternity Shoot Take?
In our experience we'd say anywhere between 2-3 hours. That includes time to get hair & makeup done before we take any photographs so shooting, costume changes, light altering, positioning etc. is generally 1-2 hours. Do you have any maternity photo ideas? We have loads of ideas, some a bit whacky, some themed around pop culture I.e. movies, tv shows etc but finding models willing to shoot them is another issue. We always like to push boundaries and think outside the box a little bit to make us stand out from other photographers. We love hearing some of the amazing ideas our customers have suggested to us in the past too and actively encourage anyone who has any unique ideas, however bizarre or different to get in touch and see ion we can create something together.
What is the Perfect Maternity Photoshoot Dress?
Everyone has their own personal styles and preferences and there is no right or wrong answer. Personally, we've always loved dresses which flow freely and have an element of transparency which highlights the body using creative lighting techniques. Are there different maternity photo poses? Yes, there are many different types of poses. Some suit certain outfit choices, were some are more suited to how the photographer has set up their lighting and backgrounds. At our studio we have a system which we communicate with our mums to be and show them a range of posing styles so they can see the outcome and see if the pose suits their shoot or not.
Do You Have Any Tips for Mums Wanting to do Maternity Shoot at Home?
As with all maternity photoshoots, you're more than likely only getting one chance at this before you have your baby so want to make sure the images are as best quality as possible. Professional photographers who own their own studio have more experience creating images in their own space and the likelihood is, the images from a studio will be of better quality. We encourage discussing the theme of your shoot before especially if you would like an outdoor shoot vs a studio shoot. We at Lighthouse Creations want to get the best for our clients and also make sure their comfort and safety is our number one priority. If you would prefer your shoot at home the main tips are to ensure you have enough space for the photographer and their lighting kit. Ideally invite your photographer to your home beforehand so they have an idea of where their working and what they can do in the space you're providing for them. As with all walks of life the better prepared, the better the outcome
A Bit More About Lighthouse Creations
Lighthouse Creations was started in late 2021 by husband & wife team Chris & Nicola Hall. Although the business is brand new, our lead photographer Chris has a degree in Photography & Digital Imaging and City & Guilds qualifications in Maternity, Newborn & Toddler photography. Nicola has a degree in Business and both have attended numerous courses in all aspects of studio photography as well as having years of general photographic experience.  
We specialise in all aspects of studio photography. Our studio has no natural light which allows us to completely control our lighting setups without natural interference and we have a vast range of equipment to achieve our desired outcome. This is where our name comes from; Photography literally means "Art of Light" and our studio is our "house" – hence the name Lighthouse Creations. 
We're both extremely laid back yet 100% professional at all times. We have a combined 40 years of customer service skills and know how to make all of our clients feel comfortable and at ease with us. Every person who has attended our studio has been extremely satisfied with their experience and most of all, the quality of their images. 
We welcome clients of all ages, genders, backgrounds, ethnicities and photographic experience; our aim is to offer the best service we can and make your session an enjoyable and memorable one. 
Check out our website: https://www.lighthousecreations.co.uk/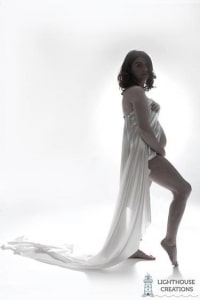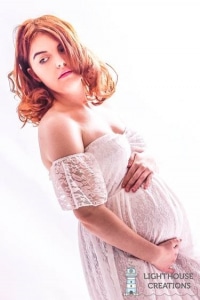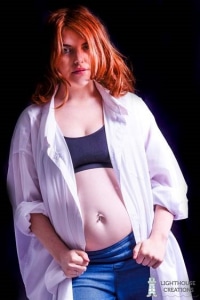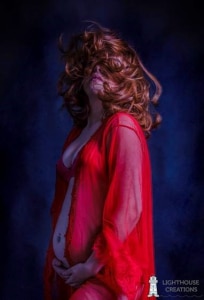 __________________________________________________________________________________________________
So What are our 9 Best Maternity Photoshoot Ideas?
Wear a Flowing Dress with a Long Trail in the Great Outdoors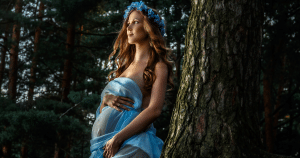 There is nothing more natural in this world than pregnancy. Capture the naturality and beauty in pregnancy with this maternity photoshoot idea- which is also one of the most popular outdoor maternity photoshoot ideas, with good reason. This type of maternity photo is so elegant, showcasing your amazing pregnant body for a stunning result.
Get Your Belly Painted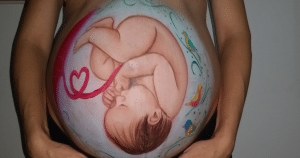 Let's face it, there is nothing cuter than a baby bump but a belly painted bump is definitely up there with ultimate cuteness for shoot ideas.
Take a Milk Bath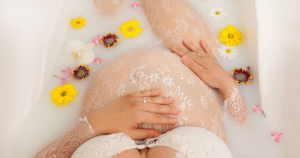 A Milk Bath Maternity photoshoot is exactly as it sounds- it is where a pregnant woman poses in a bathtub full of milk. The bathtub is usually also decorated with flowers and greenery to create beautiful and candid shots. This form of maternity photoshoot has become increasingly popular throughout the years- and it is no wonder since the results of this form of photography are absolutely stunning!
Silhouette Shot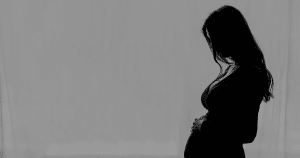 Silouhette pregnancy photos are powerful grey-scale images, which can beautifully capture your maternity bump. With colour being absent from the image, your beautiful baby bump and figure become the true stars of the photo.
Include the Siblings To Be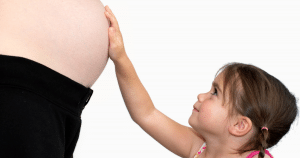 A great idea is to include the siblings of the growing baby in your photoshoot. A very popular sibling maternity photo is a close up of your older children hugging or kissing the baby bump.
Tiny Shoes on Your Belly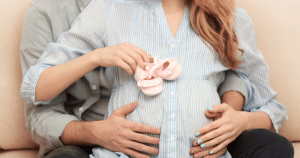 There's no doubt about it: babies are adorable! With their tiny little hands, feet, nose and.. well.. everything, it's impossible not to love them. Putting baby shoes on your belly for a maternity photoshoot helps you to envision your baby's tiny little feet and helps to make the photoshoot that little bit more special.
Get the Whole Family Involved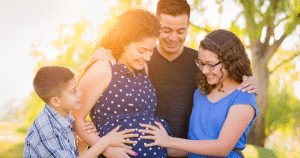 Welcoming a new baby into the world is definitely an occasion to celebrate. Why not capture your family's excitement for the arrival of the new baby in a family maternity photoshoot? Including the whole family will definitely produce a photo that your family will treasure forever.
Use a Flower Crown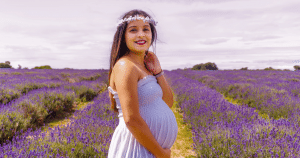 At your maternity photoshoot, you deserve to feel like a princess and what better way to do that than with a flower crown? Pair the flower crown with a white elegant dress to become a real-life princess.
Heart Hands Over belly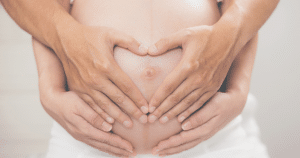 Capture your love for your growing baby in this beautiful maternity photoshoot idea. Have your heart hands placed on top of your partner's over your belly, or even create two halves of the heart with your partner over your belly, for a special maternity photo that you and your partner will cherish.
Here is What our MyBump2Baby Mums have to Say About a Maternity Photoshoot:
"I decided to get a maternity photoshoot with my final child, i never had one before and i also never experienced the pregnancy glow other mums talk about but i knew would regret not hiring a professional photographer for a photo session with my growing belly. Getting my maternity pictures are the best thing i have done, i loved being pregnancy, carrying my babies so although I won't be pregnant again, i can always go back to that moment when i was growing a baby inside my body, such a beautiful thing to capture – i highly recommend getting a pregnancy photo shoot" Laura from Essex
"I totally regret not getting a pregnancy photoshoot and i will deinately get one with my next. I have seen some stunning maternity photos. I really think it is something all expectant parents should invest in." Amy Liverpool
"I was pregnant with my first child in my third trimester and family members bought me a maternity photoshoot as my baby shower gift. At the time I wasn't thrilled as i had put on over 3 stone and i wasn't feeling very confident in the looks department, however my photographer tookt he most stunning images of me and i have the most unique maternity photo in my hallway, justa simple silhouette. Everyone comments on my professional photos and looking back now i have to say i looked beautful. I am so thankful my mum got me this photoshoot, i recommend it to all expectant mothers." Stacey Andover
Contact Lighthouse Creations
Website: https://www.lighthousecreations.co.uk/
Facebook: https://www.facebook.com/lighthousecreationslpl
Instagram: https://www.instagram.com/lighthousecreationslpl/?hl=en
Carla is the founder of MyBump2Baby. Carla has a huge passion for linking together small businesses and growing families. Carla's humorous, non-filtered honesty has won the hearts of thousands of parents throughout the UK.
She has previously written for the Metro and made appearances on BBC News, BBC 5 live, LBC etc. Carla is a finalist for Blogger of the Year award with Simply Ladies inc. Carla is also the host of the popular Fifty Shades of Motherhood podcast and The MyBump2Baby Expert podcast.
https://www.mybump2baby.com/wp-content/uploads/2022/04/Maternity-Photoshoot-Ideas-Tips.png
630
1200
Carla Lett
https://www.mybump2baby.com/wp-content/uploads/2016/10/Logo-MyBump2Baby_transparent-bg-1-1.png
Carla Lett
2022-04-29 12:39:13
2022-05-04 10:58:51
Maternity Photoshoot Ideas & Tips