I must admit that attending a first aid class was always one of those things on my list of things to do…. one of those things I would repeatedly tell myself "I will book on to this tomorrow" as I buttered my toast and watched in horror at another mother's agonising pain as she lost her child to something that could have potentially been prevented. To be completely honest with you…  it would quickly slip to the back of my mind as life and jobs took over… until the next horrible story would grasp my attention and I would begin promising myself that "I will book on a course soon" only to have the same outcome each time.
I suppose it is easy to sit back and think "this will never happen to me" but how do you know?
When I was invited on a course held by Mini First Aid Lancashire, of course I jumped at the opportunity and looking back I have no idea why the £20 they charge for their fantastic course was such a big decision for me, we order a pizza on a Friday night for double the price and I don't think twice about it. I can't understand why we put this off for so long?
A bit about Mini First Aid
Mini First Aid are a multi award winning company, established in 2014 by mum of six Kate Ball. Mini First Aid offers quality baby & child first aid classes to parents and carers as well as those who work with children in a professional capacity.  Mini First Aid classes give you the confidence to know what actions to take if faced with a medical emergency.
Mini First Aid Lancashire Review

There were plenty of time slots to choose from including evening which worked best for me as I am either working or with George. The course began around 6.30pm and it was a 2-hour course.
We received a handy Mini First Aid booklet – small enough to keep in our first aid box that we made notes on, we also received a card with emergency information which fit perfectly in to my card holder section of my purse.
What did the First Aid Class cover…

I was impressed at how much the first aid class covered in terms of baby and toddler first aid. We covered the following topics;
Emergency numbers
Handy things to know
Bee stings
Resuscitation
Choking
Meningitis
Sepsis
Head bumps
Burns
Convulsions
Breaks
First aid box plus much more…
The course was easy to follow, informative and it was clear that we all felt extremely comfortable asking the class leader (Andrea) plenty of questions without feeling silly. We requested to go through the processes again and again until we all felt confident enough.
There was plenty of roleplaying with mannequins and I must admit imagining George's body lying lifeless did upset me a little during the course but it only made me more determined to make sure I knew what to do to give him or any child I am caring for maximum chance of survival should this ever happen.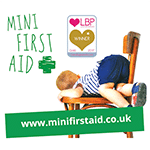 Overview of Mini First Aid Lancashire course
The Mini First Aid class was fantastic, laid back yet extremely informative. Our class ran slightly over because we all asked so many questions. Andrea welcomed all our questions and made sure we were all 100% confident in first aid when we left. We recommend the Mini First Aid course to anyone who cares for children.
As a parent, I only wish that first aid classes were compulsory because the world would be a much safer place for us and our little ones.
https://www.mybump2baby.com/wp-content/uploads/2019/10/mini-first-aid-review.png
225
225
Carla Lett
https://www.mybump2baby.com/wp-content/uploads/2016/10/mybump2babyheader-300x79.png
Carla Lett
2019-10-03 13:23:00
2019-10-09 12:31:15
Mini First Aid Review