I am really excited to be sharing our Moonlite Story Book Projector Review with you. I must admit, bedtime can be a bit of a battle at times and I often hand over the IPad like it is a God given right, so I was really excited when I was asked to review the Moonlite Story book projector.
If I said my son wasn't slightly addicted to his IPad, I would be lying. Running a business from home means that a lot of my time in the evening is spent on MyBump2Baby and what started as a perfect distraction now causes numerous issues in our house especially at bedtime. You see, Georges first word when he wakes up is IPad and the last words before he goes to sleep is IPad which is not ideal for a 2-year-old and I can't help but feel a bit guilty about it but it is the only way I have time to do everything.
I have been thinking about different ways that I can put some magic back in to bed time without relying on Mr. Tumble, Peppa Pig or Waffle Doggy. I want to stimulate George's mind at bedtime and calm him down so he gets the sleep he needs after a long day, I also want to embrace the fact that he is still finds me fun, as sad as it is, I am sure it is only a matter of time before I am locked out of his room whilst he plays his Xbox or Playstation.
The clocks are going back next weekend and with the evenings getting darker earlier – I am hoping this will be the start of a healthier bedtime routine for George. Moonlite has come up with an alternative way to read books, ideal for special occasions or when trying to wean your little one from IPad back to books. I am really excited to introduce the Moonlite Story Book Projector to George.
Moonlite has a unique, wonderful way to bring story books to life. Moonlite uses a story book Projector which makes for a more exciting bedtime. The Moonlite projector is created by simply using the app on your smart phone. Creating a truly magical, immersive storytelling experience that fuels your child's imagination like no other.
The projector is a small device that simply clips onto a smartphone and uses the torch to project timeless classics on to the wall, whilst projecting the images, the Moonlite app plays harmonic sound effects. Moonlite cleverly bridges the gap between traditional and digital books, offering a unique and memorable experience for both parent and child. Building story time, in whatever form it takes, into a bedtime routine is essential
Here are some of the incredible stories launching in the UK;
The Moonlite Starter Pack (SRP £19.99) featuring Eric Carle's popular "The Very Hungry Caterpillar" and "The Very Busy Spider"
The Moonlite Gift Pack (SRP £39.99) featuring Mr Men and Fairy Tales
The Moonlite Story Reels (SRP £7.99 each) featuring Spot the Dog and Beatrix Potter The Tale of Jemima PuddleDuck, The Tale of Peter Rabbit.
We received the Fairy Tale Gift Pack and Spot the Dog story reel. Fairy tales were always my first choice at bedtime when I was a little girl so I was really looking forward to sharing some "all time classic magical stories with George.
Moonlite enhances that experience and makes children excited for bedtime, while promoting early literacy.
So How Does Moonlite work?
Moonlite is very quick and easy to use, you can follow the instructions below;
Simply download Moonlite from the App Store or Google Play Store – it's free!
2. Pop one of the story reels into the Moonlite projector
3. Attach Moonlite to your phone
4. Open the app, unlock the story with the included activation code and start reading
The app goes through each step, showing you the steps to set it up.
Our Moonlite Story Book Projector Review
George was asking for his IPad initially and then as soon as we set up the projector and he could see the pictures, he was speechless. The music that plays alongside the story is magical and we all really enjoyed the whole experience.
I must admit that turning the story reel was a little difficult on my phone – a galaxy S8 which is a little slippy to the hand (my phone has more cracks than my foundation these days). It could be better for me if there was a device attached which you could click and it would turn the reel but I do think the issue is down to my phone and it didn't take away from the fun we had.
We read 3 books in total that night including; Little Red Riding Hood, Jack and the Beanstalk, Goldilocks and the three bears and George has asked for the Moonlite story projector every night since so it was a definite hit in our house. I plan to buy plenty more story reels for the big C!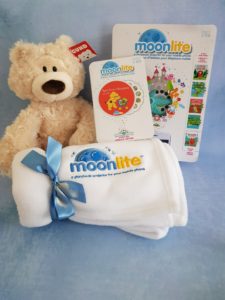 I must stress that I am a huge book lover and I am in no way saying that these should be used as a book but perhaps as an alternative to books when you fancy a bit of a change.
Available From
The product is available at all good retailers including The Entertainer, Smyths Toys and Amazon.
https://www.mybump2baby.com/wp-content/uploads/2018/10/Moonlite-Story-reel-projector-review--e1540390447307.jpg
3413
2560
Carla Lett
https://www.mybump2baby.com/wp-content/uploads/2016/10/Logo-MyBump2Baby_transparent-bg-1-1.png
Carla Lett
2018-10-24 14:16:34
2021-01-02 08:50:23
Moonlite Story Book Projector Review