My Positive Water Birth Story by Jess Beck
Disclosure: Some of the links within this article may contain affiliate links, meaning at no cost to you, we may get commission if you decide to make a purchase through one of the links within the article.
At MyBump2Baby we feel it is important to share real-life stories to raise awareness and support other people going through similar experiences. Today Jess Beck shares her positive water birth story.

Stretch and a Sweep
2 days before I gave birth I went to be checked out at the hospital due to reduced foetal movements. Everything was fine with baby but as it was my third episode it was suggested by a doctor that I be induced soon. I wasn't keen on an induction soon as wanted to go into labour naturally so I asked if I could have a stretch and sweep first. During my sweep the midwife said I was already 2cm dilated, my waters were beginning to bulge & she could feel baby's head well!
The morning after the sweep I got some very mild and irregular contractions. I carried on with my day and went on a long walk with the dog, went for a coffee and pottered around the house.
Contractions every 5 minutes
By 5pm contractions were every 5 minutes but not very intense. I rang triage for advice and the lovely midwife on the phone said to stay put, stop timing contractions and relax as I'll instinctively know when I need to come into hospital.
Although they increased in intensity a little (everything was completely manageable using breathing techniques) nothing picked up until 2:30am when my waters broke. Immediately my contractions increased in intensity and I needed to concentrate more on my breathing.
I called for my husband who immediately rang triage and we went in.
Moving to the Birthing Suite
I was examined on arrival and to both mine & the midwifes surprise I was 7cm dilated! Which thankfully meant I was able to move to the birthing suite.
Getting in the pool was such a relief and so calming I would recommend a pool birth to everyone! The midwives also turned off the bright lights which helped make me feel relaxed also.
Basically as soon as I got in the pool I told the midwives I had a pushing down feeling. They just told me to go with my body which I loved!
I had a bit of gas and air for about 30 minutes when I got into the pool but the midwives thought this might be delaying getting my little girl out so they took it off me.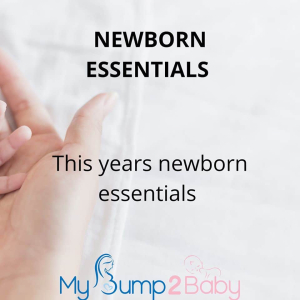 2 Hours of Pushing
Unfortunately we reached the 2 hour mark of pushing and the midwives began to coach me to push. They said we need to be getting her out soon else they'll need to start thinking about giving me an episiotomy which I really didn't want!
With all my effort I managed to birth her head. When she was very close to being born the student midwife monitoring her heart beat said it had dropped and on my next surge I needed to give birth to her body. She pulled the emergency bell but thankfully by the time people had rushed in my little girl had been born safely and was crying!
I had delayed cord clamping in the pool and skin to skin. I wish I had longer in the pool with her but the midwives started noticing a lot of blood so needed me out of the pool.
Due to the exertion of needing to push her out quickly I got a 2nd degree tear (which I didn't feel) and this lead to me losing 1 litre of blood.
I can honestly say the most intense part of it all wasn't actually the labour it was the stitches afterwards! And I think this was because with everything going on around me and with baby back on my chest I forgot to use breathing to help me get through it!
Once stitches were all done Adaline latched on to to feed perfectly with the help of the midwives. We sat feeding for a wonderful 30 minutes completely skin to skin!
I can honestly say I felt like I had a pain free and relaxed birth. Not everything went to plan but I look back on it so positively!
https://www.mybump2baby.com/wp-content/uploads/2020/04/A-Birth-Story-from-Jess.jpeg
1600
1200
[email protected]
https://www.mybump2baby.com/wp-content/uploads/2016/10/Logo-MyBump2Baby_transparent-bg-1-1.png
[email protected]
2020-04-17 10:14:49
2022-08-08 14:32:04
My Positive Water Birth Story by Jess Beck