"My Smear test could have Saved my Life" Fifty Shades of Motherhood Host Speaks out
As GPS urge people to have their cervical smear tests after a temporary halt in services due to Covid 19, two mums share what happens in the unlikely event of an "abnormal" test result ahead of Cervical Screening Week 2020 which takes place next week.
Many women are already fearful of cervical smear tests despite the fact that cervical cancer is mostly preventable with screening tests. Bur with added confusion and understandable concerns due to the pandemic, delays to a lot of tests, a new unfiltered podcast has been launched by a popular parenting blogger sharing how she believes that a simple smear test "saved her life."
33-year-old Carla Lett from Lytham St Annes, who suffers from health anxiety felt like her "worst nightmare" had come true when she got the letter following her smear test saying her cells were "abnormal."  She said: "I already think worst case scenario and more with all health matters but I wasn't prepared to actually face an abnormal test result. "That said after nervously waiting for a further tests it showed abnormal again but mildly so.
"I later found out I was pregnant but they still wanted to see me for another test which showed I had 'minor' abnormalities due to HPV virus (human papillomavirus is a common group of viruses which most people get it their lifetime)."
About 1 in 20 women receive a cervical screening test result that shows some changes in the cells of the cervix an 'abnormal result' (NHS Cancer Screening Programme – Cervical screening 'The Facts' 2015). Nearly all abnormal results show no more than small changes in the cells of the cervix. Carla, who runs MyBump2Baby the popular parenting (pregnancy – preschool) directory and blog, then had to wait until she had had her first child George before going for another test. "I was petrified and worst still it came back abnormal but moderate this time." But as Carla had kept up to date with screening tests, it was a simple procedure of burning some of the cells away.
Carla now speaks openly about her experience to encourage other mums to attend their smear tests. She said: "It is not comfortable or something I enjoy but it is over with so quickly and even if you get an abnormal result by going to your screening test cervical cancer is almost always preventable." Carla has recently launched her first podcast called Fifty Shades of Motherhood and she has dedicated the first episode to talk all thing cervical screening from the funny moments to the scary times and everything in between. She said: "It's important we have an open dialogue. And I am very open!
I wanted to use my platform to help other mums nervous about going." Carla invited fellow blogger and vlogger Sophie Mei Lan from mental health and wellbeing site Mama Mei, to chat openly about their smear tests ahead of Cervical Screening Awareness week on 15th June – 22nd June 2020.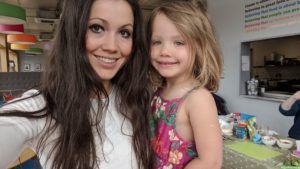 Sophie, 32, who lives in Yorkshire, also had an abnormal test result, said: "It's important that we share our experiences, warts and all! No pun intended! "It's great that there are so many campaigns to prompt women to have their test and we wanted to add authentic unfiltered voices to that so women can be comforted that no matter what their concerns are, there are other women in the same boat and that even with the dreaded 'abnormal' test result… knowledge is power and there is so much that can normally be done."
In Episode One of Fifty Shades of Motherhood podcast, available to download now, Carla and Sophie share their own experiences after having abnormal smears, their views about having to wait until your 25 to be tested and some highly amusing thoughts and quotes to keep you giggling from start to finish whilst raising awareness and encouraging woman to attend their appointments.
To find out more about Cervical Screening click here and to find out more about the podcast set to show the weird and wonderful world of motherhood, go to: www.mybump2baby.com/podcasts/fiftyshadesofmotherhood
You can find out more about Fifty Shades of Motherhood, here:
https://www.instagram.com/fiftyshadesofmotherhoodpodcast/
http://www.twitter.com/fiftyshadespod www.facebook.com/fiftyshadesofmotherhoodpodcast
MyBump2Baby
www.facebook.com/mybump2babyuk
You can find Sophie Mei Lan via the links below:
https://twitter.com/MamaMeiBlog
https://www.youtube.com/channel/UCN4nwFkGBwFCefz9RKSVKsQ
https://www.instagram.com/mamameiblog
Carla is the founder of MyBump2Baby. Carla has a huge passion for linking together small businesses and growing families. Carla's humorous, non-filtered honesty has won the hearts of thousands of parents throughout the UK.
She has previously written for the Metro and made appearances on BBC News, BBC 5 live, LBC etc. Carla is a finalist for Blogger of the Year award with Simply Ladies inc. Carla is also the host of the popular Fifty Shades of Motherhood podcast and The MyBump2Baby Expert podcast.
https://www.mybump2baby.com/wp-content/uploads/2020/06/smear-test-saved-my-life.png
1260
2240
Carla Lett
https://www.mybump2baby.com/wp-content/uploads/2016/10/Logo-MyBump2Baby_transparent-bg-1-1.png
Carla Lett
2020-06-18 12:36:07
2021-12-20 09:27:15
"My Smear test could have Saved my Life" Fifty Shades of Motherhood Host Speaks out