Naming Ceremonies | Lytham St Anne's
At MyBump2Baby we are proud to have our expert article section to help parents gain more understanding on different topics that may be of interest. Today we have the lovely Jo from "Celebrate with Jo". Jo offers naming ceremonies in Lytham St Anne's and the Lancashire area, you can find her listing with us by clicking here.
Lots of parents love the idea of a christening but then feel they shouldn't have one as they are not religious. Very few parents realise that there is an alternative option.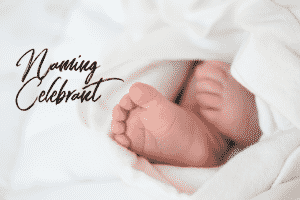 _______________________________________________________
Growing family? Wondering how to mark the occasion? What about a naming ceremony?

You may have noticed that naming days and naming ceremonies are gaining popularity in the U.K.  But what exactly is a naming ceremony and could it be an option for your celebrations?
Overview of a Naming Ceremony

A naming ceremony is the focal point of a baby or child's naming day. It provides the perfect opportunity to 'officially' celebrate a birth, adoption, change of name or the coming together of a step family. Naming ceremonies can accommodate more than one child and there are no age restrictions; in fact, it's a lovely idea to incorporate a role for the older sibling(s) should you wish to do so. Although they've been around for many years, naming ceremonies are currently proving to be a particularly popular option with parents who would like to welcome a new arrival but, for whatever reason, feel that a traditional christening isn't for them. The great thing is there are no rules; they provide the means to mark the milestone of a new arrival in a way that's as unique as your child. They can be non-religious, semi-religious or a blend of faiths…the choice is yours!
Legalities of a Naming Ceremony

Just like a church christening, naming ceremonies have no legal standing. Whether you decide to have one or not is completely up to you but they provide an opportunity to mark a special event surrounded by people who mean the most. Whatever type of ceremony you're planning, you need to register a birth in the U.K. within 42 days and complete the necessary formalities associated with an adoption or change of surname. Naming ceremonies are inclusive; they're suitable for single parents, unmarried parents and same sex couples.
When and Where Can you Have a Naming Ceremony?

Weekend namings are the most popular but they can be held on any day of the week at any time of year. Typically lasting around 40 minutes, the naming ceremony itself can be held practically anywhere; premises don't need to be licenced. When choosing a venue, you might consider your home, a hotel or community centre. How about a favourite park? Or the beach, perhaps? Just have a plan B in mind if the weather's not kind! The ceremony is usually, but not always, conducted at the beginning of any other celebrations you've arranged for your child's naming day; this could be a drinks reception, sit-down meal or something less formal. As not all parents have the time (or energy!) to arrange a naming celebration in the months following a birth, a popular choice is to combine the occasion with a first birthday party. Although naming celebrations can be arranged at short notice, it's usual to allow at least couple of months to prepare for a perfect day.
Format, Structure and Tone of a Naming Ceremony

Naming days can be as formal or informal as you like; you set the tone in conjunction with whoever's leading the ceremony. You could even have a theme for the day, too, such as pirates, princesses or super-heroes! Many people view naming days as a contemporary option but still like to have a more traditional approach when arranging the ceremony itself. Basically, it's up to you. The main consideration of a ceremony is that it's personal, meaningful and reflects your values and beliefs.
Although there's no set structure, a typical ceremony could include some or all of the following:
1. Introduction and welcoming of guests.
2. A few words about the journey leading to the child's arrival.
3. An overview of a child's personality/likes/dislikes and how his/her name was decided.
4. Reading of favourite poems/prose/song lyrics.
5. Pledges/promises of love, commitment and support by the parents and any other special family or friends appointed as 'guide parents' or 'supporting adults'.
6. Incorporation of symbolic gestures such as the lighting of a candle, the planting of a tree or the creation of a time capsule for the child to open on a special occasion in the future.
7. Conclusion and presentation of a certificate, which serves as lasting memento of the occasion.
Who Conducts the Ceremony?
The simple answer is, whoever you like! If you, a member of your family or a close friend is confident enough leading the ceremony then that could be an option. For most people, having a celebrant ensures things run smoothly and enables everyone else to concentrate on enjoying themselves. As well as conducting the ceremony, a celebrant or registrar should be able to advise on suitable readings, poems and pledges as well as the general format. Whoever you choose for your special day, you should ensure that sufficient time is taken ahead of the ceremony to ensure that he/she fully understands your requirements to ensure that it reflects your wishes, values and beliefs.
Hopefully, you now have a better understanding of naming ceremonies and, however you choose to mark the occasion, I wish you a wonderful day of celebration!
Contact details for Jo at the Lancashire Naming Celebrant are;
Tel: 07949427557
Carla is the founder of MyBump2Baby. Carla has a huge passion for linking together small businesses and growing families. Carla's humorous, non-filtered honesty has won the hearts of thousands of parents throughout the UK.
She has previously written for the Metro and made appearances on BBC News, BBC 5 live, LBC etc. Carla is a finalist for Blogger of the Year award with Simply Ladies inc. Carla is also the host of the popular Fifty Shades of Motherhood podcast and The MyBump2Baby Expert podcast.
https://www.mybump2baby.com/wp-content/uploads/2019/05/jo-celebrant.jpg
1080
1080
Carla Lett
https://www.mybump2baby.com/wp-content/uploads/2016/10/Logo-MyBump2Baby_transparent-bg-1-1.png
Carla Lett
2019-05-15 15:09:04
2019-06-03 20:26:47
Naming Ceremonies | Lytham St Anne's