I live in a beautiful little town called Lytham, St Anne's and just 10 minutes down the road is the lively, fun, sometimes a little strange town called Blackpool. I love Blackpool – there is always something going on and there are so many wonderful yet different things for families to do from playing on the slot machine on the pier to riding donkeys on the beach – there really is something for everyone!
I have spent many a drunken night dancing away in the clubs in Blackpool, even now if I fancy a good dance and a shed load of alcohol with my friends, we occasionally head in to Blackpool to forget about motherhood and party hard like 18 year olds again –  mmm now I fancy a Prosecco… STOP CARLA – IT'S 7AM and this review is about Nickelodeon Land not your drunken nights with friends!
**** AND BREATH ****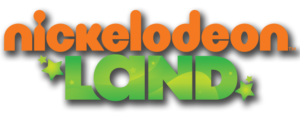 When I was invited to come to Blackpool Pleasure Beach and write a review on the hugely popular Nickelodeon land – I was really excited. It was like reliving my youth to be honest, I have been to the Pleasure beach in Blackpool countless times, my dad used to pick me up from school on a Friday and we often headed to Blackpool Pleasure Beach and went on our favourite rides – it was so much fun and a big part of my childhood memories. Nickelodeon land is fairly new and it wasn't around when I was young so I was looking forward to having a good nosey and seeing the Nickelodeon Land and the Pleasure Beach in Blackpool from a mother's perspective.
As I have mentioned before I am a huge fan of theme parks so visiting and writing up the Nickelodeon Land Review is so much fun for me – it is really important to me that parents know what they are paying for before they part with their well-earned money.
MyBump2Baby's Nickelodeon Land Review, Blackpool
Parking
Parking at Blackpool pleasure beach is currently £15 for the day and is paid when you enter the carpark. We didn't use the car park, if you don't mind a 10-minute walk, you could park a few roads away for free.
Opening times
Opening times were 10am – 6pm for Nickelodeon Land in Blackpool Pleasure Beach. Please note that these times can change depending on the day or time of year so make sure you check the website in advance.
Ticket prices
Ticket prices were all inclusive of both Nickelodeon Land and the Pleasure Beach which means you are free to go wherever you like in the park.
The prices at the time of writing this were £25 per adult and £23 per child if you book 5 or more days in advance or £39 per adult and £33 per child if you purchase a ticket on the day.
Children under 2 years of age are entitled to a free park pass, however please note that this only allows them access to the following;
Chinese Puzzle Maze
Pleasure Beach Express
Bradley & Bella's Learning Garden
The spectacular Dancing Water Show.
If your child wants to go on the rides you have to buy them a wristband at £33.00 (£23 booked in advance) I felt this was a little disappointing as under 2's go free in many other theme parks.
If you will not be going on any rides the park entry is £6 for the day but please note this means you will not be able to accompany your child on any rides.
First Impressions

As we entered the park our bags were checked, unfortunately you are not allowed to bring your own food – you can leave the park and return anytime you wish throughout the day so you are free to get food outside of the Pleasure Beach if you want to – there are plenty of places nearby to eat.
Blackpool Pleasure Beach do offer a food saver ticket which could be worth looking in to if you are going to be there all day (you can read more about this below).
Upon entering the park, I was impressed to find out that George (2 years old) can go on a MASSIVE 17 rides (12 in Nickelodeon Land and 5 in Blackpool Pleasure Beach) which is the largest amount of rides for toddlers in one theme park that I have heard of to date.
The Pleasure Beach was clean, the staff were polite and I do like the fact that no ride is ever too far away and there is always something fun to see.
Changing Facilities
There are plenty of changing facilities to use and all were extremely clean and well kept.
Blackpool Pleasure Beach Ride Reviews
I love the fact that we weren't only secluded to Nickelodeon Land and there were other rides in the Pleasure Beach that were suitable for George. The rides in the pleasure beach are old classics that I used to go on with my dad so I was keen to go on some of the same ones with George.
Alice in Wonderland
As we were making our way through the park we saw the "Alice in Wonderland" ride – one of my all-time favourites, the queue wasn't too bad and this was on the list of rides George could go on so we queued up – the queue took around 10 minutes and he was quite happy watching the Cheshire Cat make its way around the track.
When it was finally our time to get in the Cheshire – he was very excited. The Cheshire cat took us up and through the looking glass in to the wonderful world of Alice in Wonderland. The ride is a bit dark in parts but full of colour and really fun – we even saw the Mad Hatters Tea Party. He did get a bit scared in parts but we reassured him and he didn't want to get off the ride in the end so it was definitely a hit with George.
Eddie Stobart Convoy Ride
We couldn't walk past this ride without George shouting "Lorry Lorry, Lorry", this ride is located in Blackpool Pleasure Beach and it allows young children to ride in their very own Eddie Stobart Lorry. George and his daddy sat together as he drove the truck across the full 200 metres of track – he really enjoyed this ride and wanted to go on it again but I told George we have bigger fish to fry and we headed in the Nickelodeon Land – We did have a big tantrum as we pulled him off this ride but what's new? Sign of a good ride I guess.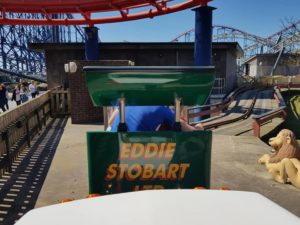 Nickelodeon Land Review
Our first impressions of Nickelodeon Land was how great it looked. It was very "cartoon like" with lots of bright colours and I loved the theme. George was very excited and was desperate to come out of this pram so we let him have a little run around whilst he had a look at all the rides and chose one to go on.
Bikini Bottom Bus Tour
George chose the "Bikini Bottom Bus Tour" ride as his first choice, he went on this ride with his daddy whilst I took pictures and waved to them. The Bikini Bottom Bus Tour was a fun and fairly fast ride for young kids. The ride lifts you and your little ones up in the sky and back down again. George loved it and we were lucky enough to walk straight on to this ride. The ride did last quite a while but he had a really good time.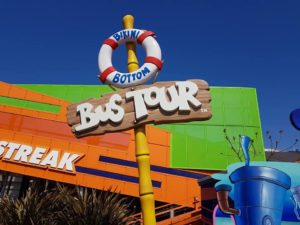 Diegos Rainforest Rescue
Diego's Rain forest rescue was definitely my favourite ride. It was fun and all 3 of us fit on the ride. The ride went really high and it was such good fun – we all couldn't stop laughing. There was barely any queue for this ride either which was great and we did decide to ride this one again later on in the day.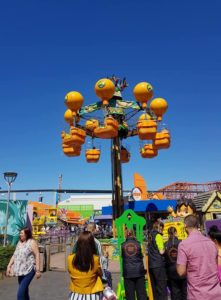 Fairy World Taxi Spin
George loved being the driver for the taxi, he really enjoyed going up in the air with mummy and daddy – we loved this one too. On this ride you go up in the sky in a taxi steering and honking as you fly around.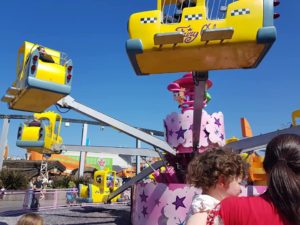 The Entertainment
There was plenty of singing, dancing and appearances from some of George's favourite Nickelodeon characters. We really enjoyed watching the outdoor show and George loved dancing along. There was a lot of interaction with the crowd which was great and it was really nice to see all the kids having so much fun.
I did ask for a picture of George with the Paw Patrol characters but unfortunately we were only allowed to buy pictures and we weren't allowed to take any on our mobile phone which was a little disappointing. 
Other Attractions in Nickelodeon Land, Blackpool
As you can imagine, with so many rides available and a limited time of "none tantrum time" we sadly couldn't go on every ride but we definitely want to come back to Nickelodeon Land and have a go on the other rides.
Some of the other rides we didn't manage to go on included;
Alpine Rallye
Backyardigans Pirate Treasure
Blue Flyer
Dora's World Voyage
Ghost Train
Impossible
River Caves
Rugrats Lost River
Thompson Carousel
Wonder Pets Big Circus Bounce
Food at Blackpool Pleasure Beach
You can choose to be "all inclusive" for the day with the Pleasure Beaches "All you can eat" wristband. The price is £22.50 for adults and £17.50 for 11 year olds and under. There are limitations on the "all you can eat" wristband so make sure you check all rules before purchase but it is a great idea if you love your food like us. The only reason we didn't opt for the "all you can eat" wristbands this time was because we had a big breakfast and we were only having one meal there so we didn't feel it would be worth it for us but if we were getting a few meals there I definitely would have looked in to this option more.
There are some great places to eat in the Pleasure Beach and the prices are not ridiculous. There are tons of different food stalls with seating outside – this is a great option if you are just wanting a quick bite to eat on your way to your next ride.
With a huge lack of Burger Kings in the local area, every time I go to the Pleasure Beach I have to get a large whopper meal no matter what – I can't help it, for me it has to happen even if I don't fancy a burger that day!!
What was Nickelodeon Land missing?
Babysitters – so mummy and daddy can have some fun?
No, to be totally honest I thought the rides were great, the queue time in busy periods weren't bad at all.  I would definitely suggest an indoor soft play area – we were really lucky with the weather that day but had we have pre-booked tickets for a rainy day we would have been a little disappointed as there isn't much to do indoors. I really think that an indoor soft play area is also a great place for parents to chill out whilst their little ones run wild.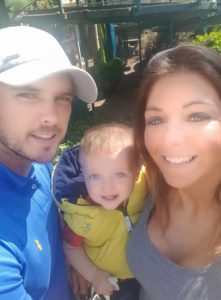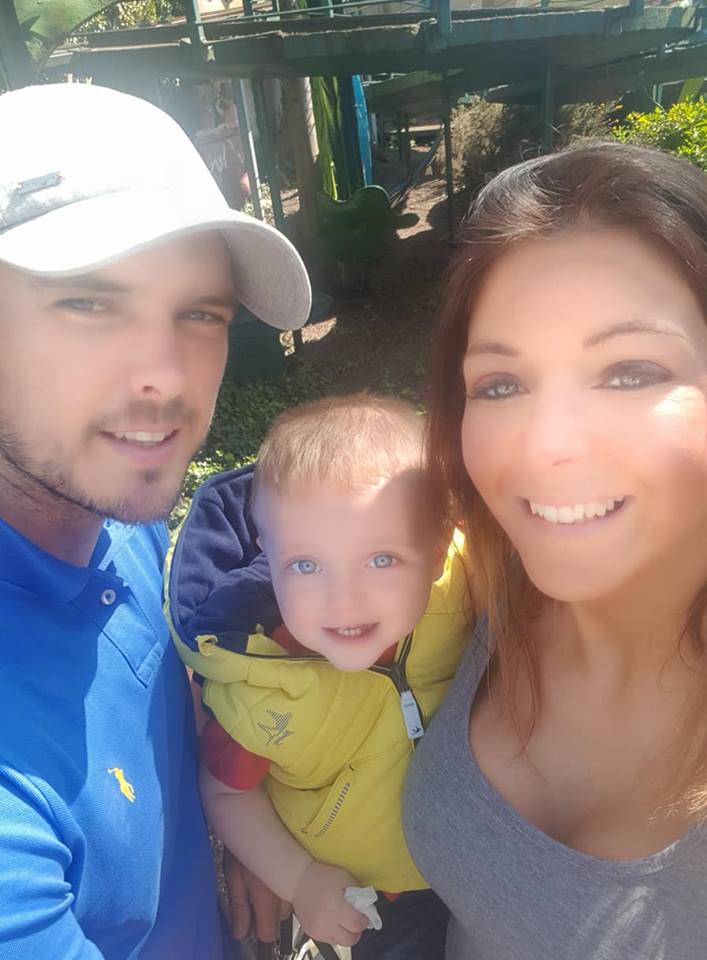 Our MyBump2Baby Nickelodeon Land Review overall comment

The great thing about Nickelodeon Land was that we managed to get on quite a lot of the rides even through it was fairly busy without queueing for very long at all. We found that most of the rides fit a lot of toddlers on which seemed to reduce the waiting time massively. I was really impressed with this.
I was a little disappointed that under 2's aren't offered free entry In to Nickelodeon Land as it can work out very expensive for a young family.
The rides were brilliant and were actually a little scary even for us adults, so I felt like I had actually been on some fun rides too.
Our MyBump2Baby Nickelodeon Review overall score
No review box found! Insert a valid box ID.
https://www.mybump2baby.com/wp-content/uploads/2018/06/Nickelodeon-Land-Blackpool-Review.jpg
719
960
Carla Lett
https://www.mybump2baby.com/wp-content/uploads/2016/10/Logo-MyBump2Baby_transparent-bg-1-1.png
Carla Lett
2018-06-04 21:01:38
2018-06-05 20:53:34
Nickelodeon Land, Blackpool Review