Life as a busy mum is hard. There are so many jobs to juggle that we often put ourselves to the back of the queue when it comes to self care and looking after our health.
As a parent it's hard enough going to the toilet on your own, let alone taking an hour out of your day to go to the gym. Going to the gym on a regular basis takes willpower and by the time you've spent all day chasing your child around, bowing down to their every need and if scenes from WWE remind you of the bed time routine, it is highly likely you will be too tired to go to the gym and who can blame you…. even writing that paragraph tired me out….
Wouldn't it be much easier to be able to work out from the comfort of your own home? Whilst your dinner is cooking? or whilst your child's having a nap (wishful thinking)? That's why we were so pleased to review Funmumsfitness fantastic online exercise programme. 

As a new mum, it's important to take time out for yourself, exercising is a great way to do this and amazing for both your physical and mental health. It can be hard to decide when the right time to start exercising is after birth, listen to your GP and healthcare professionals and once you have the green light you should get going.
Exercise is extremely beneficial to mums
Exercise will actually raise your energy levels if you exercise regularly. This is more about strengthening your body again, rather than trying to lose weight. Exercise can help your body recover from childbirth and can also help to prevent postnatal depression.
Mental wellbeing can be improved drastically through exercise. We know how hard it is to be a mum to a child of any age, it never really stops being stressful which is why it's so important to look after your mind as well as your body. Taking even 20 minutes out of your day to do a low impact workout can really help to relieve stress.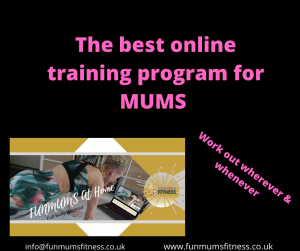 The fantastic company Funmumsfitness at Home offers busy mums online workouts that you can do at home, whatever time and whenever you like. It is so affordable, priced at only £19.90 per month.
This works out at less than £1 per workout!!!!!!!!!!!!!!!!!!!!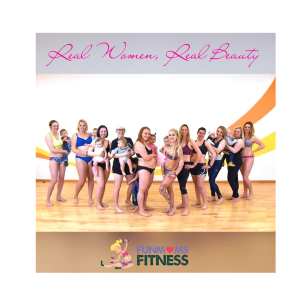 A 20 – 30 minute workout every week day
Little or no equipment necessary. 
Supportive community of mums.
Constant support from personal trainers. 
Nutritional advice, meal plans and food ideas.
Members have access to 2 personal trainers via messages, emails and video calls. 
We think it's amazing that you can do the workouts in your own time, with no pressure to complete them if you're not feeling up to working out. As we mentioned before, it's important to exercise slowly at first, with the help and advice that's constantly available through Funmumsfitness, you can always feel supported.
These workouts are fantastic for so many reasons…. there is no childcare worries, the price is fantastic and the community of mums will keep you motivated and inspired.  These classes are perfect to start strengthening your body again, and they're available for all mums, no matter how old your little one is. 
Online videos make the workouts easier to use, as they're available to you at any time. You can take your child to the park and do some of your exercises whilst they're playing,  complete them on a family day out at the beach or at Grandmas house if you can sneak off for a minute. You can even get your little one involved which is also recommended.

Carla founder of MyBump2Baby say's "I decided I wanted to work out more from home, the fact that Funmumsfitness allows me to do that makes my life so much easier. The 20 minutes I've been doing whilst tea's in the oven has been so beneficial, George has even been doing it with me." She added "The community of mums is helpful and motivating, it's so nice knowing you have such a supportive network to rely on if you need to get back on track."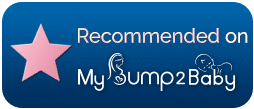 Funmumsfitness Home has also just launched a 12 week body transformation programme perfect for someone looking to get fit for summer (only £100)

The 12 weeks program is a unique Body Transformation program designed for Mums. It's an online training program (short workout videos – you can exercise wherever and whenever) PLUS a nutrition program to follow. The members have the 24/7 support of personal trainers. What makes it outstanding is a supportive community of likeminded mums, who know how much you crave sugar after a sleepless night!
https://www.mybump2baby.com/wp-content/uploads/2020/01/Online-Fitness-Programme-for-Busy-Mums-9.png
788
940
https://www.mybump2baby.com/wp-content/uploads/2016/10/Logo-MyBump2Baby_transparent-bg-1-1.png
2020-01-16 11:35:41
2020-01-23 14:46:15
Online Fitness Programme for Busy Mum's