Perfect Prep Day and Night Machine Review
Disclosure: This article may contain affiliate links, this means at no cost to you, we may earn a small commission if you purchase a product through them.
Tommee Tippee Perfect Prep Day and Night 
Feeding your child is such a personal decision, Tommee Tippee have a huge range of equipment to support both breastfeeding and bottle feeding.
Bottle Feeding 
If you choose to bottle feed, it is by no means the easy option; there is a lot of equipment and preparation that needs to go into getting a bottle ready. Bottles need to be clean and sterilised and then to make a bottle water needs to be boiled and cooled and this took at least half an hour; not an ideal situation when a crying newborn is hungry in the middle of the night.
Prep machines have therefore become very popular with the Tommee Tippee version being one of the best and most popular around. I used the original prep machine with my first child and it was an absolute life saver. It made feeds that much quicker and easier. I'm looking forward to trying the new version with my second child due very soon. It will be sure to help me cope and manage with two little ones to look after.
Day and Night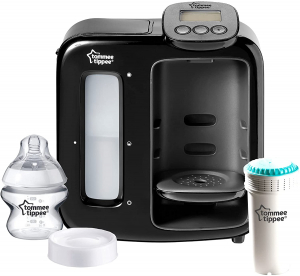 The perfect prep day and night is the newer version of the original prep machine.
It helps to make the perfect bottle quickly and safely, by having water at the correct temperature, rather than having to wait for things to cool- meaning it produces a ready to drink bottle almost instantaneously. This is an amazing help especially during in those early weeks, when your baby is waking regularly for night time feeds; making night feeds (with a crying, hungry baby) is a lot easier with the day and night prep machine. The perfect prep day and night machine is also very handy when you have more than one young child!
The Day and Night Perfect Prep machine is available in three colours, Grey, White and Black. We have kindly been gifted the black version. It's a great compact size measuring approximately 27cm by 27cm and 13cm deep and can fit most sizes of bottles but is obviously best used with Tommee Tippee bottles.
The Perfect Prep Day & Night bottle making machine is best kept in a cool dry area away from direct sunlight. It is designed for use within the kitchen and fits perfectly on the kitchen side. This will also help keep the machine clean and bacteria free
What's in the Box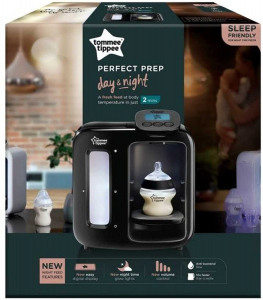 In the box is the prep machine itself, bottle stand, a water filter, water tank, milk storage lid and a 150ml bottle with slow flow teat.
Water Filter 
The water filter will last on average three months depending on use and the number and size of bottles being made. Before being used for the first time you must prepare the filter by soaking in a bowl of water until all the air bubbles have dispersed. You should also never touch the bluey green part with your hands. Once prepped you just simply pop it in the opening in the water tank and then fill with cold tap water. It can take around 5 to 10 minutes for the water to work it's way through the filter into the storage tank. Unused water should be replaced every 1-2 days to again ensure everything is clean and bacteria free.
LED Screen 
This newer version has an LED screen which is clear to see. It lights up blue Ruth instructions and red when water is needed and the hot shot is being dispersed as a kind of added warning.  The screen also displays all the steps and literally takes you through the process of making a bottle. All you need to do is remember to count the right number of scoops of formula (or be like me and premeasure this into sterilised milk containers so there's no counting when you're half asleep!). It takes less than two minutes to make a bottle so is much much quicker and easier.
Other Features 
This new model also feature adjustable volume of the beeps and includes lights to help if using at night. The bottle stand has soft down lights that illuminate the bottle on the stand so you can see that the correct amount is being made. The tank itself has a soft glow so you can easily see the water level and when it needs refilling. No wonder it won a Gold Made for Mums award in 2020!
Hot Shot 
The hot shot is used to kill any possible bacteria in the formula and also dissolve the formula. The water is heated to 70 degrees Celsius. When this is then mixed with the cold water to top up the bottle to the needed feed size it helps to create the perfect temperature to feed baby straight away. However you should always check to ensure you feel the temperature if safe and correct for your baby to have.
Making A Bottle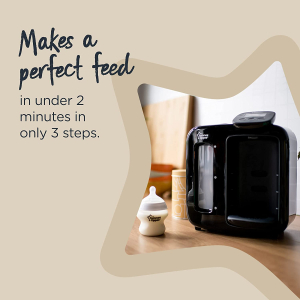 The machine is so easy to use as it tells you step by step how to make the bottle:-
Ensure there is enough cold water in the tank to make the desired bottle size.
Press the power button and select the bottle size you require
Add the number of scoops of formula required to the sterilised bottle
Place the bottle on the bottle stand
A hot shot of boiling water will then be dispensed
Add the lid to the bottle and shake to mix the hot shot and formula together then replace the bottle back onto the bottle stand.
The remaining amount of cold water will the be dispensed.
Add the teat to the bottle and it is ready for your little one!
It's as easy as that, within two minute you have a ready to go bottle, no waiting for water to cook in the middle of the night!
Keeping The Machine Clean
As with all products that handle water and good it is important to keep the machine clean at all times.
The machine will indicate when any descalling is required and also when the filter needs to be replaced. The options for doing these can be found in the settings menu.
The product should be regularly cleaned both internally and externally, there is also an option for a cleaning cycle in the settings menu. Wiping the machine over in the outside and the water spout after each use is also a great way to keep these areas clean and ready to us at all times.
Is It Worth The Hype? 
I have to say ABSOLUTELY! Not only does it make a bottle in two minutes it's literally a life saver. Having two children to worry about and care for is scaring me enough, so knowing I can make the baby a bottle super quick is already a great relief. It may not be to everyone's taste and some prefer the more traditional methods of making a bottle but I'm all for make life as easy as possible! When the machine is looked after and cared for correctly it really will become your best friend!
For more details and to purchase follow this link:
https://www.tommeetippee.com/en-gb/product/perfect-prep-day-night?gclid=EAIaIQobChMIn52Upd6K8wIVCeR3Ch3k3wZfEAAYASAAEgJtkvD_BwE#description
Jess Bleeze is a mum of 1 & has a contagious passion for supporting growing families and supporting small businesses in Tendring & Colchester and throughout the UK.
https://www.mybump2baby.com/wp-content/uploads/2021/09/Perfect-Prep-Day-and-Night-Machine-Review.png
630
1200
Jess Bleeze
https://www.mybump2baby.com/wp-content/uploads/2016/10/Logo-MyBump2Baby_transparent-bg-1-1.png
Jess Bleeze
2021-09-24 16:50:19
2021-10-20 10:39:11
Perfect Prep Day and Night Machine Review