We were beyond excited to head to Perran Sands in Perranporth, what feels like an eternity in lockdown. It had been 18 months since we had a family break just the 3 of us and the last break was to Albuferia in Portugal since we cannot jump on a flight at the moment and we love our little united kingdom Haven Holidays so much we decided to head to Perranporth and write a little Perran Sands Review for any families thinking of trying out this haven holiday park near Newquay.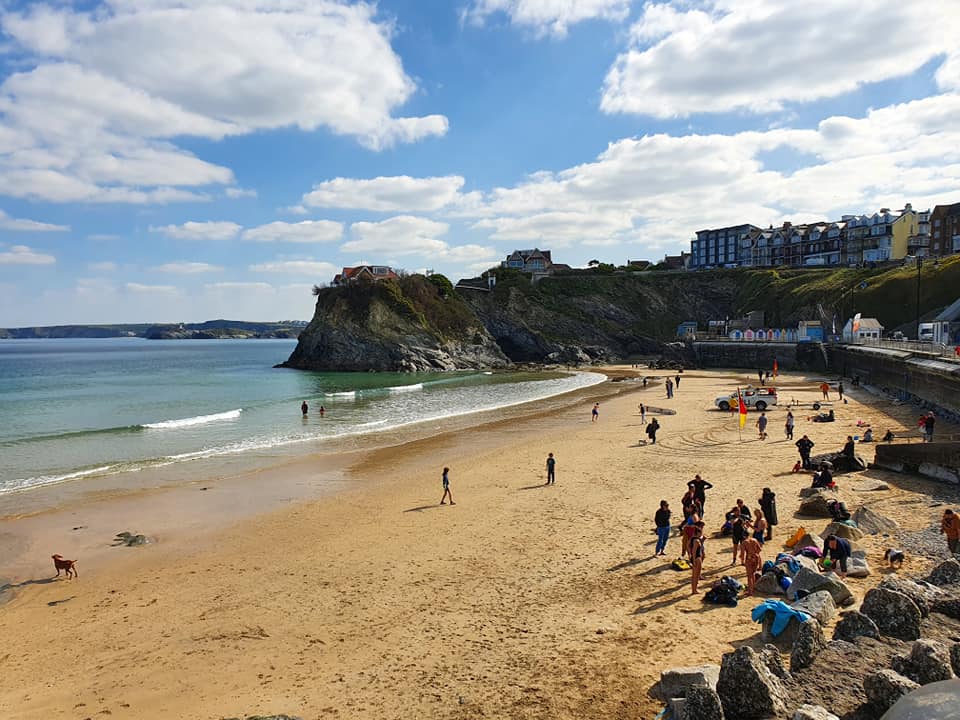 Why Perran Sands Holiday Park?
We were originally booked to go to Presthaven sands in Wales but with Covid restrictions still in full force, we realised that we would be leaving our home in St Anne's to head to somewhere where the restrictions are even tighter and it didn't make sense. We are huge fans of Cornwall and to be totally honest after months of being forced to stay local, there was nothing more satisfying than jumping in the car for 7 hours to drive as far away as possible, something we used to take for granted now felt like a huge privilege.
The drive for the weekend with our little one wasn't as hard as we thought it would be, we charged up the iPad and brought lots of goodies.
Our Perran Sands Holiday Park Review
We were unable to review absolutely everything in this park due to restrictions but we did as much as we could for you. Sadly the entertainment complex was unable to open and dining was only outdoors but luckily for us the weather was good and we managed to do most things available.
Perran Sands Caravan Review
We opted for a caravan, after staying in a chalet when we last visited Haffan le moor site, we decided Caravans felt a lot nicer to stay in and were part of the experience for us. We opted for a normal caravan and it was lovely. We personally wouldn't opt for a Chalet again but only for the pure experience of caravan life, we find it really cosy.
The caravan was cosy and slept four, there was a double room with storage, a kids bedroom with 2 single beds and if you really wanted to there was enough space to set up a mattress in the front room.
I always bring my cleaning caddy and go in first and give everything a good clean before we start making ourselves at home, which reminds me, make sure you check out our list of items you need to bring to a Haven holiday, we have found ourselves forgetting things so I created a list to remind myself and others of all the things to remember.
Perran Sands Wifi
We stayed on Perrath View section of the holiday park which was 5 minutes from the entertainment, the internet is important for us (being an online parenting platform) and we couldn't access the wifi, we were too far away, we also struggled to get signal in the caravan, my husband managed to find a spot right in the window where he used his phone as the hotspot so I could connect my laptop.
I don't know if the other sections of the holiday park have better wifi but if you need wifi I would recommend asking to be on a section closer to the complex.
Swimming Pools
There was limited availability when it came to swimming and we downloaded the app and booked the swimming slots the week we were going, we did notice that the swimming was getting booked up quite quickly so I do recommend booking the swimming before you go to make sure you get in.
The Swimming pool was warm, the locker area gave off a lovely warm air too, the indoor pool flows into an outdoor lazy river which was good fun, the pool was heated so nice and warm.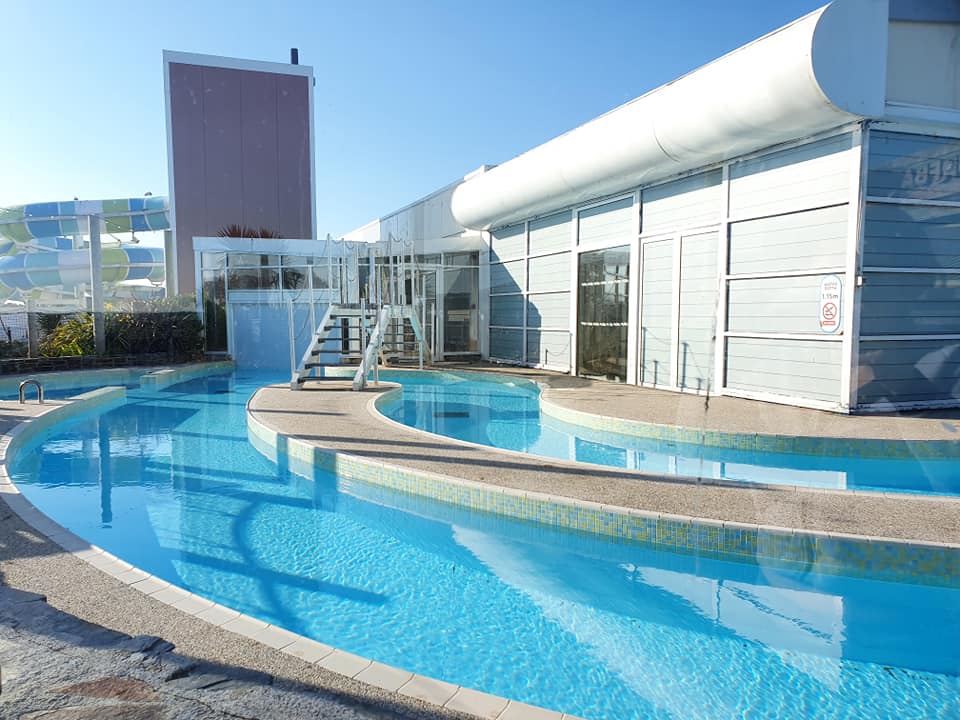 There was also an outdoor pool with a slide that was also linked to the swimming but that was closed due to covid, the swimming pool is huge and our little one absolutely loved it, I also managed to do a good few lengths whilst my husband entertained my little one.
Once everything reopens there is so much more to do including the arcade and the live entertainment in the evening. When we decided to visit Perran sands holiday park we knew this wasn't open, Cornwall is such a beautiful part of the world and our plan was to head to Newquay one day (15 minutes in the car) and St Ive's the other (30 minutes in the car). We booked the swimming around 4 pm each day and chilled out and went to the kids' park at night.
Other activities currently open at Perran Sands holiday park;
Go-kart type bikes for all the family
Archery Coaching
Parks
Football courts
Adventure golf
Bug hunt
Segway
Den Building
Target Shooting
Firelighting Techniques
Mini Sports
Nature Trail
Sand sculptures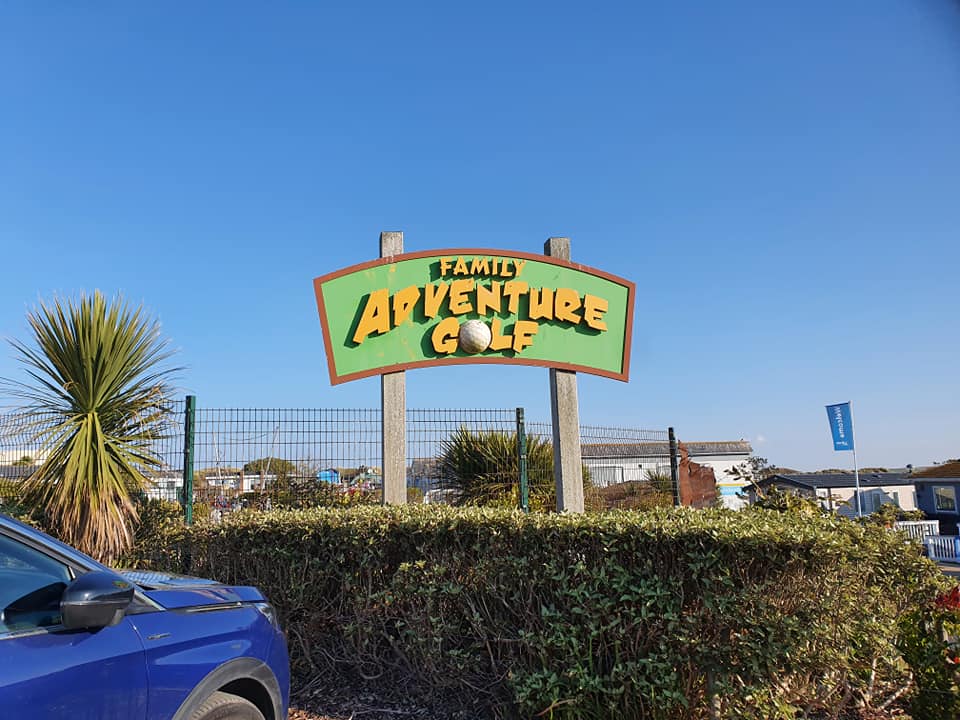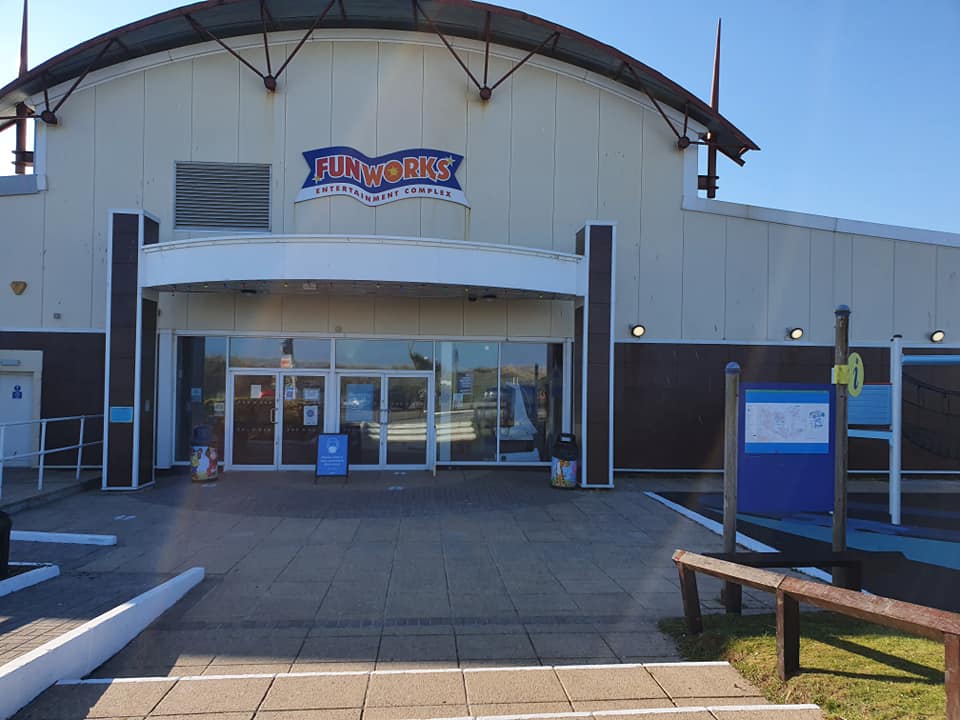 Dining at Perran Sands Holiday Park
When visiting we were still unable to go into the restaurants due to Covid19 but we didn't let that stop us, the weather was good so we had a chippy from the fabulous fish and chip shop (Funky Fish) and we sat on a bench and had it whilst George played on the park.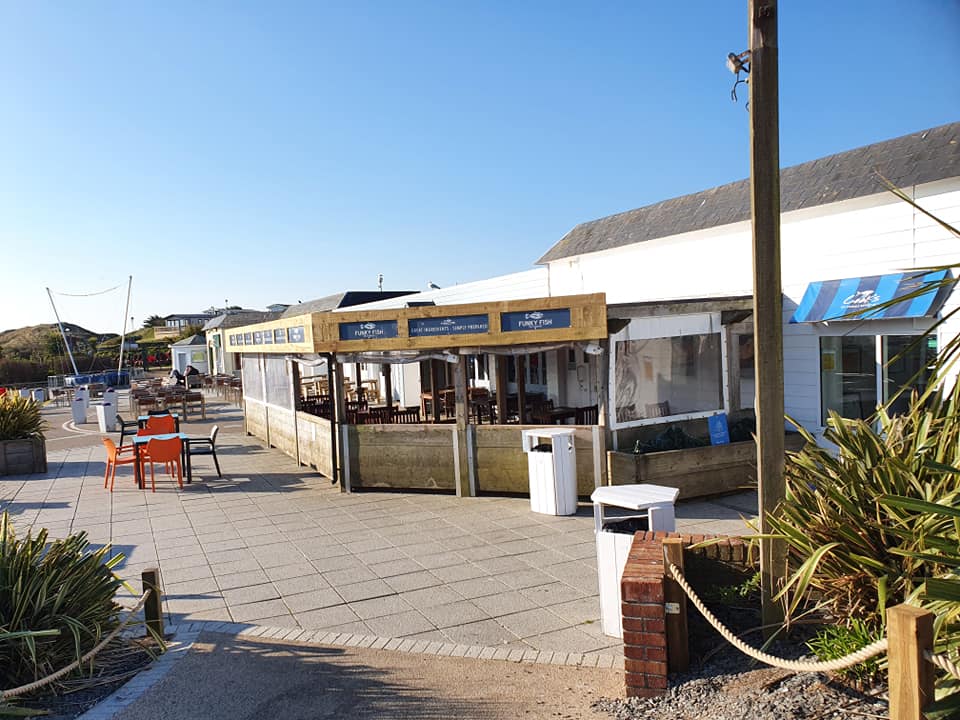 There was also a few other food places we didn't get round to trying as we did eat in Newquay and St Ive's, there was also a Surf bay we didn't get round to trying.
The restaurants didn't look open in the morning but if you like a nice coffee in the morning, fear not, the supermarket serves Costa so you can grab your coffee in the morning.
Perran Sands Papa Johns, we got this delivered to the caravan for late-night snacks. We couldn't find a phone number so had to order online but it was delivered and piping hot on arrival.
Perran Sands Beach
Part of the reason we booked this out of all the holiday parks is the fact that we were staying on perran sands beach, one evening we decided to take a trip to the beach, we headed down the sand dunes and on to the beach it was magical and a memory we will take with us forever, what I also won't forget is the struggle we faced getting back to normal land from the beach.
We must have taken a wrong turning and ended up climbing up sand dune after sand dune, every time we got to the top of one and thought we must be back at the caravans we had to tackle another sand dune, I do recommend finding an easier way and if you are going down on to the beach at night, find your route to and from the beach back beforehand.
The Supermarket
The supermarket at Perran sands was really good, fairly big and the prices weren't too bad with a few offers on late at night. The staff were friendly .
Perranporth
There are a few shops in Perranporth and we did get lovely ice cream from the local ice cream shop.
Overall Family Holiday review at Perran Sands Holiday Park
We had a great mini-break at this caravan site and we definitely weren't ready to leave. It would have been great if the entertainment complex was open but we were just thankful to access the perran sands holiday park. Like any park this park is very child friendly, with lots of parks, lots of activities to do. We really liked the fact the activities catered for a younger age, I know the entertainment complex usually has classes but my little one would be much happier den building and doing the activities listed above.
We did struggle to find our caravan every time we left it so we do recommend using your phone maps to to pin your caravan point so you can always find your way back, we found this park a little confusing to navigate. This holiday park is quite hilly but pram friendly.
We always like to provide our audience of growing families with honest reviews and feedback. This review was carried out on 19th April 2021.
Carla is the founder of MyBump2Baby. Carla has a huge passion for linking together small businesses and growing families. Carla's humorous, non-filtered honesty has won the hearts of thousands of parents throughout the UK.
She has previously written for the Metro and made appearances on BBC News, BBC 5 live, LBC etc. Carla is a finalist for Blogger of the Year award with Simply Ladies inc. Carla is also the host of the popular Fifty Shades of Motherhood podcast and The MyBump2Baby Expert podcast.
https://www.mybump2baby.com/wp-content/uploads/2021/04/Perran-Sands-Perranporth-Review.png
630
1200
Carla Lett
https://www.mybump2baby.com/wp-content/uploads/2016/10/Logo-MyBump2Baby_transparent-bg-1-1.png
Carla Lett
2021-04-19 08:44:28
2021-04-19 08:55:44
Perran Sands, Perranporth Review