Presthaven Sands Review
My husband and I decided that we would like to get away for the weekend for my son's first birthday. We hadn't been to a caravan park since we were kids and thought it was a great idea to head to a Haven for the weekend. We decided to go to Presthaven Sands, in Prestatyn, the reason why we chose Presthaven is because it is only an hour and a half away from home and a couple of our friends have been to this particular park and loved it.
We recently went to Haven again so I filmed the experience in the video below;
My husband Danny managed to get the Monday off work so it meant we could set off to Prestatyn straight after work on Friday and we would get there in time for our evening meal. I went to Aldi and loaded up on some snacks and drinks for the caravan and off we went. I had no idea what to expect at Presthaven and we were really excited.
We drove past some static caravans just before our park and they looked great… well they did until we drove into the entrance at Presthaven…..
My first impressions of Presthaven was how clean it looked and how big it was – I was totally impressed. I noticed that each caravan area is named after places in Wales… (well I didn't notice.. my husband did) We drove to the "welcome" area to check in and get the keys to our mini home for 3 nights. As we walked in we were greeted by security, they asked for our wristbands to prove we were members on the park but I explained that we hadn't got them yet as we hadn't checked he nodded and pointed to reception. We were dealt with instantly, unfortunately however we asked for a travel cot as it wouldn't fit in my small car and we were asked if we ordered one… sadly we hadn't and they had ran out. To give you an idea of the hiring prices to hire the travel cot it was £7 for 3 nights.
We had George's travel cot mattress so thought we would set him up in our room and hope we get some sleep. We were told to head back to reception the following morning and enquire about a travel cot again as they have people checking out on Saturday morning. We took our keys, paper work, wristbands and excitedly headed to our caravan. We were staying in the Conwy area which was around a 5 minute walk from the main complex which was ideal. When booking I strongly advise to ask to be as close as possible to the main complex because some of the caravans were around 15 minutes walk away which is fine when the weather is nice but imagine getting ready for your night of entertainment and then having to walk in the rain… now that would be a nightmare.
The Caravan, Presthaven Sands
We orginally upgraded our caravan for an extra £15 which meant that we got a caravan that was less than 2 years old and came with advertised features such as; 32 inch flat screen TV, double glazing and central heating. I would definately recommend this to anyone booking a caravan there.
We parked right outside our caravan which was great. I really had no idea what to expect in regards to the Caravan. We turned the key and walked in.
You walk straight into the kitchen/diner. I couldn't believe how clean it was. It was like it had never been lived in. It was very baby friendly and George had the full run of the caravan without us worrying he may hurt himself.
Kitchen
The kitchen had a lovely colour scheme and I couldn't believe how many appliances there were, like I said I hadn't been to a caravan in about 2o years, it looks they have come along a lot since I was a child.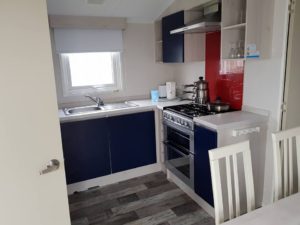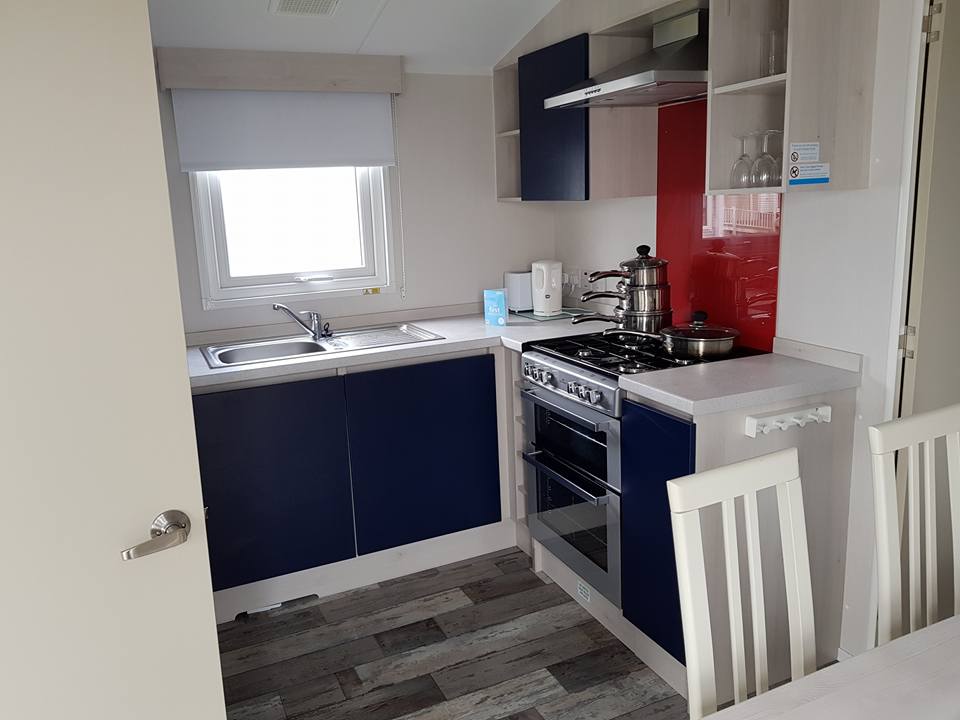 I loved the fact that the kitchen and dining room were together and even more so the fact we could watch TV whilst we ate.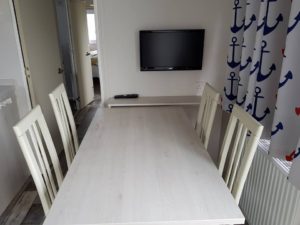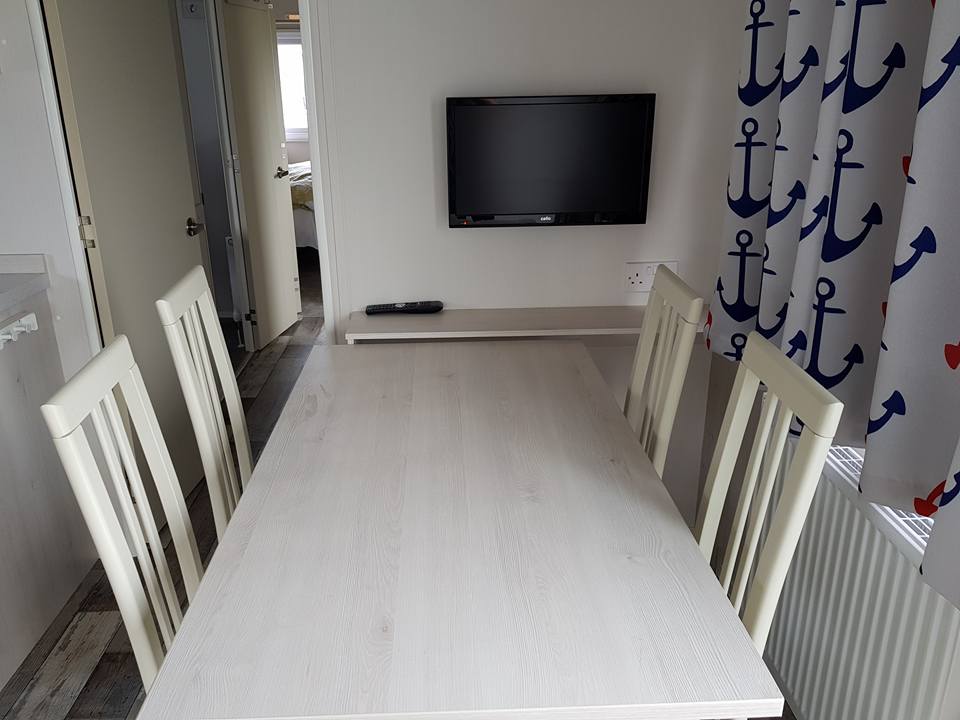 Kitchen appliances included;
Fridge/Freezer
Microwave
Kettle
Cooker
Oven
Grill
There were plenty of pots and pans to use for cooking.
The Front Room
The front room was to the left of the kitchen, it was decorated beautifully and had a huge corner sofa bed with a 32 inch tv on the wall. The front room had a small portable table to put drinks on… perfect for a family with small children.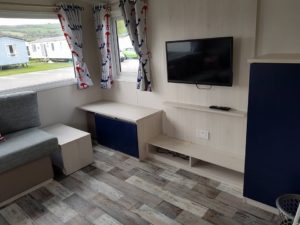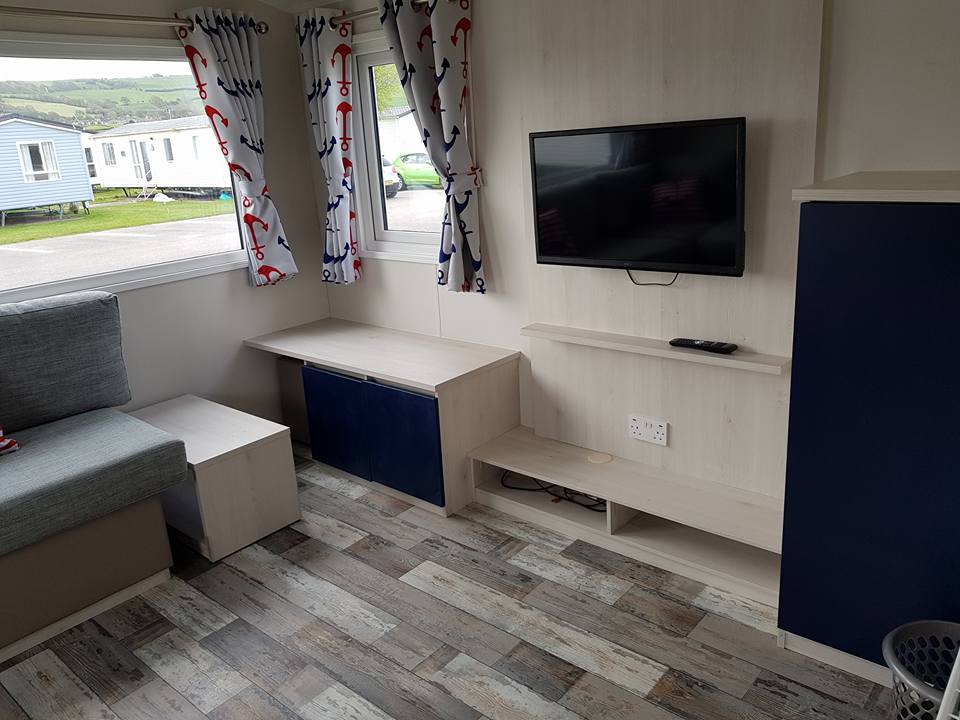 The sofa was very comfortable and turns in to a double bed so if you fancy having some friends over for the weekend or sharing you caravan with some friends, it sleeps 6 perfectly.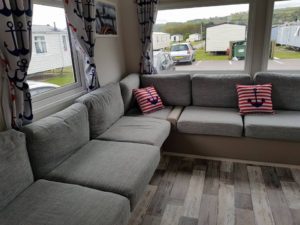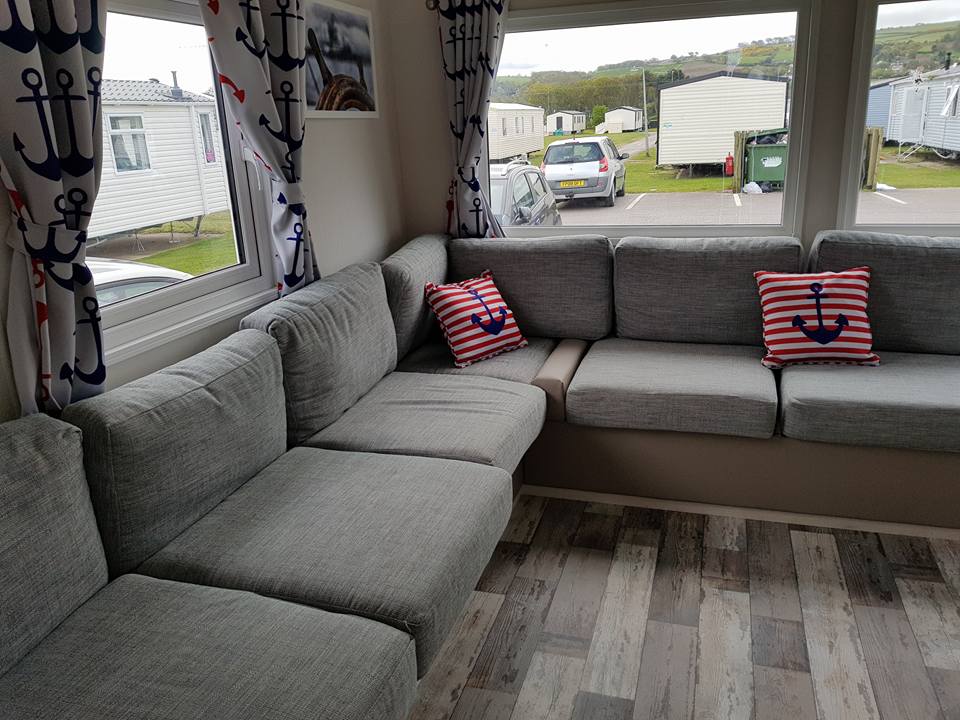 The Master Bedroom
The main bedroom had a double bed well…. It was 2 single mattresses pushed together which was a bit annoying but we soon resolved that by putting a spare duvet across the mattress and it solved the problem. Next to the bed there was a "Boost" button which is perfect for me as I am always cold, all you do is push the button and it soon warms up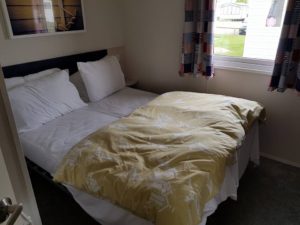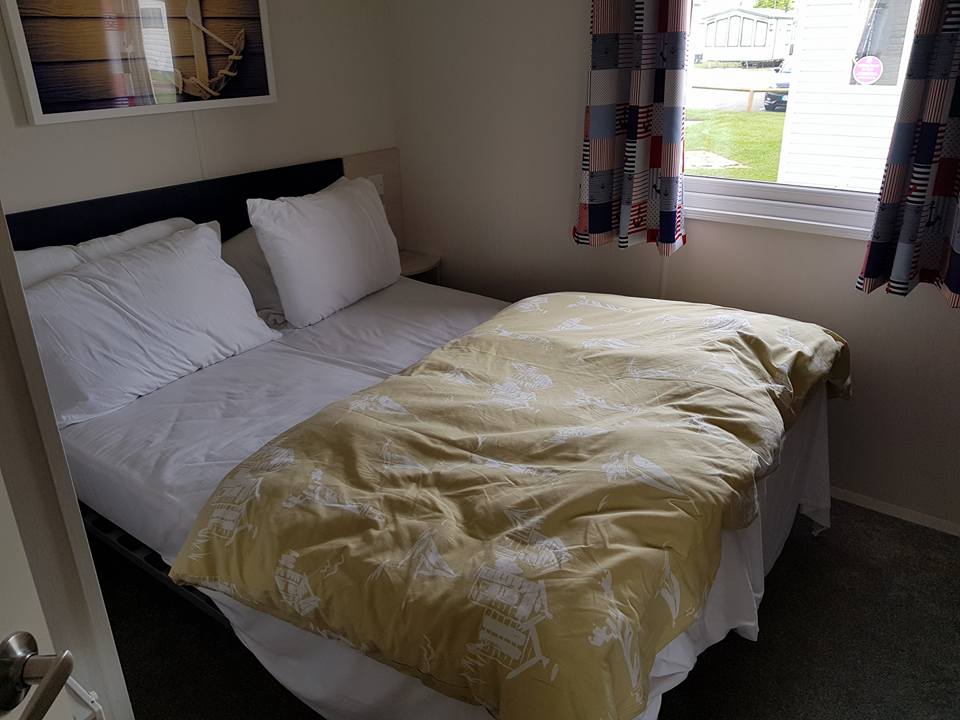 There was plenty of storage room for all of our clothes and hair appliances and there was a dressing table which is great for a mum who has time to put makeup on. There was a door to the bathroom in the bedroom which gives the en-suite effect which was nice… not too far to go in the night for a wee.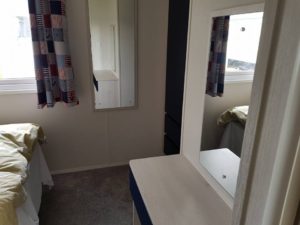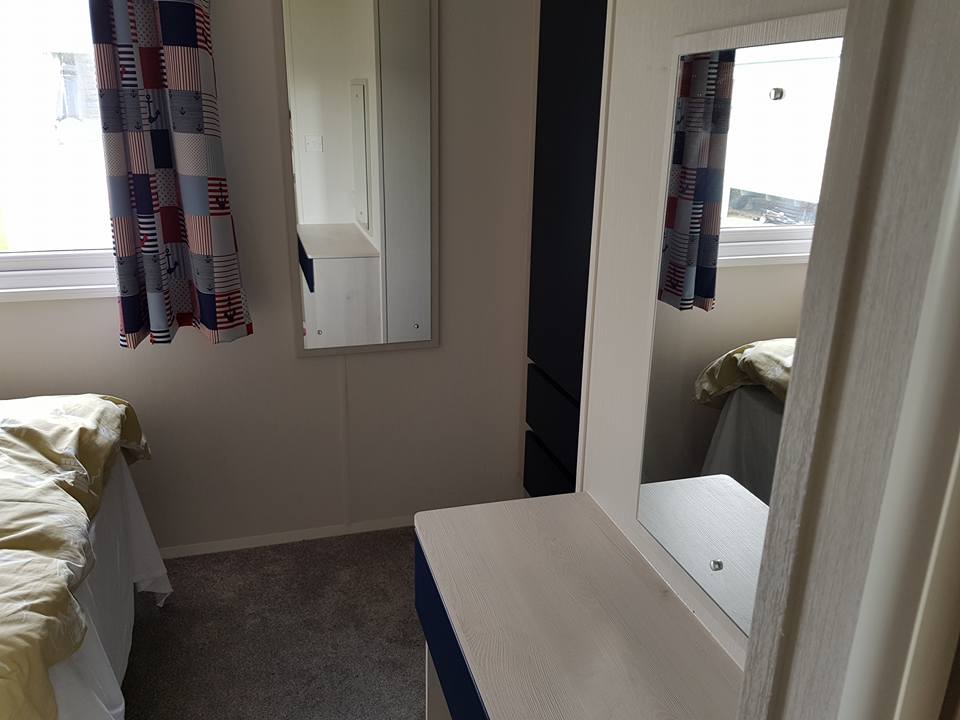 Children's Bedroom
The children's bedroom had a bunk bed and a tv in the room too. The TV wires were not plugged in which was a great idea as parents can decide if they want their children to watch the tv in their bedroom or not.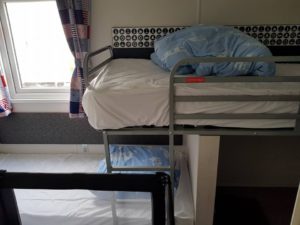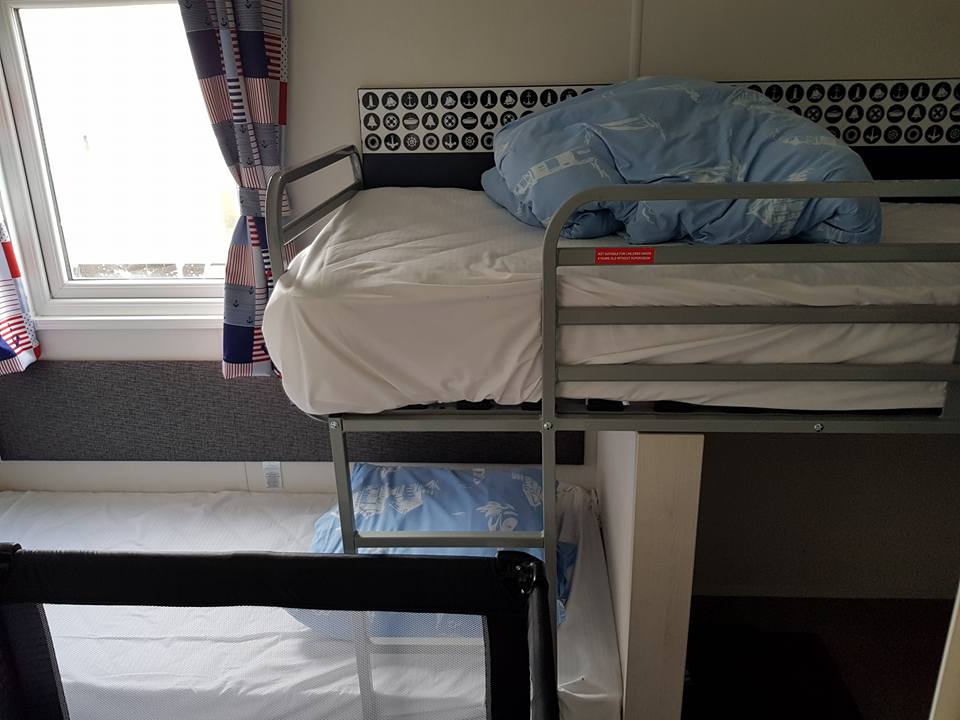 Bathroom
The bathroom had a shower which was easy to use, a sink with a mirror and of course a toilet. There was one roll of toilet tissue so you may need to bring some or buy some more if you don't feel one roll would be enough.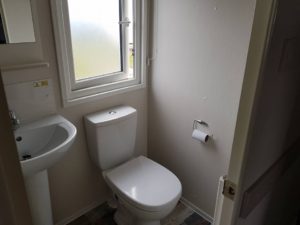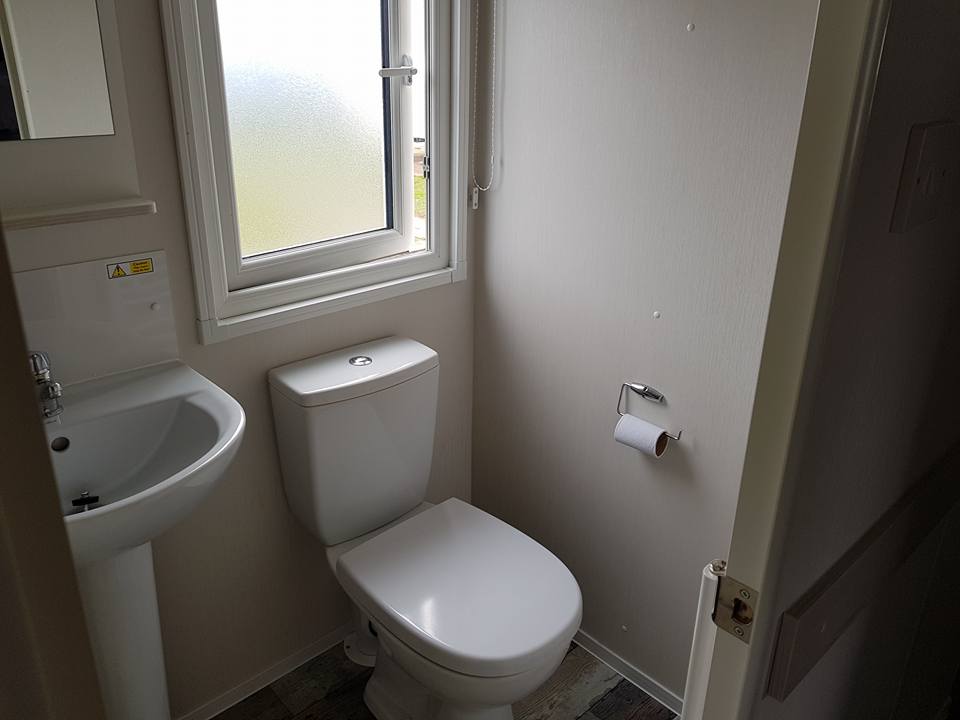 The shower was powerful and easy to use. If only it was soundproof from baby's cries… we can only dream!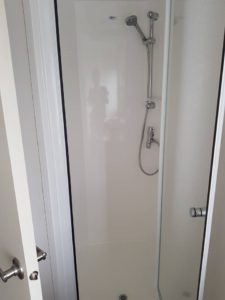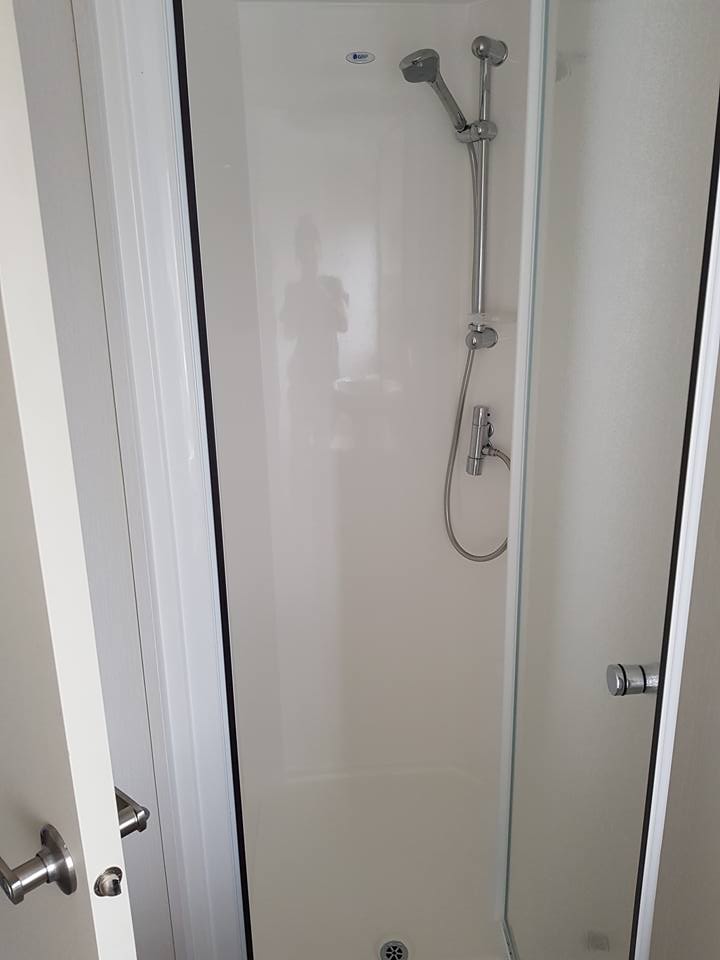 Hallway
In the hallway there are two cupboards, one being a storage cupboard which has a broom and mop in it and the other has the boiler in which means you can easily control the heating and hot water.
Check out my vlog on the caravan we stayed in
Things you need to bring that you may not think of;
Washing up liquid
Cloth for washing up
Bin bags
Tea towel
Towels
Travel cot and mattress
Baby's bed clothes
Baby cutlery, plates and bowls
Toilet Roll
Hand wash
Spray/cleaner for bathroom and kitchen
Items we should have ordered before we arrived;
Once we were settled in the caravan we headed to the main complex to have a nosey and get something to eat.
Activities
I looked over the what's on guide we were given at reception and couldn't believe the amount of activities they had on over the 3 days we were there. Some of the activities were free but most of the activities were to be paid for, the cost for the activities were around £4 each.
Some examples of activities are; mini fencing, mini archery, segways, roller disco, junior pool party, learn to swim, aqua jets, aerial adventures, football academy, target shooting, pool kayaking, go karts and there are sooo many more. The activities start from 8:30am and the children's activities finish around 8pm. There are activities for all the family and you could easily stay at Presthaven all day and night.
As George is only 1 and there were just the three of us we decided it would not be fun taking part in these activities alone so we made the most of being in Wales and travel to some beautiful places.

WiFi
Let's not pretend we aren't interested in having wifi when we are away, of course we are. We all need some downtime when we can. I wanted to ensure that I could work from Presthaven but unfortunately WIFI did not work in our area. I am on 3 mobile and my signal was good however my husband who is on O2 struggled to get signal.
The main complex had WiFi so if you are thinking of taking your laptop to do some work you could head to the Mash and Barrel pub and do your work from there.
The Main Complex
Presthaven main complex has lots of things to do to keep you and your family busy from places to eat, to an arcade and live entertainment.
Presthaven arcade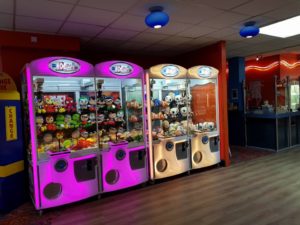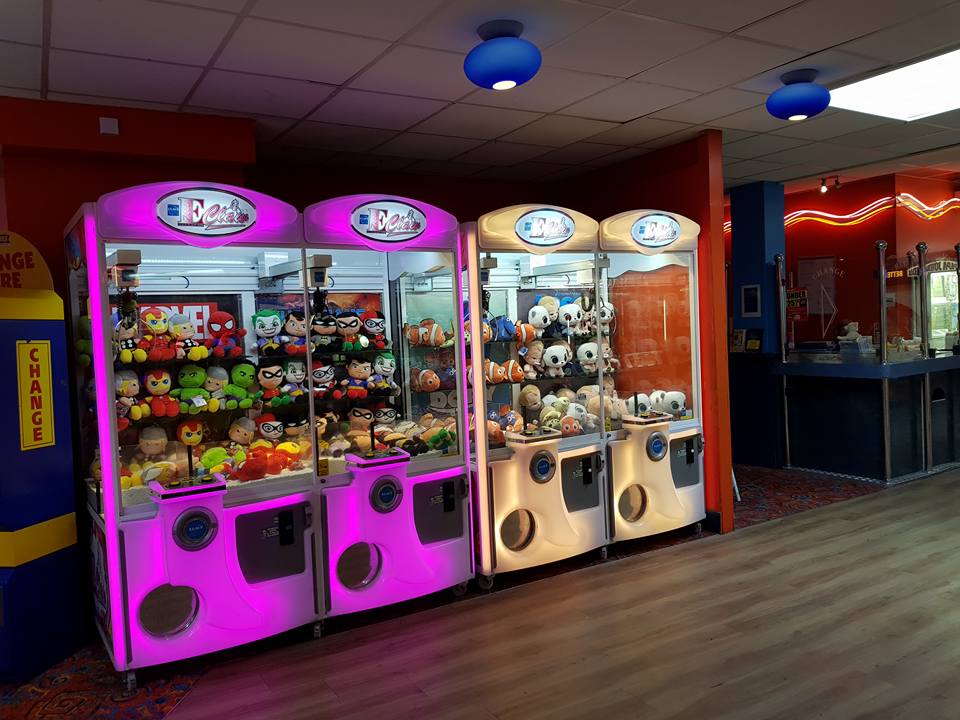 Who doesn't love an arcade and a 2p machine? I certainly do. There was plenty for the kids and the adults to do in this area. There were bandits, video games, 2p machines, teddy grabbers and plenty more. There are 3 free cash machines (2 in the arcade and 1 at the mini market) which is handy if you run out of money. The machines in the arcade are all reasonably priced and we loved the arcade and I enjoyed a few games with the hubby.

The Parks
There were lots of parks dotted around which is great,. George loves swings at the moment so we had lots of fun on those, we never found the parks too busy as there were so many of them. There were also basketball courts.
Food
There was a lot of choice for food. On site there was;
Burger King,
Cook's Fish and Chips
Mash and Barrel Bar and Restaurant
Papa Johns
We were ecstatic when we found out that you can phone Papa John's and your pizza can be delivered to your caravan.

Live Entertainment Rooms
There were two rooms with live entertainment on;
The Carousel Show bar
Live Lounge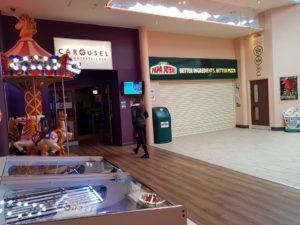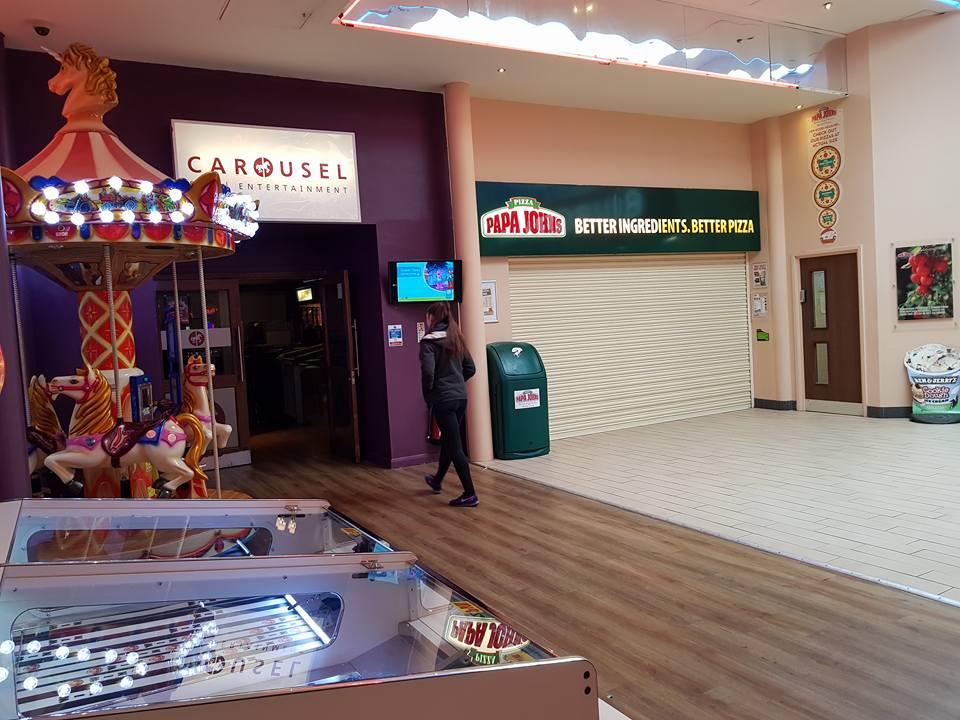 The Carousel Show bar is more adult focused in the day with events like cash bingo 18+ but in the evening it becomes more child friendly.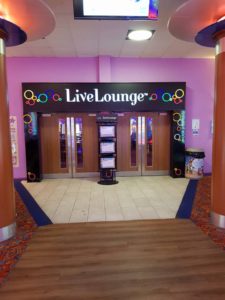 The Live Lounge is more family focused with events like family magic shows, family discos etc.
We spent the first night in the live lounge where there was a live singer and a bit of a disco for the kids which was great. Whilst we were there we went to the bar and got a cocktail pitcher for £15.95, in my opinion it was nice but not worth the price. We ordered a Papa John's and 15 minutes later we were at our table in the live lounge eating it… that was a perfect end to the first day. We were shattered so headed back to the caravan. It took us around 5 minutes to walk back to the caravan, which was absolutely perfect.
George without a travel cot was the worst nights sleep I have ever had, we had tears after tears and that was just from me, so he ended up having a great night sleep in our bed and I woke up aching all over from being constantly kicked by him. I headed straight to reception and asked about a travel cot, initially they said they had none left but when she saw how tired we were she made a few phone calls and told us that one would be dropped off at the caravan for us later that day. I instantly felt relieved.
Breakfast
We decided to have breakfast in the Mash and Barrell bar and restaurant. The prices were reasonable and we ordered 2 breakfast wraps the food came within 15 minutes and it was very enjoyable. George received a goodie bag at breakfast which kept him quiet for a few minutes.
There is a lovely area to eat outside if the weather is good enough but sadly it was a little breezy that weekend so we didn't get to eat outside.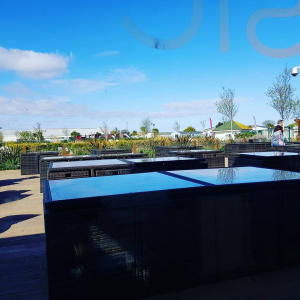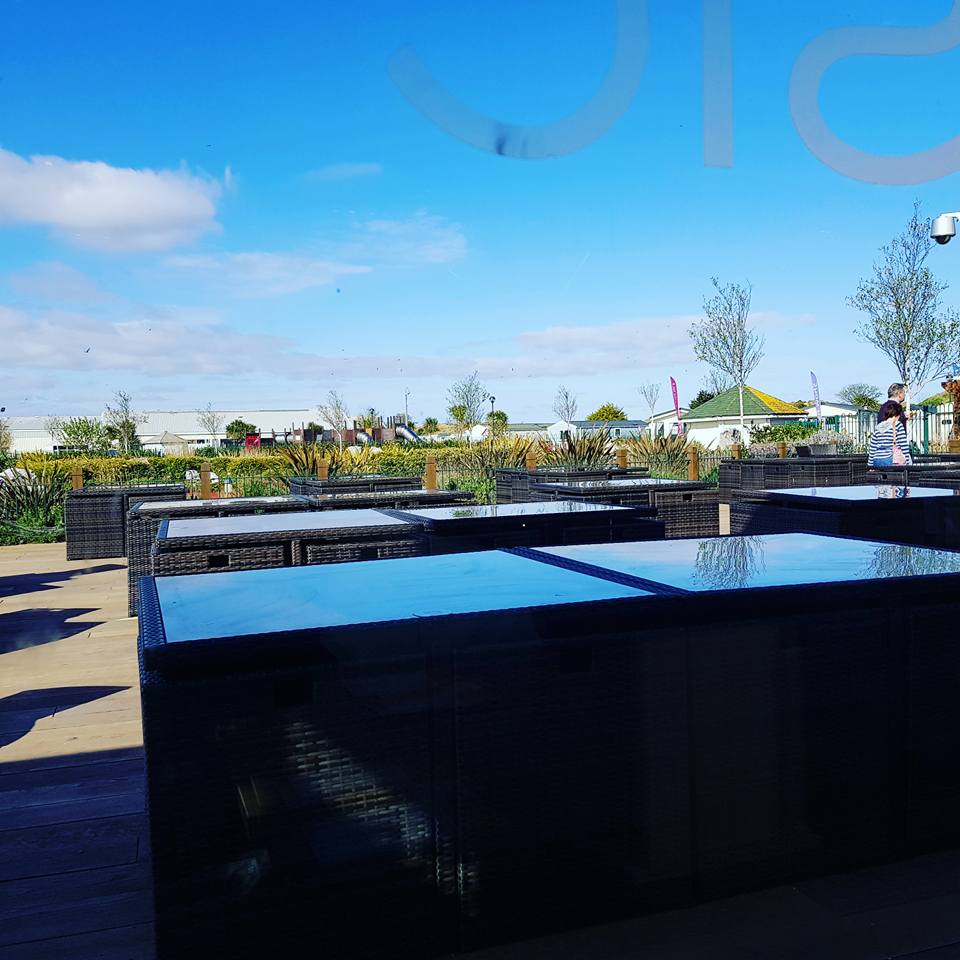 Swimming
Swimming opening times 10am – 6pm and closed 1pm – 2pm (daily)
After breakfast we went to the swimming pool which is located a few minutes walk from the main complex. When we arrived they advised that mornings are usually their busiest time and due to health and safety they are currently doing one in and one out. They advised us that the best time to come is around 4pm but as we wanted to head out for the day we decided to remain in the queue. We must have been waiting around 20 minutes.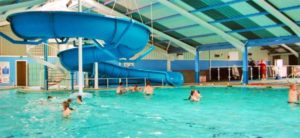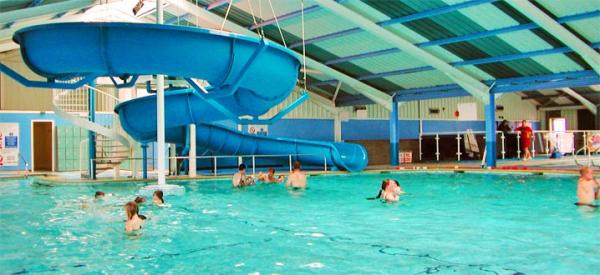 The changing rooms were mixed sex which made it easier for us with George. It meant that Danny could hold him whilst I got ready and visa versa. The changing rooms were clean but I couldn't finding a baby changing area so I had to lie my towel out on the floor in a cubicle and I got him changed in there. We headed into the pools where there were 2 pools, the children's pool which had slides and fun for the kids. The other pool tended to be more adults but as it was quieter we decided to take George in that one.
Personally I hate cold pools so I always dread dipping my toes in, however at Presthaven Sands swimming pool it was delightfully different. The pool was actually warm, I was so happy and we stayed in there for ages, George loved it. I was really happy with how many lifeguards there were and how they were constantly paying attention to what was going on whilst allowing you to have your own fun without being too strict.
After swimming we headed into Rhyl but too be honest we live near Blackpool and it was very similar to that, it was also very cold to be on the seafront so we headed to Llandudno instead. Llandudno was definitely upmarket compared to Rhyl and it had lovely shops and restaurants. It was a nice environment and we went to a place called "Harvey's" for something to eat which was an american style diner, the food was great and then we headed to a lovely ice-cream parlour "The Looking Glass" for desert. The lady in there was very helpful and let us taste ice creams before we decided what we wanted to have. The ice creams were actually the best ice creams I have ever tasted and I am a major ice-cream lover.
We were stuffed and tired after a long day and headed back to our caravan. As promised the travel cot was there waiting for us, luckily we brought a mattress because it was just the actual cot that was available.
When we got back to the caravan park we noticed that George had run out of milk and instead of going out again we decided to check out the mini market. I did notice it was a little more expensive than your usual supermarket but it is well worth it especially in a milk emergency.
To give you an idea of prices in the mini market, it was £1.60 for a loaf of bread, 2 pints of milk was £1.05, Cow and gate milk around £11 and 4 cans of Fosters were £5.75.
The opening hours for the Mini market are as follows;
Monday
8am – 10pm
Tuesday
8am – 9pm
Wednesday
8am – 9pm
Thursday
8am – 9pm
Friday
8am – 10pm
Saturday
8am – 10pm
Sunday
8am – 9pm
The mini market also has a free cash machine outside.
If you need to do a bigger shop or you don't want to pay the prices above then there an Aldi only 5 minutes drive away.
Launderette
Let's face it…. If you have children you will understand that ANY accident could happen at ANYTIME and you can rest assure that you won't have to travel home in a stinky car. The launderette is open from 8am till 6pm and they have an offer on at £7.50 for powder, a wash and to dry your clothes.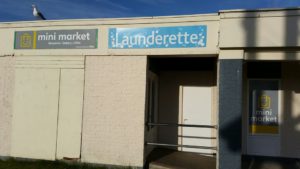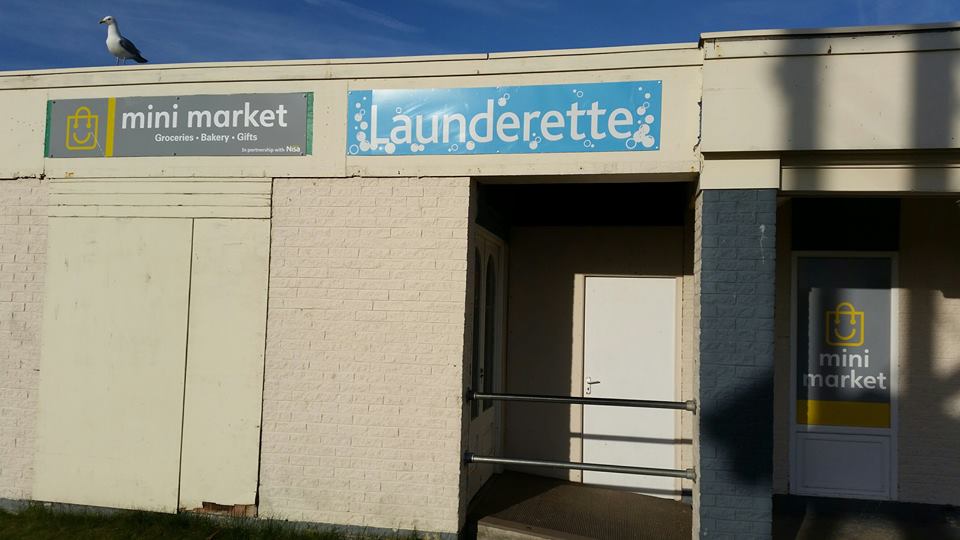 When we got back, George went to bed and we downloaded some films onto our Netflix account before we came and watched them. It was really cosy and we had a lovely night in.
The next day we got up and decided to make some bacon sandwiches, it was the first time we had tried to use the cooker and we weren't sure how to light it, we rang reception and asked them and they instantly sent someone down to have a look, it was of course me being stupid and we had our breakfast within 10 minutes which was great considering we had a problem.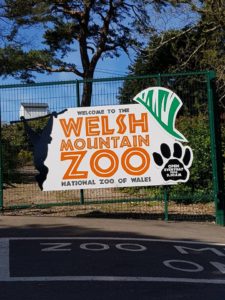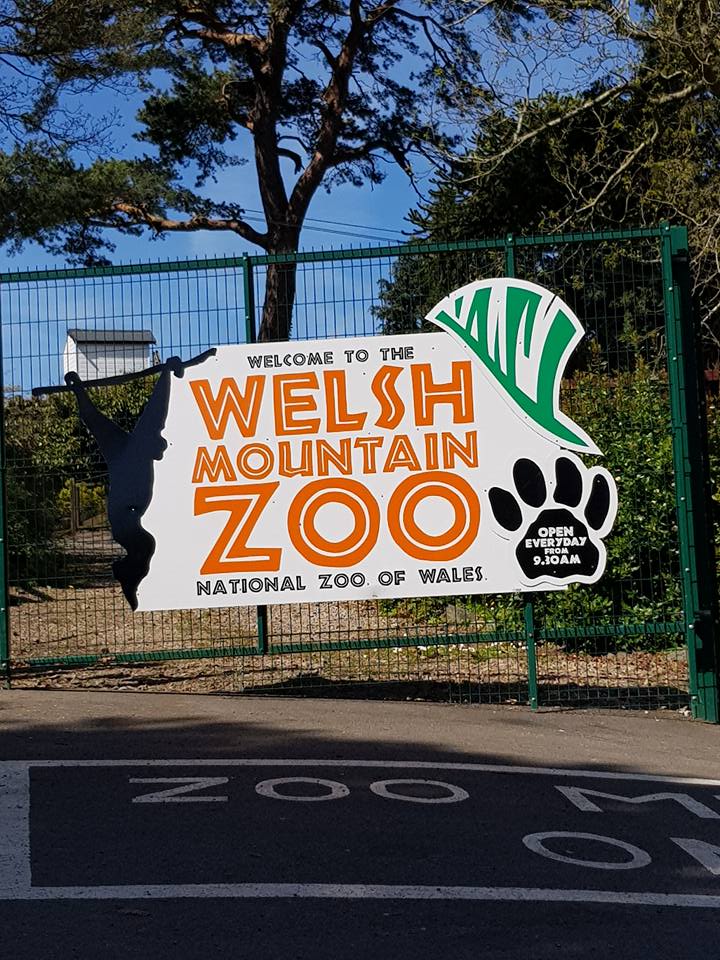 We decided that we wanted to make the most of our full last day and we decided to visit the popular Welsh Mountain Zoo which was fantastic, however it was not pram friendly so if you are thinking of going with a baby then I would highly recommend taking a sling.
On our last night we decided to head to the arcade and entertainment for one last night. We had a fantastic fun filled night. We played on the machines and went to the family disco. The entertainer was great and interacted with the crowd. There were lots of competitions for the kids to stay entertained and to play together. There were dancing competitions and even George and I took part (didn't win and I think that was down to my lack of coordination). We had a fantastic last night and felt a little sad to be leaving but I guess that is the sign of a good holiday.
We had to check out by 11am but could use the facilities all day.
[rwp_box id="0″]
Our overall rating of Presthaven, Prestatyn
We had an amazing time but there were a few areas I do feel that Haven in Prestatyn could improve. We were told when we arrived that they didn't have any travel cots or high chairs left and we should have ordered them, there was nothing done to even try and get hold of one which was a little disappointing. I felt the price for the drinks in the bars were a little overpriced for what we got. The swimming was fantastic but it wasn't ideal that we had to queue with an angry one year old (my son) on the first day.
The whole area was very pram friendly whith no steps and it was all very flat which made it very easy to get around.
Overall everything else was fantastic. I was really glad we chose to come to Haven Prestatyn and we would definitely go back there for another family weekend.
We found booking direct here got us the best deal for our break.
Save
Save
https://www.mybump2baby.com/wp-content/uploads/2017/05/Presthaven-Sands-Entrance-main-picture-2.jpg
720
960
Carla Lett
https://www.mybump2baby.com/wp-content/uploads/2016/10/Logo-MyBump2Baby_transparent-bg-1-1.png
Carla Lett
2022-08-08 19:20:35
2022-08-26 21:47:58
Presthaven Sands Review