Puddle Ducks have some excellent reviews on our directory so I decided to contact them in regards to some parent and toddler swimming lessons. I was  impressed by how many different pools they cover in my area and how many swimming programmes they have.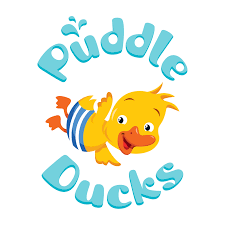 I was specifically interested in the swimming programme for toddlers but there are so many to choose from including;
Baby & Pre-school (for babies and children aged 0-4 years)
Swim Academy (for children aged 4-10 years)
Aquanatal (for mums-to-be)
I decided to pick Ribby Hall in Wrea Green mainly because they have a Starbucks but I also loved the fact that there are lovely walks to do round Ribby Hall, did I mention there was a Starbucks? It is just ideal for a Caffiene addict like myself. I packed George and myself some lunch and off we went for the morning.
Bricking It
Now I can't say I wasn't nervous about the Swimming lesson with Puddle Ducks, in fact I would go as far to say I was absolutely "Bricking it". I know George doesn't like Swimming so the thought of taking him to do something he hated made me feel really guilty but I knew the longer I put it off the worse his attitude towards Swimming will get. We have our holiday booked for January so it is really important to me that he enjoys Swimming a least a little bit more than he does now by then. The main reason isn't because I am selfish and actually want to sunbathe whilst Daddy and George go and play in the Swimming pool… nooooo not at all… I am just being a great mother – you know me.
It's Parent and Toddler Swimming Time!!!!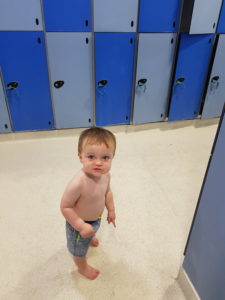 The getting ready part actually went surprisingly well and no one witnessed my naked bum chasing George through the changing rooms for a change so I have to give a big thumbs up to Ribby Hall and I loved the fact they have large cubicles which means I could actually get changed and breathe at the same time which was nice.
We headed to the pool area where I met Leigh from Puddle Ducks, she greeted us with a lovely smile and I explained that George is new and he is a bit scared of water, she instantly understood and said she would accommodate for George during the lesson which was great and I felt instantly relieved.
We got in the pool and it didn't take Miss Marple to see that George was a lot less confident in the water than the other toddlers. He was holding me so tight it actually hurt but I just grinned through it, he let out a scream here and there but it was nothing like I expected and the other mums didn't seem to mind either which was great. I just kept telling him it was OK and it seemed to calm him down (wish that worked at home).
The group was small which was ideal, pools can be loud at the best of times so it was great how we could all huddle in a small circle and do the games and exercises that Leigh gave us to do.
We started the class blowing bubbles to our babies whilst walking round in a circle, George was laughing so much and it is definitely a moment that I keep thinking back to when I think of the lesson. I have never actually had a laugh from him in a swimming pool before – I saw potential right there and from that point I knew these lessons were definitely the best decision I had made it a while.
I loved how Leigh was encouraging us to teach the little ones the phrase "Hold on" and many of the toddlers George's age were actually holding on to the sides of the pool on their own, I couldn't believe my eyes. George did hold the side a little bit which was good but I did need to support him which was fully expected. Leigh taught the kids how to "Monkey Walk" which meant whilst the little ones were holding they were also moving forward towards the steps of the pool – George didn't quite grasp this but it was clear to see that the other kids knew exactly what to do.
When I did used to take George Swimming I was at a loss of what to do in the pool, but the lesson has already given me loads of things to do with George when I do take him swimming on my own, I didn't realise there are so many fun games you can play in the water.
I was utterley speechless in regards to the other toddlers that had been attending Puddle Ducks lessons longer than George, they were happy and completely relaxed in the water, I have never seen anything like it. I decided that if I do have another baby they will be going Swimming as soon as possible.
Now I am not going to lie, I did have reservations before the lesson as a friend of mine mentioned that baby swimming sessions often involve holding the babies under the water but that is definitely not the case with Puddle Ducks classes.
I couldn't believe we had actually stayed in the water a whole 30 minutes, I am really excited for lesson number 2 next week especially if he has a 3-hour nap afterwards like last week.
If you would like to enquire about Puddle Duck lessons then you can find your nearest class by clicking here.
https://www.mybump2baby.com/wp-content/uploads/2017/09/Baby-and-Toddler-Swimming.jpg
1024
943
Carla Lett
https://www.mybump2baby.com/wp-content/uploads/2016/10/Logo-1-300x81.png
Carla Lett
2017-09-28 18:14:02
2018-11-14 08:13:08
Puddle Ducks Toddler Swimming Lessons Review