Real Life Story – My Prolapse Story by Megan Dunthorne

Disclosure: You may find affiliate links within this article, which means at no cost to you, we may earn a commission if you purchase through the links.
At MyBump2Baby, our real-life story section is extremely popular and as mums and mums to be, many of us love reading a good birth story. Every mum has one. Today we have a birth story written by MyBump2Baby parent Megan Dunthorne.
🥰 First Time Mum
💞 Baby Girl- Nellie Pearl
⚖7lb 6
📅Due date 07/08
📅Born – 08/08 (40+1)
💉Paracetamol & Tens Machine & Gas and Air
Little bit of background…
Having children was something me and Lewis (fiancé) had always wanted for a very long time, pretty much from the day we met. There were various reasons why we decided to wait though such as buying a house, going on a few holidays together, getting engaged. I had various issues also surrounding anxiety due to a past experience in my childhood and the thought of carrying children seemed impossible to me due to a fear i developed from a young age.
Trying for a Baby…
However fast forward to March 2019 I made the decision to come off the pill and start tracking my cycles and ovulation so when me and Lewis were ready I knew what day my most fertile days would be. November 2019 came around and we decided it was the right time to start trying so that's what we did and fortunately we fell pregnant straight away!
Hypnobirthing = Positive Labour
I'm a very anxious person and birthing/carrying a baby has always been something that has petrified me and I went through counselling prior to getting pregnant to try and solve this fear. Then when I fell pregnant I decided I was going to try hypnobirthing and it honestly changed the whole way I looked at birth and I truly believe it's why I had such a positive and quick labour.
I had such a smooth pregnancy and I absolutely loved being pregnant. I didn't suffer from any sickness. The only bad part of my pregnancy would be suffering from piles. I wouldn't say I would change anything about my pregnancy apart from being pregnant during a pandemic. I missed out on baby shower and showing off my bump to others. Luckily I had the opportunity to work from home and to stay safe and still be paid from 19 weeks pregnant. The pandemic also meant that me and Lewis were able to spend so much quality time together before our little cherub arrived.
Losing Blood
It all began on my due date 07/07/2020. I went to bed on the 6th August and woke up at 3am on the 7th to go for a wee and when walking to the bathroom I was loosing fluid (red/pink fluid). I wasn't sure what it was as it didn't seem enough to be my waters and it didn't look like the "bloody show". As it was a red colour I got so worried thinking I was loosing blood so I got up quickly and rang delivery. They asked me to pop in a pad and go back to sleep and see what it's like in the morning about 8am.
8am I woke up and had lost a small amount of fluid but again not a lot and not enough to make me think it's my waters. I rang back again and they asked me to go in to have a test to check if it was my waters and have the baby monitored.
I didn't want to be induced
The 7th August was the hottest day of the year, hitting 34 degrees, I was praying today wouldn't be the day as the heat was unbearable! At 10.30am I arrived at the hospital and had the test. I was very anxious and almost hoping it wasn't my waters as my contractions were yet to start and I really didn't want to be induced and I knew that if it was my waters and my contractions hadn't started within 24 hours I would need an induction. The lady who did the test came in and said "yep it's deffo your waters" instead of feeling excited I just felt so upset as this isn't what I expected at all, it's not what I planned or what I imagined. I wanted my waters to break like in the movies and I wanted my labour to start spontaneously without induction.
I accepted the Induction
After I had a cry and understood the implications if I was to decline induction I finally accepted it and I was booked in for induction at 9am on the 8th August. The midwife had a good chat with me and said look it's still early you have around 20 hours to start contracting naturally. It is still possible. She told me to try all the old wives tales such as remain active, nipple stimulation,raspberry leaf tea, bouncing on the ball, relaxation!
I went home and from that moment it was projected get these contractions started so I had a cup of raspberry leaf tea, bounced on my ball, ate some pineapple… then this crazy woman (me) decided to go to the gym on the hottest day of the year and do an hour of walking… then I came home and done myself a bath and set up some mood lighting and just relaxed in the bath.
I can remember lying there hoping my contractions would start but then I had an overwhelming sense of happiness that regardless of the situation I was hopefully meeting my little girl the following day. Off I went to bed about 11 pm hoping for the best sleep of my life …
08/08 1am I woke up for a wee and checked my phone and got annoyed that still my contractions hadn't started. I went back to bed and this is when I fully relaxed and thought well fu*k it … it's not happening. Well 3am I woke up and I was loosing more pink/red fluid … but still not like the big gush you see in the movies. Then the contractions started. They were coming about 10 minutes apart and I laid in bed for a good hour just timing them. Then at 4am they were about 7 minutes apart. Lewis made sure we went downstairs and got the living room set up with mood lighting and my headphones in.  Then at 5-6 am they had ramped up and were coming every 4-5 minutes. I was so excited as I knew this was it and that I wouldn't need to be induced. However at 8am they started to slow up and were coming every 12-15 minutes.
I rang the hospital at this point and explained the situation and said I would rather stay at home until my contractions are 3 minutes apart so when I got to hospital I was 4cm and Lewis could stay with me. They wasn't happy with this idea and wanted me to come in about 10.30am to be monitored. I got told lewis could bring bags with me but would need to wait until I was examined and confirmed I was 4cm.
Contractions at this point ramped up again at this point and were 4 mins apart. Lewis put my tens machine on for me and off we went to the hospital. The car journey was a very uncomfortable car journey…
We arrived at the hospital and it all became very real, we were not leaving without our baby. We turned up to the ward and they gave me my own room and nothing was mentioned about Lewis having to leave and wait which meant he was staying with me and wasn't leaving until our baby was here !! My labour had officially began! I started bouncing on the ball through contractions, rolling my hips, walking around the room.
Vaginal Examination
I had a jacket potato with cheese and beans. It was terrible haha!  The midwife then came in and said as I didn't seem to be progressing they would get the pessary prescribed and start me on the drip. I was abit annoyed with her saying this as the contractions were coming thick and fast and I was thinking why the hell am I still being induced ! I was then examined by the midwife at about 3pm. Vaginal examinations have always been a massive fear of mine and I actually had intense counselling a couple of years back to ease my fear. I kept saying to Lewis I was so so scared about it. I was brave and had it done and she confirmed my cervix was very stretchy and that I was 3cm and she stretched me to 4cm and said she was going to call delivery to collect me. I was so proud of myself that I had the examination and the sweep and told the midwife she has officially made me get over my fear, it was a very tearful moment and a moment I never thought I would be able to face again. I then asked if I could have some paracetamol not that it helped at all haha!!
Delivery came by to pick me up and by this point, I was getting contractions really close together. I was focusing on my breathing and remaining calm and kept telling myself every inch of pain is a step closer to meeting our little girl.
When I got over to delivery my contractions were so intense in my stomach something just didn't feel right at all. I mentioned that I didn't think I was weeing enough and finishing properly. I started on gas and air and then I had a catheter fitted and it worked instantly!! The catheter bag started filling up and my contractions were less intense in my stomach and they were more in my back. I continued with my breathing techniques, tens machine and gas and air.
The end was in sight….
It got to about 4.30pm and I remember the midwives saying in the back ground to each other "this is going super quick, we need to get everything ready as this baby is coming sooner rather than later" … they then said to me that they would love to deliver the baby before they leave off shift at 7.30pm. I looked at the clock and thought OMG and asked them if it's possible and they said yes the rate your labour is progressing and I just couldn't believe it! The end was in sight! I honestly thought I still had hours and hours left haha!
I was contracting at such a rapid pace by this point and could remember the pain being so bad I was shaking and making grunting noises and asking for more pain relief but Lewis knew I wanted to try an go through labour intervention free so he declined it for me which I'm glad he did! They had the monitor attached to me and the moment I would let my mind be over ruled by the pain my babies heart rate would go up. That was my motivation for remaining calm knowing that the calmer I am the calmer she stays.
About an hour later I can remember hitting the transition phase where my body was just so ready to give up. I kept asking for more pain relief and kept saying I can't take much more. However, I recognised this was the transition phase which made me think in my head I must be 8cm dilated +. I think this is the point where it got difficult for Lewis as my contractions were coming every 45 seconds to 1 minute, I just had no rest at all my whole body was shaking my back was tensing up… Lewis was tearful it's hard seeing your fiancé in pain even though it's a good pain it's still difficult! I struggle when I stand on a snail haha  🐌 let alone watching your fiancé go through hours of pain!
At about 6.30pm I remember the nurses saying I was 9-10cm dilated but I had the tiniest bit of cervix waiting to disappear. The long wait for that bit of cervix to go was horrible it took about an hour. A whole hour of body shaking, intense back to back contractions. This was the point I was bloody exhausted. These contractions were the contractions where your body couldn't help but push but I had to stop my body otherwise I would cause tearing as my body wasn't quite ready !! I can remember crying saying I couldn't do it but with the help of Lewis and my mum on FaceTime telling me I was doing so well and was nearly there and to just keep going with it.
Ready to Push
At 7.30pm the nurses swapped over. I was examined and was officially ready to push. I started pushing on my hands and knees as I really didn't want to give birth on my back. After about 45 minutes of pushing the nurse said that we wasn't getting anywhere and to try on my back. The pushing stage for me was the most annoying as you could feel her head coming down but bobbing back up again. At this point I was sucking on the gas and air continuously as I was having back to back contractions, I was high as a kite ! It wasn't taking any of the pain away but it was helping me feel relaxed !
I turned over onto my back and at this point I can remember crying saying I was so worried about tearing and I was so worried about my pile getting even worse. The midwife kept saying don't worry about it just focus on getting your baby out and we will deal with the rest afterwards.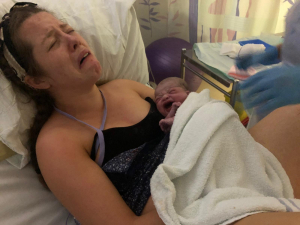 Looking at Lewis I could see in his eyes how proud he was of me and I was excited that this was the finale and soon our little girl would be in our arms. The contractions started coming and I pushed with everything I had, each push was very successful and I could feel her head crowning. They called Lewis down to the end of the bed and said look she's got loads of hair. This gave me so much motivation. Three contractions later her head was fully out. They told me to look down, I got another contraction and her body came out I grabbed her from between my legs and pulled her up to my chest at 8.34 pm. Lewis was crying, I was crying and my mum on FaceTime was crying. Infact me and Lewis were screaming, it was so surreal and I couldn't believe my body had done it!!
It was the most magical and insane feeling in the world. She was so incredibly beautiful and already so so loved. The way she was looking at me and Lewis was priceless. 40 weeks of waiting, I would wait 10000 years for that feeling again. Honestly would do it over and over again! It was beautiful. Lewis cut her cord and my placenta was delivered.  She was on my chest for a good hour while I was getting stitched up (seven labia stitches) and me and Lewis were just besotted by her. Watching her every movement. We couldn't believe how much hair she had and we just couldn't believe she was all ours our beautiful little creation. It's true that once they come out every inch of pain disappears.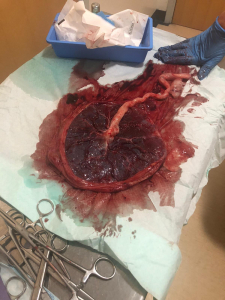 We got five hours together as a family, we had tea and toast and I had my first dreaded shower which I must add was bloody awful I hated every moment of it haha! Felt like I had been ran over by a bus 100 times, my belly and flaps felt like they were dragging on the floor hahaha !
The First Night
I was then transferred to the ward at 1.30am and Lewis had to go home. That first night with her I didn't sleep a wink, I spent the whole time admiring every inch of her. She's just perfect.
I was so incredibly proud of myself, never ever did I think I could endure that much pain. Never did I imagine I could give birth using just gas and air. I was in absolute awe of what I had just achieved. I felt like superwoman. One thing I never thought I would say is that I would happily do it all over again. As soon as Lewis got home I received this message "I love you so much , you don't even know how incredible you are! Seriously so so so proud of you and you should be proud of yourself! I'm in absolute awe of you and our gorgeous girl, thank you for being amazing. You've overcome the toughest task of your life with a breeze and it was incredible. After today, it's not possible for me to love anyone as much as you. I watched you birth a baby on gas and air! What the actual fuck. Wowwowoowowowo. I swear the best thing I've ever seen xxx".
I was finally discharged at 17.30pm, the best day ever taking our little Nellie Pearl home 💖💖 she's the best present we have ever received. Love you Nellie 08/08/2020!
Following the Birth
Following the birth I had 7 stitches and a week after the birth I didn't feel like I was healing at all. I rang the health visitor as I was concerned I had an infection. She took a swab and. Reassured me that it all looked ok!
Prolapse Following Labour
Two weeks later I was still feeling pain and pressure. Three weeks later was still the same I knew something was wrong and I just couldn't pin point what. It felt like a fishing hook with weights attached was pulling down my insides. Whenever I sat down I felt like I was sat on a ball. It was consuming every day the pain I was in. I was jealous of the mums that seemed to have got back to normal after a week. I decided to call the women's health team at my local hospital and a referral was made and within a month I had an appointment. They checked me over and confirmed I had a prolapsed vaginal wall. I instantly fell into a spiralling wave of depression thinking that I was never ever going to overcome this.
How to cope with a Prolapse
I'm someone that's extremely into health and fitness and I thought how on Earth would I be able to lift a weight again. I found myself googling over and over again "prolapse following labour" and "how to cope with a prolpase" all these things were rushing in my mind. I was scared I wouldn't be able to have children naturally ever again.
Pelvic Floors
I've now been having intense physio for 3 months and I am proud to say that everyday it's improving and one bit of advice I have now for pregnant ladies and new mums is when people bang on about doing your pelvic floors … just do them! Don't put it off for another day just do it !
Women's health have reassured me that with time it will repair … having babies in the future will be possible but delivery of the baby may need to change. It's painful and it's mentally draining but it's all worth it as I have a beautiful creation and she's worth every inch of pain.
https://www.mybump2baby.com/wp-content/uploads/2020/12/real-life-2.jpeg
1200
1600
Lauren Back
https://www.mybump2baby.com/wp-content/uploads/2016/10/Logo-MyBump2Baby_transparent-bg-1-1.png
Lauren Back
2020-12-17 11:54:23
2022-02-17 14:11:18
Real Life Story - My Prolapse Story by Megan Dunthorne