If you are a fan of my Instagram live videos and can sympathise when I talk about the diet that started on Monday ended on Tuesday and will be continuing the following Monday, then you will appreciate this post.
I was approached by Fitbit to write an honest review on the Fitbit Charge HR 2. This came at the right time for me as I was scoffing my face but not really exercising. I go through phases where I am either addicted to the gym or addicted to food.
As a mum, it is so hard to find time to actually get to the gym and for me I wanted to see if the Fitbit is a good way to keep me on track with my fitness and eating habits with a view to lose a few lbs and generally feel healthier and happier without the hefty gym membership fee each month.
Ok, so before now, I was very much an indoor type of person, sure I went to the gym but if someone asked me to walk somewhere I would ask "why?" I was the type of person that couldn't understand why people would want to walk when they drive but since getting my Fitbit walking is now one of my favourite things to do.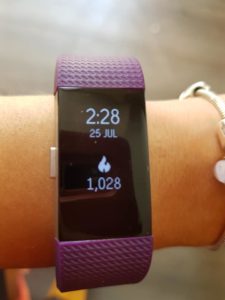 The Fitbit has been extremely beneficial for me at work, I work from home and just as I reach that 2pm "how am I going to keep my eyes open" slump, I stick my trainers on, pop the headphones in, press play on my favourite podcast and way I go!!!
Since using the Fitbit I have been a lot more aware of my overall health. I quickly released the reason why I am always tired is due to lack of sleep and I wasn't dying from an undetected illness (I am such a Hypochondriac). I also wasn't drinking enough which often made me think I was hungry rather than thirsty. I soon realised that I wasn't moving enough throughout the day.
So what is the FitBit Charge 2 great for?
Motivation
Challenging yourself
Comparing your movements
Losing weight
Getting fitter
Calming Anxiety
Being Healthier
Logging food and water intake
Tracking menstrual cycles
What features does the FitBit Charge 2 have?
Heart rate monitor
Sleep Tracker
Activity Tracker
Breathing sessions
Steps taken
Distance covered
Calories burned (total)
Active Minutes with strenuous activity
Floors climbed
Move Reminders

Ok, so the fitbit Charge hr 2 is never going to look like the latest Michael Korrs watch, I mean, COME ONNNN it's an exercise tracker. It is made to withstand the sweatiest of arms and it certainly looks that way. The good news is the strap can easily be changed from "Gym wear" to "office wear" with a simple adjustment. I have a brown leather band for when I am attending an important meeting or conference and my purple band for general day to day wear.
I much prefer the look of this fit bit to other fit bits, the screen is easy to see but not too big either. I did find the watch a little bulky to wear to begin with especially at night but within a couple of days I was used to it.
The Fitbit app is fantastic and a great place to go to check out your health dashboard in more detail. In an instant you can see steps taken, floors climbed, activity, your sleep tracker and you can also use this dashboard to input your food and water intake if you want to maximise its use.
I love the fact that in this area Fitbit recognises that everyone is different and everyone has different goals so you can use this section to your advantage to allow Fitbit to help you with what matters the most whether it is drinking more water or getting more sleep.
Accepting Challenges
I love the fact that you can connect with other fitbit owners and set challenges and competitions. I often take on a weekend or weekly challenge and compete against other fitbit owners. If you want to add me my name is Carla L and my email is [email protected]
The Heart Rate Monitor
The heart rate monitor works great for me when I am exercising at home or at the gym and I am trying to reach my fat burning zone. I really like this feature and I do notice a big difference when I exercise with my tracker as I always push myself to meet the zone I need to be in.
Sleep Tracker
My friends think I am lazy because I like to have a nap when I get the chance but lone behold since owning the Fitbit charge 2 I noticed that I only get around 5 – 6 hours sleep a night which is definitely not enough. I often work in to the early hours of the morning. I have now set a minimum sleep target of 7 hours to ensure I feel better – I am struggling to stick to it but I have definitely improved.
Activity Tracker
I love the fact that you can track different types of activity and not just steps. You can now track running, walking, hiking, biking, elliptical workouts and weight lifting sessions. You can select which ones you are more likely to use on the app.
Step Tracker
I did have a slight issue one day with the step tracker, I decided to do an extra-long walk which was around 7 miles in total, however I noticed that during the walk some of my steps weren't recording. When I got home it said I had only walked 3,000 steps all day and I really wasn't sure what had happened, after some research I did notice that my band wasn't as tight as it should have been and I had worn the fit bit charge 2 in the shower that morning which is also a big NO, NO!!! THE FITBIT IS NOT WATERPROOF, I REPEAT THE FITBIT IS NOT WATERPROOF!! It never did it again – I did the same walk another time and it measured around 12,000 steps that day which seemed right.
Breathing
As some of you know, I get the occasional bout of anxiety and I have been told numerous times "it's all about the breathing", it often occurs at night and is tied in with over thinking and worrying about things I have zero control over. I have started using the breathing feature at night and it has been brilliant at calming me down and just chilling me out.
Battery Life
The battery life on the Fitbit Charge 2 is supposed to be 5 days but for me it needs to be charged every 4 days which is still a good amount.
Fit Bit Charge 2 review summary
I actually love this Fitbit so much and I am so glad I got the opportunity to try and test it. I was gutted that it was not waterproof but I know there are other Fitbits out there on the market that are. I did have that one day with the Fitbit where my steps didn't tally up but as mentioned, I had been in the shower with it and I didn't have it on as tight as normal, nonetheless it was bloody annoying. I didn't experience any other issues with the FitBit charge 2 and it hasn't happened since.
I do find it annoying that the fitbit is not shower proof, I have often forgot to put it back on and missed a whole day or tracking.
Has the Fitbit Charge 2 been successful with my goals?
Yes, I have lost 7lbs using the Fitbit and simply walking more. I haven't really been to the gym much whilst I have been walking due to lack of time and how busy I have been but walking has been great for my mind as well as my body.
Would I cancel my gym membership?
No, walking is great and I really do enjoy it but I still love going to the gym for a good spin class. I love the fact that I can use the Fitbit to track other exercises as well as walking. If you are happy exercising out of the gym you could definately cancel your membership and I do feel the fitbit is a great way to monitor your health and progress.
MyBump2Baby Score

{{ reviewsOverall }} / 10 (4 votes)

Readers Score

MyBump2Baby readers say... Leave a review

Order by:

Be the first to leave a review.

Show more
https://www.mybump2baby.com/wp-content/uploads/2018/07/review-of-the-fitbit-charge-hr-2-calories.jpg
960
720
Carla Lett
https://www.mybump2baby.com/wp-content/uploads/2016/10/Logo-MyBump2Baby_transparent-bg-1-1.png
Carla Lett
2018-07-25 14:46:08
2020-12-31 08:43:46
Review of the FitBit Charge HR 2 from a Busy Mum's Perspective