Sea Life Centre Blackpool Review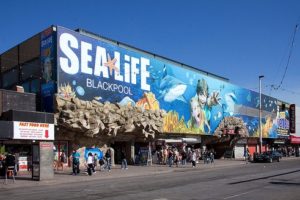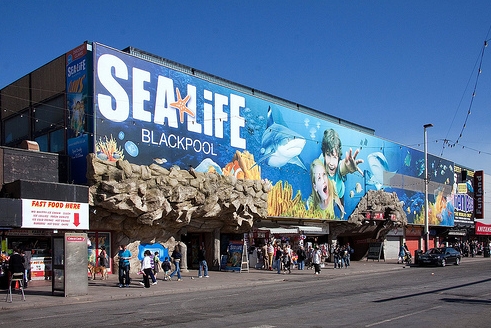 I was over the moon to be asked to write a review on the Sea life Centre in Blackpool, I had been wanting to go for ages and this was a wonderful excuse to head down there with my friends and our babies and have some fun. There were four adults and 4 babies from 2 months old up to 3 years so I thought it was a great way to see how the different ages interacted at the Sea life centre.
I woke up that morning and aimed to be as organised as possible so that the day ran smoothly and we all had a nice day out. I got my friend to pick me up and we headed to the Sea life Centre in Blackpool.
As I stepped out of the car a huge gush of wind smacked me in the face and it was at that moment that I realised I completely forgot George's lunchbox… his lunch, snacks and bottles were all neatly sat in my porch at home …. When I am running late I usually throw all the food in his changing bag. "That's the last time I try and be organised" I told myself. We headed to Boots to buy a bottle, some milks, some lunch and some snacks for little George… God forbid that little man goes hungry – My life wouldn't be worth living.
Educational and Fun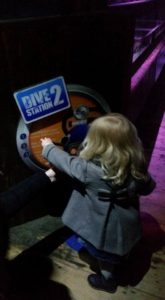 We eventually made it in to the Sea life Centre, we were all very excited especially little Faye (age 3), we were given a card with different challenges that must be completed during our journey through the Sea life Centre and if all the challenges have been successful you are rewarded with a prize at the end, I thought it was a great idea and Faye ran through the double doors ready to start her first challenge. As you complete challenges you collect stamps. We also followed a story called "The Snail and the Whale" written by Julia Donaldson. The Snail and the Whale tells the story of a snail who wants to see the world and travels on the tail of a Whale. They go on an amazing journey together, passed Icebergs and Volcanoes, Sharks and Penguins, and the little Snail feels so small in the world. But when disaster strikes the tiny Snail saves the day.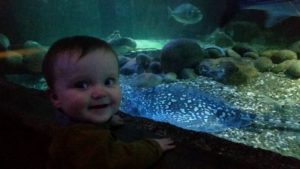 My son George is 10 months old and I am not used to him paying attention when we go on day's out and between me and you …. I usually go to exciting places for me more than George but the Sea life Centre was totally different. It was dark with lovely UV lights so George loved it as soon as we got in there. It was great to see him interested in something other than food for a change. We headed to the first tank where some very old looking fishes were and a gentleman that worked at the Sea life Centre headed straight over and started explaining about the history of them… A fish that I would normally just walk past became all of a sudden very interesting.
The Rockpool School
We then headed to the "Rockpool School". The "Rockpool school" was fascinating because you were allowed to touch the fish. There were so many different types of fish from Cleaner Shrimp, Crabs, Star Fish to Lobsters it was amazing…I mean when else in your life can you ever say you touched a Star Fish? We spent a good 20 minutes in this part of the Sea life Centre learning about all the different types of fish and their background. It was from this point that George refused to sit in his pram any longer and wanted to be held so he could see exactly what was going on… It was great to see him interacting and interested in all the fish but at some points I didn't think my arms could take anymore.
More Fun at the Sea Life Centre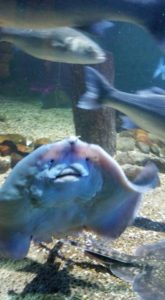 We carried on with our journey through the Sea life Centre and we especially enjoyed the Stingrays, they are beautiful to watch and I couldn't help but think of poor Steve Irwin…. "He was a Crocodile Hunter that got killed by a Stingray???" I still can't get over that. We watched the stingrays for a long time… the way they move is just so relaxing to watch and we all got especially excited when they put their funny faces up to the glass.
We then headed through the shark tunnel so we got a closer view of the interesting predators. I don't know about you? But I am one of those people that struggles with Sharks… No matter how hard I try to not think of Jaws when I am in the bath or at the swimming pools I just cannot help it. I hear the Jaws theme tune almost every single time which results in me having to get out…. So this Shark tunnel was a chance for me to see them a little closer and try and get over my fears. Did it work? Not at all!!!! In fact, I actually had a nightmare about being in a Shark attack that night so if anything it did make my fears a little worse.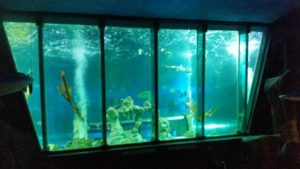 Once we made it through the Shark tunnel there was a beautiful area where you could sit and eat a picnic or have a drink opposite a huge fish tank full of Sharks. The lights and colours were gorgeous and I sat there for a good 20 minutes whilst I fed George just watching the Sharks swimming strongly around the huge tank like they owned the place. I love tuna sandwiches but I don't think it would have been appropriate for me to eat tuna that day.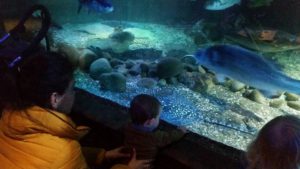 We then headed through to another area where the fish ponds were open so you could actually look in… George used this as a chance to try and grab some fish luckily he missed. There were some absolutely stunning fish and we especially loved the little seahorses.
At the end of the tour there is a place where you can sit down and get yourself a drink with a lovely play area for the children , the changing facilities were clean and well kept which always makes a huge difference when thinking about taking your baby somewhere.
[rwp_box id="0″]
Overall Review of The Sea life Centre, Blackpool
The Sea life Centre was an excellent experience for everyone involved. The babies responded really well to the UV lights and sensory feel to the place, Faye aged 3 loved completing the challenges and taking part in the "The Snail and the Whale" story. The staff were very helpful and were on hand to answer any questions we had. It was a great day and we all agreed that we would like to go back again once the youngest "Skylar" is a month or two older. If you are thinking about heading out for the day somewhere that isn't weather dependant and somewhere that is not only fun but really interesting, I would definitely recommend it. You can get around the Sea life Centre as quickly as you want however I do feel that the maximum amount of time that you will probably spend there is around 4 hours. If you are looking for more things to do in Blackpool, you can also read our review on Jungle Jims Blackpool by clicking here.
Opening Hours
Standard Opening Hours: 
Open 7 days a week (except Christmas Day)
March 
Weekdays: 10am – 4pm
Weekends: 10am – 5pm
April – Onward 
All days: 10am – 5pm
Admission Prices
Adult (15 YEARS AND OLDER)
£17.50
Child (3 TO 14 YEARS OLD)
£14.50
Child (UNDER 3)
FREE
Save
Save
Save
Save
Carla is the founder of MyBump2Baby. Carla has a huge passion for linking together small businesses and growing families. Carla's humorous, non-filtered honesty has won the hearts of thousands of parents throughout the UK.
She has previously written for the Metro and made appearances on BBC News, BBC 5 live, LBC etc. Carla is a finalist for Blogger of the Year award with Simply Ladies inc. Carla is also the host of the popular Fifty Shades of Motherhood podcast and The MyBump2Baby Expert podcast.
https://www.mybump2baby.com/wp-content/uploads/2017/03/sea-life-centre-Blackpool.jpg
328
491
Carla Lett
https://www.mybump2baby.com/wp-content/uploads/2016/10/Logo-MyBump2Baby_transparent-bg-1-1.png
Carla Lett
2017-03-22 13:39:43
2018-09-24 12:31:58
Sea Life Centre Blackpool Review