With so many baby classes to choose from these days it's always good to try something a bit different. Read on for my review of Lingotot Bexley – where children can learn languages such as Spanish and French…..
On a recent dreary, wet day myself and my one year old son enjoyed a taste of the sunshine at Lingotot Bexley. I have always been fascinated at the ability which young children have to learn several languages as their tiny brains act as sponges and, with a nanny living in Spain, thought it would be fantastic for my son to learn a bit of Spanish for when we go to visit.
If Spanish isn't for you, it isn't the only language children can learn through Lingotot Bexley classes – they also teach French with German classes in the pipeline!
We attended a class in Chislehurst which was led by Lucy. Lucy is originally from Birmingham (like me!) but has had an interest in languages all her life and studied languages at university. To hear her speak Spanish, you would have thought she was from Spain!
The class is mostly spoken in Spanish (makes sense!) so for me, who only knows how to say please, thank you, beer and 1-10 in Spanish it was a bit surreal, however, I was amazed by how much the young children there understood and were able to communicate back with her.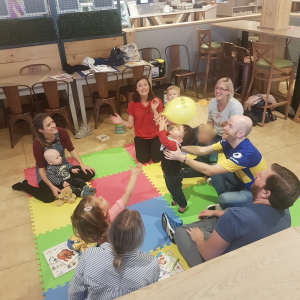 First on the agenda were popular children's songs….but sung in Spanish. I sang along in English but Jamie was fascinated by the new language being sung in the room. As well as singing, everyone stood up and danced in a circle doing the actions to the songs. One of the songs was about transport and Jamie adored being flown around the room like an airplane.
Once the warm up was done and everyone was in the mood, the class recapped on last week's theme which was clothing. Lucy discussed what the children were wearing and they all remembered the words from last week which was very impressive as I couldn't even remember the words from the song we had just sang!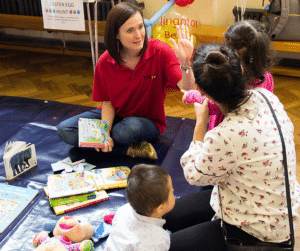 This week's theme was weather and the children learnt the Spanish words for wind, rain and many others. It was great fun with lots of actions being included too and a game of "Simon says" where it was the adults who carried out the actions despite not being told to by "Simon".
The class is very musical (all in Spanish) and after the week's theme there was more singing of Wheels on the Bus and Sleeping Bunnies. Jamie is a bit young to stay still on the floor whilst the "bunnies" were sleeping and decided to use this time to go off to inspect one of the other mum's shoelaces!
Following the active part of the class, the older children get involved in a craft activity. Jamie was too young so he played with some fantastic bilingual toys. We are fans of the That's Not My books by Usborne and they had a Spanish one which was lovely. There were also children's books with both Spanish and English text and an octopus toy which gave colours in Spanish if you pressed its tentacles.
Each child also gets a workbook which details each week's theme and includes all the words they need to know so you can practice at home as well! At the end of the class, there was a lovely Goodbye song and all the children went home calling "adios" to the teacher.
Children won't become bilingual from a once a week language class however if you are looking for a class which is fun and will help teach your child another language then I definitely recommend Lingotot!
For more information or to book a class visit the website by clicking here.
https://www.mybump2baby.com/wp-content/uploads/2019/11/A-Review-of-Lingotot-Bexley-where-children-can-learn-languages.png
692
827
northkentbexley
https://www.mybump2baby.com/wp-content/uploads/2016/10/mybump2babyheader-300x79.png
northkentbexley
2019-11-07 09:34:30
2019-11-07 09:34:30
A Review of Lingotot Bexley - where children can learn languages!