Safe Exercise During Pregnancy
Disclosure: Some of the links within this article may contain affiliate links, meaning at no cost to you, we may get commission if you decide to make a purchase through one of the links within the article.
Today we have a guest post from our expert Sarah Hunter BSc. Sarah shares her expertise on Safe Exercise During Pregnancy. Sarah owns Chorley Pilates in Lancashire.
Safe Exercise During Pregnancy
First of all, let's just take a look at what's happening to your body.
Some really incredible things happen to your body during pregnancy. It has to adapt, not only to accommodate the baby growing inside you, but also has to prepare for the birth. So, we're going to have a little look here at what your body has to cope with, and why, so that you can really understand the importance of exercising safely and adapting what you do as your pregnancy progresses.

During the first trimester, us mums experience a whole variety of different symptoms
Maybe you have/had morning sickness and exhaustion? One of the first hormones to start flooding your system causes the blood vessel walls to relax and become more elastic. This is to prepare the body for the extra blood volume it will need later on. But in the early days, you don't have that increased blood volume, it hasn't caught up yet, so you might feel faint, exhausted or dizzy and your blood pressure usually drops. You also start to develop a resistance to insulin. This makes your body store more fat, so that bit of weight gain, (7-11lbs) is perfectly normal in the first few months.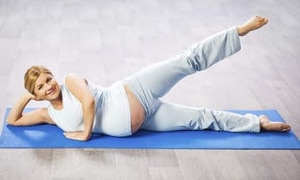 What does this mean for exercising in the early days? If exhaustion is really causing you problems, (and I hold my hand up, I absolutely needed that nap when I got in from work!) then maybe look to exercising at a time of the day when you have more energy. Listen to your body and rest when you need to. Aerobic activity is fine, if you feel up to it, so aim for around 15-30 minutes of activity up to three times a week. Muscular conditioning will help to keep your posture in check and prevent back pain. Just be mindful of changing position quickly and making yourself feel dizzy.
Some people (that can be friends, relatives and partners) may worry that exercise may be too demanding for you or could even harm the baby and cause a miscarriage. The best thing to do is to talk to your doctor or midwife. If you have had previous miscarriages, or a family history of them, then it shouldn't stop you from exercising full stop, but you should definitely get advice and reassurance from a health care professional before continuing or taking up something new. Many studies have proved the benefits of safe exercise during pregnancy for both mum and baby, and none so far have found any detrimental effects on a healthy person.
As your pregnancy progresses past 12 weeks, you start to enter the second trimester and a host of new things are happening
It's very exciting and you might begin to feel that pregnancy glow. Your blood volume has finally caught up and your energy levels rise again.
To adapt to the increasing weight of the growing baby, your lower back starts to arch and the pelvis tips forwards. Back ache is common but corrective postural exercises can help to counteract any discomfort. It does, however, mean that your centre of gravity has changed. The hormone, relaxin, is also surging around your body making all your joints more flexible and less stable. Now is the time to think about reducing the risk of falling. Contact sports, high intensity exercises or high impact exercises are not advisable now. The placenta is placing a high demand for oxygenated blood and nutrients on your body. Over training could, potentially, reduce the necessary amounts being carried to your baby.
Switching to lower impact activities such as cycling, walking, cross-training, Pilates, Yoga and swimming will give you all the aerobic exercise you need without putting undue stress on your joints.
Now is also the time to work with lighter weights and to stop exercising on your back. When we lie down, all that weight from the bump presses down on important blood vessels which could reduce the flow of oxygen to your baby.
Taking a bit longer to warm up and cool down from your session will be very beneficial and prevent any unwanted hikes in blood pressure.
At 27 weeks you're on the home straight! The third trimester is here, and your bump is coming along nicely. So much is happening now. As baby grows, you have to make room. Your ribcage is pushing outwards, your internal organs have miraculously rearranged themselves, your tummy muscles have stretched so far that they have stopped being able to contract and you have the best cleavage ever!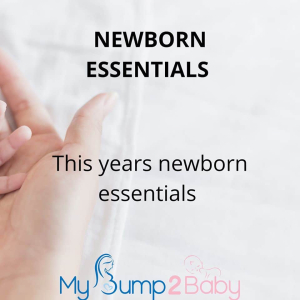 This does mean that now you might start struggling for breath again. Breathing exercises are so important. I strongly encourage all my clients to practice their breathing exercises at home. Not only will it help to keep your energy levels higher, but it's also great practice for the delivery room and calming down those nerves.
You were probably wondering when I was going to get around to mentioning the pelvic floor. Well that is going to be a whole topic in itself. The sooner you start learning how to do them the better. There is so much weight and strain on them during pregnancy. Keeping them toned could help to an easier birth and a quicker recovery with less risk of damage.
Postural strengthening exercises are really important now too. Only use light weights and avoid working from overhead or lying down. Stretching the hip flexors can assist in reducing tension in the lower back but as your ligaments are very elastic, only gentle, maintenance stretches are advised.
What happens if my pregnancy isn't all plain sailing?
I have yet to meet anyone who didn't have some kind of issue develop during their pregnancy. For myself, I discovered that I have a gene which gives me thick blood and had to wear delightful thigh high, white support stockings through the entire third trimester. Not much fun in a June heatwave or when you can't even reach your feet!
A qualified antenatal exercise instructor will be able to make any necessary adaptations to minor ailments (although they might not seem minor to you at the time) like carpel tunnel syndrome, pelvic girdle pain etc.
There are some conditions which would rule out exercising altogether, ruptured membranes, persistent bleeding, incompetent cervix to name but a few. But if you are unsure about anything, speak to your midwife. They are there to support and assist you through this whole process and they are absolutely amazing.
Any instructor taking you on as a client should have you complete a health screening form specifically designed for antenatal clients. And they should keep checking in with you as the pregnancy progresses. Communication between you, your instructor and midwife is key to a happy, healthy pregnancy.
Pregnancy is not a barrier to exercise, so enjoy it.
Sarah x
To read more about Sarah and her fantastic business head over to her;
Carla is the founder of MyBump2Baby. Carla has a huge passion for linking together small businesses and growing families. Carla's humorous, non-filtered honesty has won the hearts of thousands of parents throughout the UK.
She has previously written for the Metro and made appearances on BBC News, BBC 5 live, LBC etc. Carla is a finalist for Blogger of the Year award with Simply Ladies inc. Carla is also the host of the popular Fifty Shades of Motherhood podcast and The MyBump2Baby Expert podcast.
https://www.mybump2baby.com/wp-content/uploads/2019/10/Safe-exercise-during-pregnancy.jpg
205
341
Carla Lett
https://www.mybump2baby.com/wp-content/uploads/2016/10/Logo-MyBump2Baby_transparent-bg-1-1.png
Carla Lett
2019-10-07 19:43:27
2022-08-08 14:43:24
Safe Exercise During Pregnancy