Siam Park Review
If you have been lucky enough to visit the wonderful destination of Tenerife before, I am sure you will agree that it really is a beautiful place, however when you have kids or a husband that behaves like a kid then you have to find places to keep them entertained and Siam Park will definitely do that. I decided to carry out a review on Siam Park so that you can decide whether Siam park is definitely for you before you invest in tickets.
My family, friends and I (4 adults and 2 babies under 1) visited Tenerife in January and we decided that we would like to have a day out to the famous "Siam Park" and what a fabulous experience it was. We arrived at Siam Park at around 12pm and first of all we wanted to find a base for the prams and somewhere near a snack/drinks bar.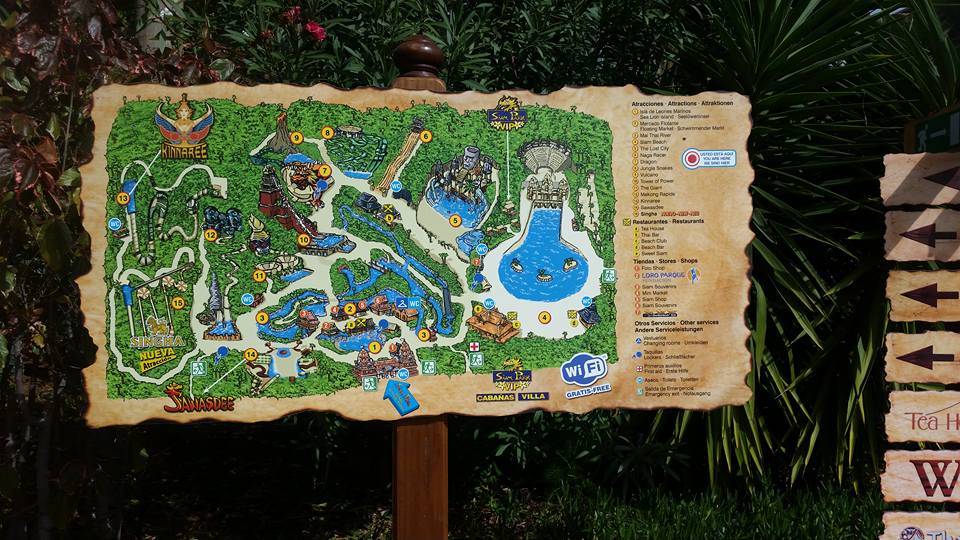 We checked out one of the many maps at Siam park and we decided to set up camp at the gorgeous "Siam Beach". It is a beautiful place to sit with plenty of shaded areas for the babies and it is near a restaurant so that we could easily walk and get drinks and food whenever we wanted there was lots to choose from in terms of food, from burgers to chicken curries, it was delicious.
As you can imagine with two young babies we had so many bags with us so we decided it was a good idea to use the locker facilities which made things easier for us all, meaning we can all get in to the pool with the babies together and we weren't worried about anything going missing.
Siam beach looks just like a real beach and even has lovely white sand which looks absolutely gorgeous. The weather in January was fantastic for babies or young children at around 20 degrees but I did find that the hotel pool was a little too cold for my 9-month old son. Siam beach's pool is nicely heated to 24 degrees which was perfect for my son who absolutely loved it and it was nice to spend time in the pool with him.
As you are already aware Siam Park caters for all ages which means that the park is very big but I found it very easy to find locate different areas and slides. You will find easy to understand maps dotted round the whole of the park.
The good thing about going with another couple when you have babies to take care of is the fact you can take turns to babysit and you can all have a go on the amazing waterslides and that is exactly what we did.
Let me tell you about some of the most amazing waterslides I have EVER been on….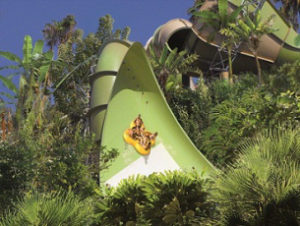 Siam Parks "Kinnaree"
This ride literally took my breath away…. You sit in a four leave inflatable clover and ride through a funnel at first and then out in to an open area, you then ride towards a huge tornado wave.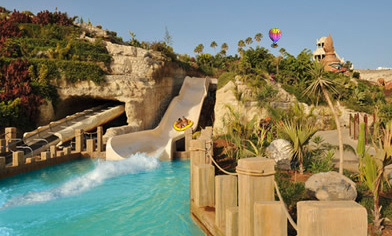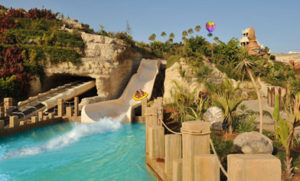 Siam Parks "Mekong Rapid"
This ride is for four people and it is known as the Indiana Jones adventure. Such a good laugh.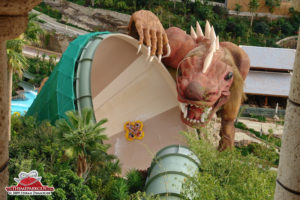 Siam Parks "The Dragon"
This ride is for four people and it is absolutely awesome. This slide has a totally vertical funnel, which certainly made me scream like a baby.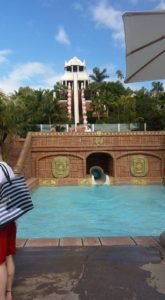 Siam Parks "Tower of Power"
I couldn't go on this one, I just couldn't build up the courage. So I sent my husband instead, it is a high almost vertical slide that finishes off by passing through a huge aquarium full of sharks and rays.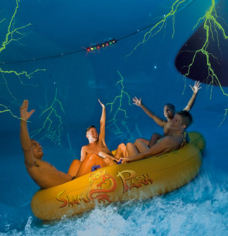 Siam Parks "The Volcano"
This ride is for four people and I was speechless for the whole experience (apart from when I screamed) it is a dark water slide and then you fall down into a volcano.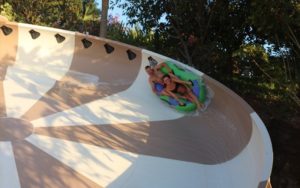 Siam Parks "Singha"
"Singha" is a water roller-coaster with a very high speed and lots of curves. I loved this ride.
Once we had all been on the slides we headed took turns to head to the wonderful wave pool. I absolutely love wave pools and I was over the moon to find out that Siam Park has the biggest artificial waves in the world, rising up at an amazing 3 metres.
Other Awesome Family Fun at Siam Park

Unfortunately, with the babies being under 1, they wouldn't fully benefit from the wonderful slides and fun for the kids but I will certainly be bringing my son George back in a couple of years to enjoy Siam Park kids fun.
More water fun and slides for ALL the family.
Siam Parks "Sawasde"
Siam Park really does complete the experience for the kids with the awesome Sawasdee! The special children's area includes the very best attractions for the grown-ups and kids. The fun here is truly endless, full of fun and giggles where you can make some wonderful family memories.
Siam Parks "Jungle Snake"
You can go on this slide on floats either single or in pairs. You float through the depths of the jungle.
Keep your eyes open to make the most of the beautiful scenery where you can.
Siam
Parks "Naga Racer"
To complete the fun, you cannot miss the best experience of living a race of slides with family and friends. A great way to have fun with the people your with.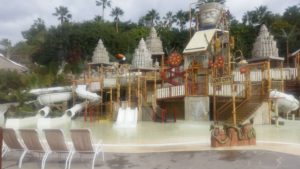 Siam Parks "Lost City"
Siam Park really does cater for the whole of the family. The younger ones even have their own children´s area where they can enjoy playing, this play area is called "The Lost City" and it includes towers, bridges, nets, cascades and 15 water slides.
Siam Parks "The Giant"
This is made for both adults and children and it will take you to a universe of fantasy and legendary adventure, while you slide through this funnel of fun.
Siam Parks "Sea Lions"
You can watch the beautiful Sea Lions swim and play in their very own area within the magical Siam Park.
[rwp_box id="0″]
My Overall Summary of Siam Park
Firstly Tenerife is a great place to go for lovely weather and it has something for all the family. I have been to Florida before and I have to say Siam Park is the best waterpark I have ever been to and I will never go to Tenerife again without visiting the wonderful Siam Park. Initially I thought Siam Park was aimed at adults rather than children but there is actually something for everyone. My son of 9 months really enjoyed it. The park is very clean and tidy. The toilets and changing facilities are great. We made some amazing memories at Siam Park and I am so glad we went. The only thing I would suggest to Siam Park is a little  crèche so that mummy's and daddy's can have an hour to go on all the amazing adult slides.
Carla is the founder of MyBump2Baby. Carla has a huge passion for linking together small businesses and growing families. Carla's humorous, non-filtered honesty has won the hearts of thousands of parents throughout the UK.
She has previously written for the Metro and made appearances on BBC News, BBC 5 live, LBC etc. Carla is a finalist for Blogger of the Year award with Simply Ladies inc. Carla is also the host of the popular Fifty Shades of Motherhood podcast and The MyBump2Baby Expert podcast.
https://www.mybump2baby.com/wp-content/uploads/2017/02/Siam-Park-Review.jpg
412
550
Carla Lett
https://www.mybump2baby.com/wp-content/uploads/2016/10/Logo-MyBump2Baby_transparent-bg-1-1.png
Carla Lett
2017-02-08 12:31:43
2019-01-23 11:48:04
Siam Park Review - Tenerife