Subway® has always been one of my favourite places to go when I need a bit of emotional TLC, whether it be recovering from the "worst hangover", getting over a breakup or just craving a delicious treat, Subway® has always been there for me so I was thrilled when I was invited to be there for Subway® .
I was invited to Edinburgh to support the fantastic Subway® Helping Hearts™ Family 5K race in the beautiful Holyrood Park. Subway® partnered with Heart Research UK over 10 years ago and the money raised helps fund the Heart Research UK and Subway Healthy Heart Grant scheme; local grants for organisations to promote a heart healthy lifestyle.. My dad suffered from a heart attack a few years ago (a few days before my wedding… but that is another story) so I was delighted to come along and support this fantastic event.
What is the Subway® Helping Hearts™ Family 5K race
Subway® Helping Hearts™ Family 5K race day is a special day where families come together and help raise money for Heart Research UK. You can find out about future races here: https://support.heartresearch.org.uk/
How much is it to sign up and what is included?
It is £8 per person to sign up when you register online and there are limited spaces on the day for only £10.
All participants receive the following;
Subway® 5k t-shirt
Delicious Subway® lunch box and this includes lots of yummy snacks
Finishers' medal and access to the fun family entertainment area.
On the Day
We arrived around 10:30am and the energy was just incredible, I couldn't believe there were so many things for families to do. I genuinely thought there would just be a start and a finish line but there was so much more to this fantastic event.
The music was loudly beating, families were dancing and the sound of laughter travelled through the light breeze beautifully. On the other side of the field I could see footballs being kicked and watched the happy faces of young children jumping on the inflatables asking their parents to take pictures, whilst other kids were running around with their newly painted faces pretending to be animals.
There were games outdoors that suited all ages and there were also guest appearances from the "Subway® man" and the "Heart Research UK" Character.
It really was clear to see just how much time and effort went in to the arranging of this fabulous event and Subway in my eyes definitely went above and beyond in making sure that every family had THE best day possible.
As if all that wasn't enough, we even got to meet the amazing Christian Scotland-Williamson an incredible NFL player for the Pittsburgh Steelers.
There was an area that was specifically branded the "NFL Flag presented by Subway®" area where children (aged 5-14) could take part in exercises related to NFL Flag. There were lots of NFL Flag assistants helping out, Christian ScotlandWilliamson was helping out a lot in this area too and all of the assistants were incredible with the kids.
Christian Scotland-Williamson counted down the 5k family run. It started at 12pm and I couldn't believe the number of families that took part. There were people running with buggies and kids running from the age of 2 – it was such a proud moment.
Every member who took place in the 5k run received a delicious Subway®  lunch box.
The lunch box was filled with lots of treats as well as a yummy 6-inch sub.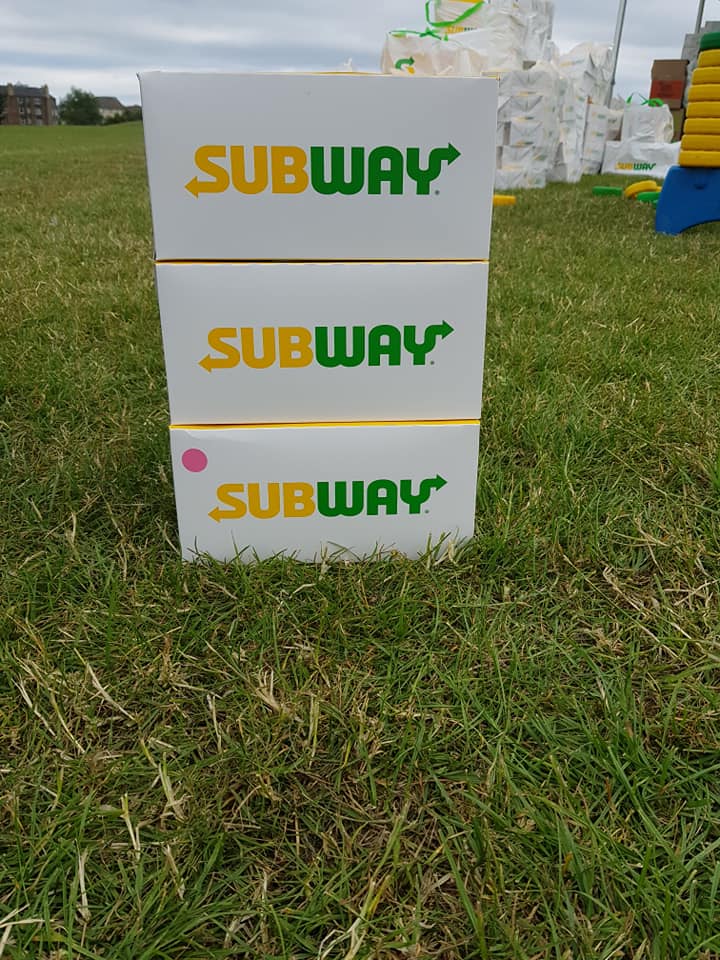 What is the NFL Flag Programme?
What is the NFL Flag Programme?
Subway® has partnered with the NFL and NFL Flag in a bid to help school children and their families get fit and active. The main aim is to bring the NFL closer to communities by enabling the NFL Flag programme to be rolled out nationally to even more schools across the UK and Ireland soon.
The exciting sponsorship allows the NFL Flag programme to create more partnerships with universities, who have established American football teams, to train-up the players to become NFL Ambassadors. This allows them to deliver an inspiring 6-12-week flag curriculum programme into schools for children aged 8-11.
Respect, Integrity and Responsibility
The aim is to focus on the NFL core values which are Respect, Integrity and Responsibility as well as improve their nutritional knowledge; the importance of getting active; as well as helping them learn how to play NFL Flag. Each 6-12-week programme ends with a regional tournament involving all participating schools in the locality of the university.
Over 10,000 kids in the UK have already taken part in the NFL Flag programme, presented by Subway® and they would love to see more kids benefit from this fantastic opportunity.
Tell schools in your local area about this amazing opportunity for children and ask them to register their interest by clicking the link below;
http://www.nfluk.com/news/specialfeatures/article-1/Register-your-school-to-play-Flag-Football/c4c6df2a-9e4e-4302-a06b-350f3069eb27
I did receive payment for this event and blog but all thoughts and views are my own.
https://www.mybump2baby.com/wp-content/uploads/2018/07/subway-on-your-marks.jpg
1134
2016
Carla Lett
https://www.mybump2baby.com/wp-content/uploads/2016/10/Logo-1-300x81.png
Carla Lett
2018-08-04 19:06:49
2018-09-18 14:27:47
Subway® Helping Hearts™ Family 5K race