Disclosure: This article may contain affiliate links, which means at no cost to you, we may earn a small commission if you purchase a product through them.
Baby Pods and Baby Nests are a firm favourite in many households, we do recommend that you read the lullaby trusts post about these pods and nests before making a decision to purchase one of these sleep pods https://www.lullabytrust.org.uk/the-lullaby-trust-issues-warning-about-some-popular-baby-sleeping-products-sold-in-high-street-stores/
This article will discuss the top 5 Best Baby Pods and Nests that families have been using.
What are Baby Sleep Pods and Baby Nests?
Baby sleep pods and baby nests are mattresses designed with soft, padded sides to provide babies with a  sleeping area that helps them to feel safe and protected- similar to the womb.
Baby pods and baby nests are NOT RECOMMENDED for putting babies in for overnight sleep, however, they are great if you would like to put your baby somewhere safe, temporarily, whilst you complete daily tasks. We do recommend that you always keep them in sight when using these pods and nests as they do have a safety concern as mentioned above. We do recommend you consider this before purchasing.
Baby Sleeping Nests and Baby Sleeping Pods – Safe Sleep Guidelines
Following safe sleep guidelines, babies should be placed on a firm and flat surface on their back.
There is evidence that padded sides can increase the risk of suffocation (especially if your baby rolls onto their sides) and overheat. Some baby nest manufacturers, however, do create their baby nests with breathable material but this still comes with risks.
Baby sleeping nests and baby sleeping pods are not ideal for unsupervised overnight sleeping.
Things to consider when buying a Baby nest or Baby Pod
How long will your baby be using the sleep pod or sleep nest?
Will your baby be placed in the baby nest or pod for a short while whilst you are completing daily activities? Or would you like your baby to sleep overnight in something instead?
Baby pods are NOT suitable for overnight sleep.
Is the baby sleeping pod or baby nest machine washable?
The capability of machine washing is a key factor to consider, after all, your baby may spend several hours in the baby sleep pod or baby nest so it will need cleaning regularly. Machine washability will help to make things a lot easier.
Material
Soft, breathable materials are the best material to opt for, as they provide both comfort and safety for your baby.
The 5 Best Baby Nests and Best Baby Sleep Pods
BabyMoov CosyDream Baby Nest
£29.99
£39.99
in stock
3 new from £29.99
as of November 30, 2021 10:58 pm
The BabyMoov CosyDream Baby Nest is suitable for babies from 0 – 3 months. It offers ergonomic support to provide an ideal position for your baby and adapts to its size. You can reposition the leg support roll, thanks to the velcro underneath, allowing you to raise your baby's legs and aid your baby's digestion.
The anatomical headrest is made from soft jersey fabric, and the backrest section is micro breathable- providing extra comfort and security for your baby.
The baby nets are also machine washable to make for easy maintenance.
Red Castle Cocoonababy Nest
The Cocoonababy nest is advertised to offer your baby a "comforting, reassuring, womb-like surrounding through its slightly inclined, semi-foetal cushioning, making the transition from the womb a smooth one".
The Red Castle Cocoonababy baby nest was designed with health care professionals to produce a safe, lightweight and portable cocoon, which can be used in any room throughout the house, or even on the go.
This baby sleep pod is suitable for babies from birth to 3 months of age and can be used as a daytime baby lounger pillow.
The baby nest is at a slightly inclined position, to help reduce colic, reflux, the startle reflex and flat head syndrome.
The baby nest is protected by two removable, breathable covers- which can be washed in the washing machine- and a fitted cotton sheet.
Sleepyhead Deluxe Plus Baby Sleep Pod

£120.00
in stock
5 new from £120.00
as of November 30, 2021 10:58 pm
The Sleepyhead Deluxe Plus Pod can be used anywhere around the house, or out-and-about. It is beautifully soft and comfy and has great airflow.
The Sleepyhead baby pod is suitable for babies from birth to 8 months.
It is machine washable for ease of cleaning.
PurFlo Sleep Tight Baby Bed – Best Baby Nest for overnight sleep
£45.00
£65.00
in stock
3 new from £45.00
as of November 30, 2021 10:58 pm
The PurDlo Sleep Tight baby bed is the first of its kind to be certified for unsupervised and overnight sleep from birth. This baby bed is suitable for babies from birth to 8 months old.
The PurFlo Baby Bed features innovative side walls which retain structure, even if your baby rolls to one side. The bed base and mesh panels surrounding your baby's head are fully breathable, enable airflow and reduce the risk of overheating.
PurFlo Breathable Nest
The PurFlo Breathable Nest is a light and portable baby sleep pod which can be used for supervised sleep and rest time.
The bottom and sides are made from unique breathable mesh and air-permeable sides. It also has Amicor Pure to reduce exposure to dust mites. It is also machine washable.
The Purflo Breathable Baby Nest is suitable for babies from birth to 6 months.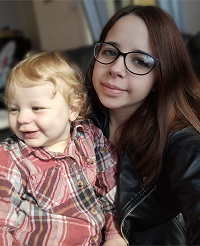 Hi, I'm Louise- mum of one to a little boy called Mason.
I am the Digital Marketing and Admin Assistant for MyBump2Baby.
I enjoy working to provide excellent service to MyBump2Baby's growing families.
Nice to meet you!
https://www.mybump2baby.com/wp-content/uploads/2021/07/5-best-baby-pods-and-nests.png
630
1200
Louise McCamily
https://www.mybump2baby.com/wp-content/uploads/2016/10/Logo-MyBump2Baby_transparent-bg-1-1.png
Louise McCamily
2021-07-20 15:43:24
2021-09-03 11:10:41
5 Best Baby Pods and Nests