Disclosure: This article may contain affiliate links, this means at no cost to you, we may earn a small commission if you purchase a product through them.
When you're trying for a baby, the wait until you can receive a positive pregnancy test result can feel like an eternity. You may be wondering: at 9 DPO, can I receive an accurate pregnancy test result?
Is 9 DPO too Early for a Positive Pregnancy Test Result?
You may be wondering, is it possible to receive a Big Fat Positive pregnancy test result at 9 DPO (days past ovulation)?
The answer is yes and no. It is recommended that you wait until the day of your missed period (at least) to take a pregnancy test- which is approximately another week after 9 DPO. You can, however, still receive a positive pregnancy test result.
Sometimes, implantation can occur at 9 DPO (or before), which means you can get a positive pregnancy test result (as the cells that will form the placenta could be secreting human chorionic gonadotropin, or hCG- the pregnancy hormone that gives you a positive test result). BFP test results at 9 DPO can also be an indication of ectopic pregnancy- which are classed as medical emergencies.
It is also very possible to receive a false positive (or negative) pregnancy test result at this stage, especially if you are using the cheaper or more unreliable brands of home pregnancy test. It is recommended to take a pregnancy test at 14DPO to get a more reliable result. Fingers crossed!
If you would like to take an early pregnancy test, clear blue first response early pregnancy tests are great for giving you a reliable result. You can buy some here:
£24.99
in stock
3 new from £24.95
as of January 20, 2022 10:01 am
When do most pregnant women receive a positive pregnancy test result?
Most pregnant women receive a positive pregnancy test result at 14 DPO- although some women have received a positive pregnancy test earlier.
9 DPO Early Pregnancy Symptoms
At 9 DPO, you are still in the very early stages of your pregnancy, and many women experience no pregnancy symptoms at this stage, whilst many others do.
Many of the below pregnancy symptoms are also premenstrual symptoms, so whilst they are signs of pregnancy, it is difficult to tell whether or not you are pregnant based on symptoms alone at this early stage.
Common early pregnancy symptoms at 9 dpo include:
Fatigue
After implantation, your body will begin producing more progesterone- the hormone responsible for most common pregnancy symptoms. This increase in progesterone can cause fatigue or extreme exhausation. Fatigue is one of the most common early pregnancy symptoms.
Tender breasts
If you're experiencing breast tenderness or swelling, don't worry- this is a common symptom that many women experience during early pregnancy.
Cramps
Mild cramping is a common complaint during early pregnancy- but they can actually be a good sign that the fertilised egg has implanted onto your uterine lining nicely. These cramps are called implantation cramps. Implantation cramps can also be accompanied by implantation bleeding- which is usually just light bleeding or spotting. If you are experiencing heavy bleeding or strong cramping during any point of your pregnancy, you should consult your nearest health care professional as it could be a sign of an early miscarriage.
Bloating
The increase in those pesky pregnancy hormones is also responsible for this symptom. During pregnancy, you may experience many gastrointestinal symptoms- including constipation, bloating, gas and heartburn.
Headache
Hormonal fluctuations make headaches a very common symptom during early pregnancy.
Backache
Backache is a common symptom during early pregnancy- if you are experiencing this particular pregnancy symptom, it is because your uterus is preparing to grow much bigger to house your baby for the next 9 months!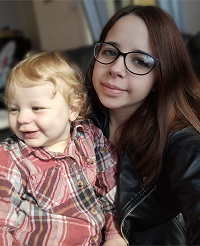 Hi, I'm Louise- mum of one to a little boy called Mason.
I am the Digital Marketing and Admin Assistant for MyBump2Baby.
I enjoy working to provide excellent service to MyBump2Baby's growing families.
Nice to meet you!
https://www.mybump2baby.com/wp-content/uploads/2021/09/9dpo-pregnancy-symptoms-1.png
630
1200
Louise McCamily
https://www.mybump2baby.com/wp-content/uploads/2016/10/Logo-MyBump2Baby_transparent-bg-1-1.png
Louise McCamily
2021-09-19 16:19:15
2021-11-26 14:44:21
9 DPO Pregnancy Symptoms