The Best Prams in 2020
A new pram is an essential for all new parents and finding the perfect one can often be a long process. There are lots of factors that must be considered when purchasing a new pram, such as the size, colour, weight, comfort and of course the safety of your little one! MyBump2Baby has compiled a list of the best prams in 2020 to help you make your decision. 
The Best Prams in 2020
Work out what you need
The first step to finding the perfect pram is to work out exactly what you need from it;
DO you want the pram to be front facing or do you want the option of having your child both facing you and looking out the front?
How much room do you have in your boot to store the pram?
What about inside your house?
Is the pram for one baby or more?
What is your budget?
Prams aren't usually cheap, so you'll want to make sure you take your time to consider all of your options to find the one that works for you. If you take time to consider all of these key options then you'll be able to start filtering your results so you can find the perfect pram to suit you and your family.
You will have to purchase new prams as your baby grows, we've compiled this list of our best prams of 2020!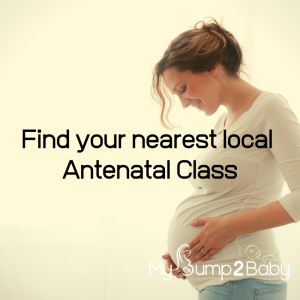 Our Best Prams of 2020

Silver Cross Wave
Silver Cross are a fantastic brand, they have been around for a long time, and have proved their durability and safety for children and parents who use their products. Their great reputation is reflected in their pricing, but for a great quality pram, it's worth it. This Silver Cross Wave pram has the amazing feature of being able to easily transform into a double pram by just adding another car seat to it, perfect for those expecting twins or another child in the near future. This product also allows parents to choose whether their child faces them or the world, it's incredibly versatile and stylish! 
Baby Jogger City Tour 2

This pram is perfect for wherever you're heading out for the day! It's wheel formation allows for full swivel, so you can easily get around obstacles. This pram is long lasting, it is advertised that it can be used for children up to 3 years. Baby Jogger have thought of everything with the City Tour pram, it's lightweight feature along with carrying straps, meaning that you can carry the pram hands free on your back when it's not in use. This pram is just front facing, meaning your child can enjoy watching the rest of the world in a comfortable pram. 
Besrey Baby Stroller
An affordable, lightweight and simple pram. This pram is perfect from newborn, it features many different seating settings, so that you can recline both the seat and the footrest to suit your baby's position. Besrey has put safety first by including a reflective strip to ensure higher safety and visibility at night, so you can feel safe at all times. The pram is completely collapsible, making it an easy and good choice for family trips when the car's full. An amazing price for a reliable, safe and lightweight pram.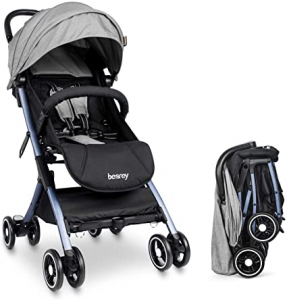 Joie Mytrax 
Joie has brought another fantastic pram with this one! The Mytrax pram is stylish and comfortable for both parents and baby. It is compatible with a range of different carrycots, giving parents more options for which one they would like. This pram is suitable from birth and has a reclining seat which can go flat, perfect for when you're out and your baby wants to sleep. Its automatic locking system makes it easy to collapse this pram and its high quality brakes means that it's easy to use just about anywhere. 
Out 'n' About Nipper Double V4
This brightly coloured pram is perfect if you're expecting two little ones! This pram is long lasting, it is advertised as suitable from birth up to approximately the age of 4. It features a 5 point safety harness, so you know your babies will be safe in this one. The seats recline to a number of different positions, to ensure comfort. The Nipper Double V4 is a 3 wheel pram, so even though you'd expect it to be much heavier carrying two children instead of one, the difference is not too vast. This front facing pram has an adjustable handle so that parents can be comfortable as well. It's a durable pram, perfect for family days out and your little ones can bond being sat just next to each other.
BabyStyle Hybrid Edge 
BabyStyle strikes again with their beautifully designed prams, available in a range of stunning colours. This pram is suitable for babies over 6 months up to 3 years. It's high quality seat can be easily removed to parent or front facing, depending on your personal preference. Its safety harness is durable and comfortable, so you can rest assured that your baby is safe. This compact pram is perfect for a city walk or a countryside stroll. This pram is great for parents, it has hooks for your shopping bags along with a 12 point adjustable handlebar, so you can ensure peak comfort for you too. 
ABC Pepper Design Travel System 
This pram has won awards for its stylish look and durable features. The adjustments available on this pram are incredible, it almost looks like 2 different prams! This pram is advertised as suitable from birth up to 15 kg. Its safety harness is high quality, with an attachment available for a dummy, so you won't lose them as much. This pram is handmade with luxurious leather, adding to its beautiful design. This pram from ABC has been crafted with travel in mind, it can be folded completely flat, making it easy to store and take on day trips in the car. 
We hope that our guide is helpful when you're choosing the perfect pram for your baby.
Hi, I'm Emma and I'm MyBump2aby's family law, protection and financial editor. I'm passionate about better-informing parents on their choices when it comes to family law and family protection and financial matters.
https://www.mybump2baby.com/wp-content/uploads/2020/06/the-best-prams-of-2020-1.png
1260
2240
Emma Stevens
https://www.mybump2baby.com/wp-content/uploads/2016/10/Logo-MyBump2Baby_transparent-bg-1-1.png
Emma Stevens
2020-06-18 19:41:17
2021-10-20 12:06:18
The Best Prams in 2020