The Egg Stroller Pram Review
Disclosure: Some of the links within this article may contain affiliate links, meaning at no cost to you, we may get commission if you decide to make a purchase through one of the links within the article.
At MyBump2Baby we love to give parents an honest review of products and services before you hit the purchase button. Having a baby can be an expensive time and it important you know exactly what you are getting for your money.
Here is the Egg Stroller review
MyBump2Baby review the Egg Stroller pram
The egg stroller brand began back in 2015, and it has advanced and been very popular since then. The company egg manufacture luxurious prams for the style conscious parent in mind. The egg pram is modelled on an actual hen's egg, which is why it is designed using a curved structure. This stroller offers many different styles and colour schemes including the propular storm grey, making it a stylish and luxurious pram, whilst still being comfortable for both parent and child.
This stroller has been described as the perfect stroller when it comes to babystyle and is a real head turner. The bumper bar is classy and elegant whilst being strong and sturdy. The shopping basket on the bottom is a neat and stylish but doesn't have lots of room, however with the right changing bag this may not be an issue.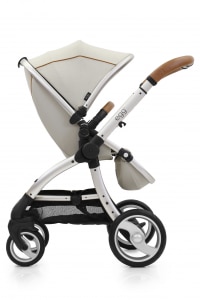 Features of the Egg Stroller Pram
Every parent is keen to understand the features of the stroller before purchase and we totally understand that. This is a very exciting time for parents and when you are picturing your new life with your bundle of joy the pram often comes in to your mind and it is hardly suprising. The right pram is absolutely necessary as it gives you freedom and some peace as you venture in to your maternity leave. It is really important to find a pram that is comfortable for both parents and baby and comes with all the features you need to make sure the pram lasts you well in to the realms of toddler. Many parents also think about holidays too, is the pram easy to fold? Is it easy to push? Does it glide easily? And this pram is an absolute yes for all of those questions.
This buggy comes with the following;
Chassis
Seat unit
Seat cover
Choice of colour
Insect net
Raincover
Add ons available for the pram: 
Add ons are key to comfort no matter the weather, checking the pram you purchase has the add ons you need to ensure your pram can be used no matter the weather. The carry cot ha sbeen hugely popular amongsty parents and you may find that you use the car seat as part of your pram for a short time whilst your little one is young too.
Carrycot
Footmuff
Car seat adapter
Seat liner
Umbrella
Changing bag
Cup holder
Comfort of the Egg Pram
With three different seating positions, the egg is perfect for allowing your baby to sleep or sit up and look around. It's 'carry cot' sleeping position is great for supporting your baby's spinal development. Egg have developed a seat that is comfortable, with durable material and a hood providing blackout technology. There is a footrest included for your baby, with three different positions, meaning again that this pram is very versatile and comfort is key to the egg company. The recline positions are highly spoke of amongst parents and the reviews have been fantastic for comfort. Many parents feel that it is not often that you get both comfort and style so the fact the egg stroller offers both is just incredible.
The pushchair gives a smooth ride for the baby and parents and many parents have covered many miles in this push chair and speak highly of the comfortable ride.
Adjustment of the Egg Pram:
Functionality has obviously played a huge part in the development of this pram, as a parent you are able to just lift a lever to adjust the seat, even with your baby still in the pram! The pram's handle has five different height positions as well, making it perfect for any height. It's incredibly versatile. Adjusting the handle couldn't be any smoother, the handle is quite padded, which only adds to the comfort of the pram. Unfortunately, the basket attached to the pram is not the biggest on the market, meaning that it's only suitable for a couple of bags.
Driving the Stroller
The egg pram drives very easily, with stability and security both in place. Even tough experiences, such as getting your pram up on the kerb is made easy due to the handle and weight distribution of the egg pram. It weighs just over 13kg, the perfect weight for a pram. The egg pram has durable and puncture proof tyres, that have been produced to ensure a comfortable journey. Egg have developed the wheels to include a spring, reducing the rattling and wobbling of the pram. Parents reported that when pushing the pram, it felt very 'together' and 'sturdy'. It is clear that quality is an important factor of egg prams. It's braking technology is also very clever, the parent will press the brake for it to engage and press it again for it to disengage, no more hurting your feet on tricky brakes!
Folding of the Pram
One key feature that many parents research whilst searching for the perfect pram is how easily it folds, it is key that it fits in the boot of your car. To collapse the egg, the seat must initially be removed, next the handle needs to be adjusted to its lowest position, then you must twist the handle towards your body. Finally, a strap must be pulled from the middle of the seat to fully fold the pram. One negative that we found through research is that when folding the pram, the handle touches the wheels, which can be a pain if the wheels are muddy. However, there's no denying that the pram is easy to fold and it does fold small enough to fit in a car boot.
 Conclusion of the Egg Stroller Pram:
It's not hard to see that we rate the egg pram very highly, it's almost faultless. It's a gorgeous design, that focuses on luxury whilst maintaining comfort for both parent and child. It's durable, which means it will last. The only real negative that we found can be solved with a quick wash, so we can't really complain.
We also asked parents below what they liked and didn't like about the egg pram, feel free to take a look at their feedback before making your decision on whether this is the pram for you.
You can purchase the Egg Pram here.
We give the egg pram 5/5.
Here is what some MyBump2Baby mums think;
"The egg pram was the best on the market when we bought it, and it still is now. It's so easy to push and folds so well in the car, which is perfect for our days out! The travel system is fantastic and definately worth the money. My friends loved the egg stroller and even went and bought one themselves when they became pregnancy with their little one. The egg pushchair is definately one that I would use again if we choose to have any more children" – Claire, 36.
"I love that this pram or stroller has so many adjustments for both me and my baby, it's great that I can adjust the position of the seat if my baby is asleep. I can't really fault the egg. We loved the whole travel system from the car seat to the front wheels, it is so easy to push around and big enough for my little one to enjoy in to his toddler years. I am expecting again and we will be adding a board to the back that he can stand on whilst I push the stroller. This pram is a real head turner so be prepared for lots of comments, the pram is suitable from birth and my changing bag sits comftably across the bumper bar. The handle height was fantastic and the pram is an excellent ride for baby too. We have had so many lovely walks and it has been a great experience " – Sophia, 29.
"The Ride technology is something else with this pram, I used to have a mamas and papas pram and although it was good, I can really feel the differece with this stroller, it is really easy to use and I love the fact it is parent facing so I can see my little one as we walk. The recline positions are great and the storage basket underneath is very neat and handing. The whole push chair has been well woeth the money. I know this pram is a little on the expensive side but if you love the idea of a stylish, comfortable smooth ride and you love the idea of having a parent facing or forward facing stroller this is definately the pram for you." Clara 27
"The comfort fo the egg stroller is perfect for a baby, I wanted a pram that was comfortable for both me and baby and I knew I wanted to do a lot of walking after my little one arrived. My mum lives around 6 miles away and each day I walked to my mums with my headphones in for lunch and she drove us back. My daughter was always comfortable and it was well worth the money. A friend of mine had a bugaboo and she ended up selling it and switching to the egg in the petrol blue colour for her son, she found the bugaboo a little bulky for what she wanted. I have been really happy with the egg stoller and love all the add ons that come with it to make sure you baby is as comfortable as possible. The rain cover was very important for my walks and it kept all the rain out and kept my girl nice and warm whilst mummy walked. The egg stroller definately made my life a little easier." Emma 28
"The only negative about this pram was the lack of space in the shopping basket. It meantI couldn't really do any big shops whilst I was out with my boy which was probably a blessing for my husband. I did find it a little frustating but then I loved the pram so much that I just made sure we had a good changing bag with plenty of room and a back pack for the days out when I needed it. The rain cover was great and I also opted for the cup holder which meant I could bring a coffee from home and save some money. The pushchair was a tad more than we wanted to spend but I wanted something stylish and elegant that was comfortable too and I really can't fault the pram." Laura 26
"Of all the things I bought, I think this one was my favourite. I loved the whole babystyle egg pushchair. The seat was comfy and the pram held its value too. I managed to sell this to a friend and only lose a few hundred pounds after I bought it. I loved the feature like the cup holder and the different products that you could add on. I actually ended up buying the pram back off my friend when I had my next baby and she has been happy in this pram for 18 months now. I love the fact you can purchase the car seat adapters as that made everything a little easier. I opted for the gun metal colour and it has remained in really good condition even though it is around 4 years old. It is easy to keep clean and stunning to look at." Dannii 24
"This pram was a brilliant purchase for us, we really wanted something elegant and easy to fold, my son had a mothercare pram before and we had a nightmare folding it and fitting it in to my car. My parents struggled folding it too, no matter how many times I showed them which was a nightmare as it put them off taking my son out which of course made things a little more difficult. There are lots of things to consider when getting the right pushchair but I feel that a good pushchair is absolutely necessary. A good pushchair gives you freedom and from the week after my daughter was born, I was out with my headphones in getting some good cardio in. I loved the wheels on this pram, they made everything a lot easier. I could walk no matter what the weather. We walked my son to nursery too each day and I never felt any discomfort from pushing the pram for long periods. We did take the pram on holiday and the only thing I would recommend is make sure you have a pram cover. Sometimes the people in airports just seem to throw the pram around and mine did get a little damaged from this. We ended up just using the cover each time instead and it seemed to protect it a lot better." Sarah 32
Carla is the founder of MyBump2Baby. Carla has a huge passion for linking together small businesses and growing families. Carla's humorous, non-filtered honesty has won the hearts of thousands of parents throughout the UK.
She has previously written for the Metro and made appearances on BBC News, BBC 5 live, LBC etc. Carla is a finalist for Blogger of the Year award with Simply Ladies inc. Carla is also the host of the popular Fifty Shades of Motherhood podcast and The MyBump2Baby Expert podcast.
https://www.mybump2baby.com/wp-content/uploads/2019/11/the-egg-stroller-pram-review.png
630
1200
Carla Lett
https://www.mybump2baby.com/wp-content/uploads/2016/10/Logo-MyBump2Baby_transparent-bg-1-1.png
Carla Lett
2020-10-25 11:20:49
2021-10-20 11:54:59
The Egg Stroller Pram Review