The Whys of Baby Classes

Disclosure: This article may contain affiliate links, this means at no cost to you, we may earn a small commission if you purchase a product through them.
MyBump2Baby is home to thousands of experts in the pregnancy – pre-school field, today we have an article from Jen Hibberd. Jen is the manager of the Busylizzy Horsham club and the mum of two boys. She wrote this article in collaboration with Busylizzy instructors Magda Pearson (Baby Signing), Lucy Howlett (Baby Massage),  Alex Carter (Baby Yoga) and Elise Allanson (Baby Music).  Busylizzy www.busylizzy.co.uk
Baby Classes – Why?
For the first few weeks of your baby's life, you can rest assured that all they need is you! But as they get bigger, start to be awake for longer periods of time and develop a natural sense of curiosity about the world around them, baby classes and activities can form a really important part of their development.
For parents, they provide a safe space to bond with their baby – away from the distractions of day to day life! Whether you're doing a class online at home or getting out to a class, it's dedicated time to truly focus on your little one as you are guided through the class by an instructor. You might learn a new skill together, which can help to build confidence and leave you feeling empowered. Or maybe you gain a new support network of other parents with children of a similar age who can offer advice and empathy.
Classes also provide babies with the opportunity to learn social interaction skills, and gain insight into things like sharing, playing together and kindness – even from a young age. Getting out to a class also gets little ones used to being in and exploring new spaces, which is really important for confidence later in life.
But there are lots more specific areas of development that baby classes, from massage to music, signing and yoga, can help with. In this article, we take a look at some of the most commonly available activities and how they can benefit your little one.
Baby Music
Music is everywhere in our lives. We use it to calm and soothe babies in lullabies, communicate joy through singing and dancing and to interact with others. But did you know that music actually supports a baby's brain development?!
Research shows that musical experiences in childhood can help brain development, particularly in language and reading skills. It helps to strengthen memory skills by retaining tunes, lyrics and actions from early on – which is why many different baby & toddler activities will use songs and rhymes to aid learning. Babies learn through repetition. Repeating songs and movements allows your baby to develop their 'receptive speech' and coordination more quickly.
Indeed, a study by scientists at the University of Washington's Institute for Learning & Brain Sciences (I-LABS) showed that a series of music-based play sessions improved nine month old babies' brain processing of both music and new speech sounds. Experiencing a rhythmic pattern in music (for example by being helped to tap along to the rhythm of a song) improved the ability to detect and make predictions about rhythmic patterns in speech. Like music, language has strong rhythmic patterns. The timing of syllables helps listeners define one speech sound from another and understand what someone is saying. And it's the ability to identify differences in speech sounds that helps babies to learn to speak.
There are also links between children's understanding of routines and music. Babies eat, sleep, play, repeat – and the routines of day to day life can help to create stability and calm. It is the same with the rhythms of music, which reinforce the understanding of patterns. These patterns in turn help to calm and soothe young children. In the same way as a routine helps children to understand what's coming next and what to expect, the patterns and 'known quantities' of music can have a calming effect.
Baby Signing
Babies are generally sociable beings and want to communicate from early on – a long time before they are actually verbal. Baby Signing offers a toolbox of simple signs to support a child's communication. It is not a language in itself and doesn't replace words – we always say the words when signing them. But it's an opportunity to build on your child's natural gestures – for example pointing to their mouth when hungry – to boost communication skills and self-esteem. Babies feel listened to and understood, reducing frustration as their needs are met quickly and consistently.
Baby Signing can also provide a wonderful bonding experience as you engage together. There are not many other things that you will have the opportunity to learn alongside your baby.
Baby Massage
As we learn in pregnancy, loving touch creates oxytocin (the love hormone) and dopamine – a neurotransmitter which is vital for physical and mental health and wellbeing. So learning and engaging in baby massage routines can be a wonderful experience for your baby – but can also really help mums who might be struggling with PND, or a lack of connection to their baby.
Massage can also be great for dads who typically get less 'hands on' time with babies and are consequently often less confident in handling them. Massage teaches you that your baby is more durable than you might think! It can also be used to build other family relationships, by letting siblings and grandparents join in for example.
But massage is not just a bonding experience, offering lots of other physical and health-based benefits. Firstly, it helps a child to be more aware of their body. It can help to relax them and make them less clingy, as well as forming part of a nice bedtime or naptime routine to help them sleep better. It can also release gas and tummy pain or release constipation which are often causes of waking.
For premature babies, it's a really important means of helping them to develop and hit their milestones. It can soothe the pressures and trauma of being born – loosening the shoulders for example after being forced through the birth canal. Then as babies start to get mobile, massage can loosen up their joints which become tight from crawling – just as we do from exercise.
Facial strokes can be very helpful for babies who cry a lot, soothing tensed up facial muscles and reducing tension across the forehead, while massage of the face can be very cleansing for skin and pores, help with mucus drainage when they have a cold and help soothe immunisation and teething pain. Gum massage is also a great way to prepare babies for tooth brushing from an early age to try and prevent toothbrush-based battles as they get older!
Baby Yoga
Baby Yoga combines massage with holds, stretching, singing and rhymes to help babies find 'shortcuts' to developmental milestones such as rolling, sitting, crawling, standing and walking. It also creates loving interaction and fun experiences with parents or caregivers. This helps their brain to grow lots of happy neuron networks at the time of most intense growth.
For example, when you cross the midline of a baby's body with the arms/legs in an 'open / shut them' movement, it crosses the neural pathways of the brain to help with their coordination.  When you 'move' your baby around with swings and rolls, you work your baby's vestibular system, which is their sensory system of balance and movement.  It also plays a part in speech development.
Specific exercises work the core and other muscles needed to 'get on the move'.  Baby Yoga exercises also support the development of strong core and dorsal muscles, and encourage the correct curvature of the spine – one of the last areas of bone growth in babies.
So there are lots of benefits from taking part in activities and classes with your baby – for you both! If you'd like to come and try one of Busylizzy's local or online sessions, you can find out more at www.busylizzy.co.uk. We'd love to hear from you.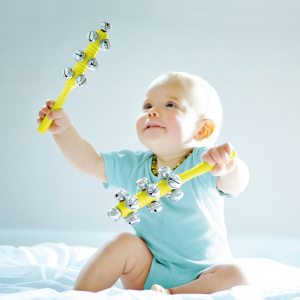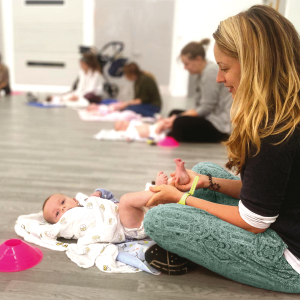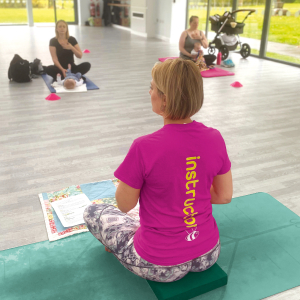 Mum of two Jen Hibberd purchased her Busylizzy Family Club franchise in December 2016.
A self-confessed fitness- fanatic and mum to two young boys Daniel and Arthur
website https://busylizzy.co.uk/
https://www.mybump2baby.com/wp-content/uploads/2021/06/The-Whys-of-Baby-Classes.png
630
1200
Jen Hibberd
https://www.mybump2baby.com/wp-content/uploads/2016/10/Logo-MyBump2Baby_transparent-bg-1-1.png
Jen Hibberd
2021-06-22 13:45:17
2022-02-17 13:56:55
The Whys of Baby Classes