10 Fun Things to do with Kids in and around Aldershot
Today we have a guest post from one of our favourite bloggers Sarah from Mummy Kind,
We have some amazing pregnancy – preschool groups and businesses in and around Aldershot but if you are looking for something a little different, Mummy Kind has written a fabulous blog "10 Things to do with Kids in and Around Aldershot"
10 things to do with the kids in and around… Aldershot (North Hampshire/Surrey)
1. Gruffalo Trail at Alice Holt Forest
2. Ceramics Cafe Farnham
3. Gravity Force Trampolining
4. 360 Play Farnborough
5. Coral Reef Bracknell
6. Aldershot Lido
7. Birdworld
8. Hampton Court Palace
9. Chessington World of Adventures
10. Farnborough Vue
1. Gruffalo Trail at Alice Holt Forest
Alice Holt Forestis situated in the South Downs National Park which spans a vast area covering Hampshire and Surrey. Alice Holt itself is local to Farnham, a mere 15 minute drive from the centre of Aldershot, and is FREE OF CHARGE! That's right! You can spend the entire day there and the only money you will spend is for parking and petrol.
Alice Holt boasts a fantastic wooden play area, bike hire and trails, walking trails (including the infamous Gruffalo Trail), and GoApe! for the older kids. We have been many times to Alice Holt and never grow tired of it!
2. Ceramics Cafe in Farnham
Whether you have little babies doing handprints on plates or older children, a quiet afternoon of pottery painting is a great way to spend time with the family.
Ceramics Cafe in Farnham is situated less than a 5 minute walk from a large car park (next to Sainsbury's) and is in the centre of Farnham, which is a beautiful place to visit in itself. There is a £2 session fee on top of anything you paint, and the pottery prices are very reasonable. The staff are always on hand to help, and they will happily cater for parties too!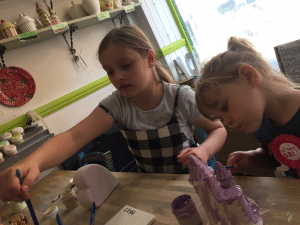 3. Gravity Force Trampolining
This fantastic trampoline park in Camberley is where we have spent many a weekend morning!
Gravity Force have a brilliant timetable which caters for all ages, with dedicated sessions for younger jumpers and a family jump session which makes it much easier to have fun with all of the family. We love it there so much that we've been annual pass holders since last summer, for the very good price of £8 per month. This park also hosts Gravity Fit sessions and they have a holiday club for older children!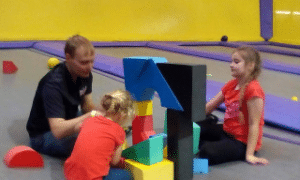 4. 360 Play in Farnborough
This is more than just a soft play… This is an M&S soft play… KIDDING OF COURSE!
But this soft play is really something else. It is absolutely huge for a start, and there are loads of different areas and activities for the children to do. The staff are very safety and security conscious and you have a photo ID card so that they know exactly who is in the building in case of any emergencies or lost kiddies! (Not that we have ever had to seek assistance for this, thank lord!)
360 Play is a hidden gem in Farnborough, just past the Sainsbury's in the town centre. They have a carousel, a dressing up area, a huge soft play structure for the big kids, and smaller soft plays for toddlers and babies. They have also begun Gymfinity clubs there which are gymnastics and ninja classes for children of all ages – we are trialling those very soon and can't wait to bring you a review!
5. Coral Reef Waterworld in Bracknell
This one is a bit further afield, but definitely worth the travel! Coral Reef is an amazing indoor water world famous for it's slides. Again there are lots of different areas in the pool for children of different ages. They often have a professional photographer there too to capture pictures of your babies' first swims!
Just up the M3 and probably a half an hour / 45 minute drive from Aldershot, this is a brilliant day out for the family. Booking in advance is usually recommended as it can get quite busy, but equally if you arrive for when it opens you won't end up queuing for too long either.
6. Aldershot Lido
Following on from the swimming theme – Aldershot Lido is a great local day out and a fantastic way to cool off in the summer sun! It's also relatively close to Aldershot Park so you can combine the fun!
Tickets are half price after 3pm if you don't get there until later in the day.
7. Birdworld in Farnham
You will drive past Birdworld on the way to Alice Holt Forest – it takes about 10 minutes in the car to get there from Aldershot town centre.
Birdworld often have special exhibits and events on during school holidays, and military families may be able to secure a discount on entry! Speak to your local welfare service if this is you. You also have the opportunity to feed the penguins which is just amazing!
8. Hampton Court Palace
Hampton Court Palace is a bit further afield, based in Moseley, but a truly wonderful day out with the family. The Palace itself is magnificent, and the gardens are an extra something special!
Hampton Court Palace's Magic Garden is a wonderful area for the children, and the Palace itself hosts lots of extra events such as music festivals and outdoor cinemas throughout the summer months!
If you are a member of the Historic Royal Palaces Society you can visit Hampton Court Palace (and the other 5 palaces that are included in that membership) for free, but otherwise tickets are free for under 5s and roughly £10 for children up to 15 and £20 for adults. There is also car parking nearby (just across the road from the main entrance), and the whole palace is quite accessible if you're having to lug a buggy around with you!
9. Chessington World of Adventures
Again a bit further afield, but where we are we are lucky to be living on the doorstep of this and other incredible theme parks! I would say that without any horrendous traffic we live roughly half an hour away from Chessington, which of course boasts a children's theme park, a SeaLife centre AND a zoo!
It's no wonder that many of the families living in Aldershot invest in Merlin passes while we live so close to Chessington and other Merlin attractions. Chessington however is the best one for young families as the rides accommodate a range of age groups. Our tall 9 year old and our only just 3 year old love going to Chessington, and the SeaLife centre and zoo are frequented during the day! The penguins are a particularly great attraction. You can also feed the giraffes and the elephants if you get there at the right time!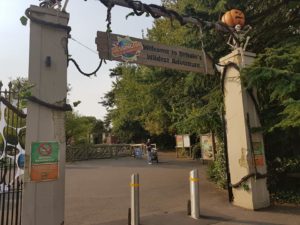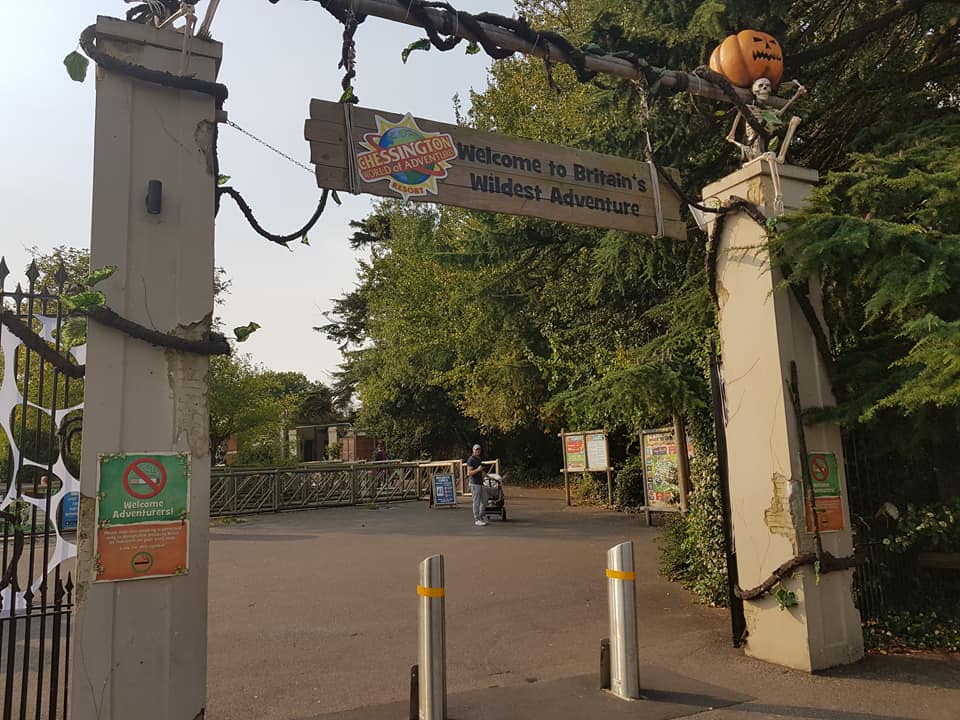 10. Farnborough Vue
If the weather isn't good enough for a full on outdoor day trip, the Vue cinema in Farnborough is a really good way to spend a few hours with the kids without feeling like you're stuck at home. Farnborough Vue offers any film at any time for £4.99 per person, so even if you're a big family, you can have a cinema experience without breaking the bank!
This year is set to be a brilliant one for Disney films with Dumbo and Aladdin having already been released, and Lion King, Toy Story 4 and Frozen 2 due to come out later in the year as well!
Are you local to Aldershot? Would you add any other attractions to the list? Let us know if you have been to any of these listed here!
If you would like to follow Mummykind's blog and adventures you can find her under the favourite blogger section of our app and visit her blog on following links;
https://www.mybump2baby.com/wp-content/uploads/2019/06/10-Things-to-do-with-kids-in-and-around-Aldershot-2.png
1536
2048
danny
https://www.mybump2baby.com/wp-content/uploads/2016/10/Logo-MyBump2Baby_transparent-bg-1-1.png
danny
2019-06-17 20:14:41
2019-06-17 20:22:19
10 Fun Things to do with Kids in and around Aldershot