Things to do in London with Kids
Visiting London with kids can be an incredible experience if you pick the right things to do, of course, you have the usual London attractions that you can go to but if you have done those before or if you are looking for budget-friendly things to do in London with kids you have come to the right place. Before taking your trip to London, check our holiday checklist to check you have everything you need for yourself and your baby.
Visiting London During School Holidays
We decided to visit London with our 5-year-old son during the summer holidays. We have already been a few times before and done the usual popular London Attractions so we were keen to see what else was out there so we could share our findings with parents of older kids and young kids too.
Once you have done the usual London attractions you may find that you spend a lot less money on other things to do with children too. We found some lovely parks for the whole family to enjoy and if the weather is on your side you can even take a picnic.
Best London Attractions for Kids
London Museums
Teach your children about the past- when you visit London- at these exciting destinations!
Natural History Museum
The Natural History Museum is a great trip for all of the family and is one of our favourite things to do in London with kids.
You can "get up close with nature, discover fascinating creatures and intriguing science on a visit that's perfect for the whole family".
What is at the National History Museum?
At the National History Museum, there are plenty of family-friendly galleries, including "Volcanoes and Earthquakes" (where your children can get up close and examine fossils, lava bombs, volcanic glass hair and crystals), "Mammals" (where you will be able to see great big polar bears or tiny little pygmy shrews) and "Minerals" (where you can see plenty of beautiful, glittering gems and raw minerals, and even a 635-kilogramme iron meteorite!).
A MUST SEE for Dinosaur Fans
The dinosaurs gallery is a big hit with many children- and is a great way to teach your children about the different dinosaurs- with real-life dinosaur skeletons!
There is so much to do and see at the Natural History Museum and it is completely free of charge too. We do recommend booking your tickets beforehand, you can try your luck on the day but chances are you will be queuing for hours and you may not even be lucky enough to get in.
To pre-book your tickets go to the https://www.nhm.ac.uk/visit/book-tickets.html
The nearest tube station to the National History Museum is the South Kensington tube station.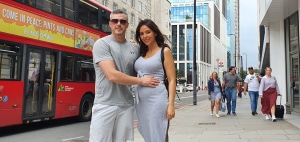 Science Museum
With plenty of exciting events and exhibitions., the Science Museum is sure to keep your children entertained and engaged in learning, here are an example of a few.
George loved the science museum.
WonderLab: The Equinor Gallery
This gallery allows you and your children to interact with real scientific phenomena, with seven different zones to discover, from ferrofluid that shifts according to magnetic forces, and friction slides to teach your children about friction in the most entertaining way possible, this gallery is brilliant to provide your children with a fun learning experience!
Antarctica 3D is a brilliant iMax Cinema experience that will immerse you into the land of Antarctica, and allow you to see its weird and wonderful creatures.
This area of the zoo covers miniature locomotives and their advancement through time.
George wants to go to more science museums now we are home.
The Science Museum is located next to the national history museum, you can book your free tickets here https://www.nhm.ac.uk/visit/book-tickets.html
British Museum
The British museum allows you to walk through two million years of history and culture, across more than 50 galleries!
Including themes such as Americas, Animals, China, Africa and Egypt, there is a lot to see and learn!
https://www.britishmuseum.org/
National Maritime Museum – AHOY! Children's Gallery
The National Maritime Museum features a gallery called "AHOY!"- specifically made for children from ages 0 – 7.
Let your children run and play with polar exploration, pirates and a host of other maritime themes. They can "stoke the boiler of a steamship, buy and sell fish in the marketplace, and make new friends in the interactive boatyard!"
https://www.rmg.co.uk/national-maritime-museum
Other Indoor Attractions:
Sea Life London Aquarium
Sea Life is a great experience for children, no matter where you are! Get your kids interested in ocean life by visiting Sea Life London.
Sea Life London is home to over 500 species in 14 themed zones.
These fascinating zones include:
Coral Kingdom
Ocean Invaders
Rainforest Adventure
Shark Walk
Atlantic Coasts
Ray Lagoon
Ocean Tunnel
Open Oceans
Shipwreck
Seahorse Kingdom
Rainforest Adventure
Rockpool Explorer
Polar Adventure
Conservation Cove
Shark Reef Encounter
Located on the South Bank of the River Thames, it's a great day out, guaranteed to be a hit with all younger children!
https://london-support.visitsealife.com/hc/en-us/articles/213042365-How-do-I-get-to-SEA-LIFE-London-Aquarium-by-Underground-
The Odeon Cinema in Leicester Square
Leicester Square Cinema is described as being "more than a cinema" and rather the "grand palace of entertainment and the home of world premieres".
It contains the very best cinema technology and theatre design and is a great visit for any movie lover!
We took George to see a film one night and he absolutely loved it, the chairs are really comfortable and Leicester square is the perfect place to spend an evening with the family. Older kids might even want to go for a few hours whilst you have dinner somewhere close by.
https://www.odeon.co.uk/cinemas/london-leicester-square/
More Attractions for Kids
Buckingham Palace
Buckingham Palace is world known for being the home of The Queen.
You can visit The Buckingham Palace Gardens and staterooms and enjoy a picnic on the lawn, and explore the beauty and calm of this world-renowned building.
Other areas of the garden can be seen on a (pre-booked) tour, including the Rose Garden and wildflower meadow.
You can also go to Buckingham Palace and see the changing of the guards. Click here to find out when the changing of the guards is happening next.
https://www.rct.uk/visit/buckingham-palace
London Zoo
London Zoo is the world's oldest scientific zoo! Its original purpose was to be used as a collection of scientific studies, but it is now open to the public as a great family day out!
You can teach your toddler about different animals by taking them to the animal adventure zone, where your toddler can meet animals ranging from eagle owls to meerkats.
The London Zoo also features "Travel the World Tours", where you can visit "exotic destinations" and try exotic foods.
To find out more about the activities you can book or pricing, you can visit their website: https://www.zsl.org/zsl-london-zoo/experiences
London Bridge
London Tower Bridge spans the River Thames and is a key landmark, containing lots of history. From the high-level West Walkway, you can take in a stunning view of London through the glass floor.
Inside the London Bridge, you can also uncover the stories of the Victorian Engine Rooms.
Warner Bros Studio Tour London
Enjoy a magical adventure with a behind the scenes tour of the Harry Potter World at Warner Bros. Studio Tour London The Making of Harry Potter. You will get to see the Harry Potter filming locations, sets, costumes and props used in the Harry Potter films.
London Parks
Queen Elizabeth Olympic Park
At Queen Elizabeth Olympic Park, there is a lot to do, and plenty of events to attend. You can see if there are any events on right now here: https://www.queenelizabetholympicpark.co.uk/whats-on/events
You can shoot to the very top of the UK's tallest sculpture, the ArtcelorMittalOrbit, explore the park's four sections (Art in the Park, Parkland and Wildlife, Children's Adventures in the Park and London 2012), choose from various sports, eat at a cafe or restaurant, go on a boat tour and more!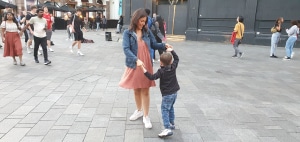 Hyde Park
Hyde Park is one of London's eight royal parks. It covers 5,000 acres of historic parkland, covered in beautiful green spaces. Perfect place for kids to play
St James's Park
St James's Park is also one of London's eight Royal Parks and covers an area of nearly 57 acres.
Holland Park
Holland Park is located in Kensington- on the western edge of Central London. It is spread across 54 acres of what used to be the groups of Cope Castle- a large Jacobean mansion.
Horrible Histories
We went to the Horrible Histories show on Shaftesbury avenue, George loved it. We did this in the day and we all really enjoyed it.
You can get tickets below
https://stagechat.co.uk/tickets/horrible-histories-barmy-britain-part-five
You might be interested in looking for some baby and toddler groups in London, if that is the case you can find some here.
Feedback from other parents after visiting London with kids;
"We usually go abroad so when we decided to visit London with kids we were worried there wouldn't be much to do but we were very wrong. Our kids loved the free museums (national history museum and the Science museum) We also went to St James's Park which was a huge hit with our little ones. We went around west London and we used the tubes to get up to north London too, the kids absolutely loved going on the tube and it made things easier to get around, last time when I was with my boyfriend we did the open-top buses but i really didn't think we needed to this time and we wanted to save some money. We loved Central London and the south bank area for food and entertainment. We will definitely be visiting London again in the school holidays as we had such a good time." Laura 32
Our young children loved London, we stayed in east London but managed to get around the London transportation system easy enough. We went to Richmond park for the day and took a picnic, we did the river cruise, visited Hampton court palace, we also did the lion king show which was incredible. We visited Diana memorial playground, the London eye and did a bunch of free things too" Stacey 28
Carla is the founder of MyBump2Baby. Carla has a huge passion for linking together small businesses and growing families. Carla's humorous, non-filtered honesty has won the hearts of thousands of parents throughout the UK.
She has previously written for the Metro and made appearances on BBC News, BBC 5 live, LBC etc. Carla is a finalist for Blogger of the Year award with Simply Ladies inc. Carla is also the host of the popular Fifty Shades of Motherhood podcast and The MyBump2Baby Expert podcast.
https://www.mybump2baby.com/wp-content/uploads/2021/09/Things-to-do-in-london-with-kids.jpg
909
1920
Carla Lett
https://www.mybump2baby.com/wp-content/uploads/2016/10/Logo-MyBump2Baby_transparent-bg-1-1.png
Carla Lett
2023-04-15 13:45:05
2023-05-15 22:08:06
Things to do in London with Kids