Today's blog is for all of you busy parents out there. Trying to manage your time when you have a little one, a job, a social life, and a partner can be very tough, trust us, we know.

Today MyBump2Baby is hoping to improve your time management skills, and here's hoping you'll have some time to relax as well by the end of it!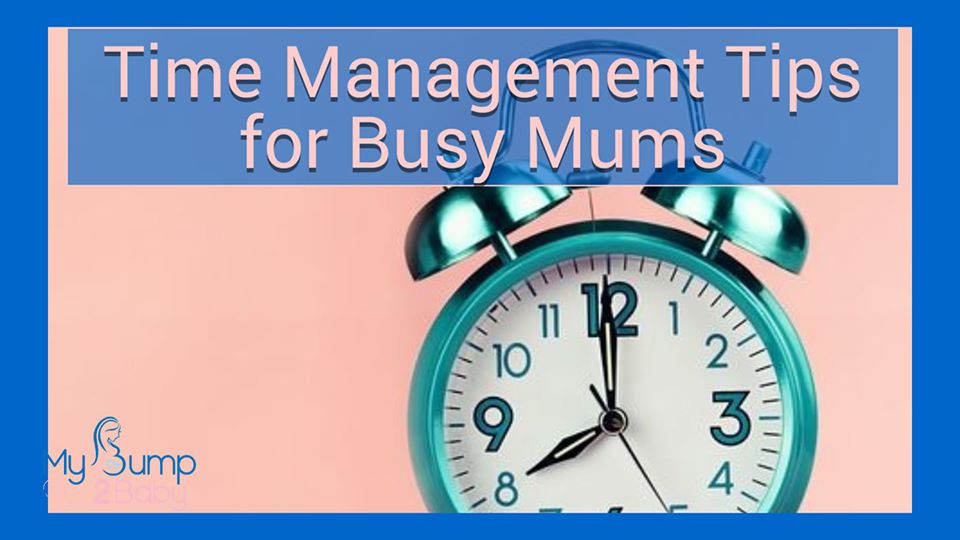 Here are our Simple Time Management Tips for Busy Mums;

Organise it
Sounds easy right? Get yourself a printable calendar/diary, or you could even start using the calendar on your phone efficiently! Set yourself goals for each day and tick them off as you get through them, include simple tasks, such as 'make dinner', and you'll feel more accomplished by the end of the day. 
Always do the worst job first
Have a weekly task list and get the bad tasks out of the way first so you can move on to the less daunting later on. Do the jobs you've been putting off for weeks. Once you've completed them you'll wonder why you've been putting them off for so long. 
Do your shopping online!!
A great way to save yourself some time and money is by doing your shopping online. Most major supermarkets offer this online service now and you can even choose a delivery date and time slot to fit in with your busy schedule. It takes the pressure off you when you're dragging your kids around the supermarket, while they are pulling you over to the sweetie aisle! It's so easy that you don't even need to leave the house, and you can order at any time of day. 
Set yourself a housework schedule
Do specific tasks on certain days and stick to it. Only do the hoovering on a Monday night and a Thursday night, do a deep clean of the house every Sunday. You'll soon be in a routine and you won't feel like you spend every minute of every day tidying up after everyone else. The Clean my house app is a great app that allows you to set daily tasks and click here to see a list of other useful apps
Get up Earlier than your kids
Getting up earlier than your kids gives you extra time to get things organised and get yourself ready. This is proven to make a difference to your state of mind. If you love reading or audio books, we recommend the Miracle morning.
Say NO!!!
We know how hard it can be to have a good work-life balance. As hard as it sounds, sometimes you need to say 'no' to people, you need to step away from your phone and  put your mind to rest. If you're working from home it can be even harder to give yourself a good balance, so don't get carried away and forget about yourself. Set yourself a time that you can put your laptop down and stop replying to people's messages. You need to relax as well. 
Schedule Self Care
Take some time out for yourself, make sure you're eating healthy, nutritional food and getting enough sleep. Set aside some time each day to find time for self care. We know it can be tough with little ones about, but it really is key to being happy and we are firm believers in happy parents happy babies.

We hope these time management tips have been helpful, we look forward to hearing what you have to say.
If you would like to visit our planning and organisation shop, click the link.
https://www.mybump2baby.com/wp-content/uploads/2019/12/time-management-for-busy-mums.jpg
540
960
https://www.mybump2baby.com/wp-content/uploads/2016/10/Logo-MyBump2Baby_transparent-bg-1-1.png
2019-12-30 16:42:55
2022-01-10 16:21:16
Simple Time Management Tips for Busy Mums