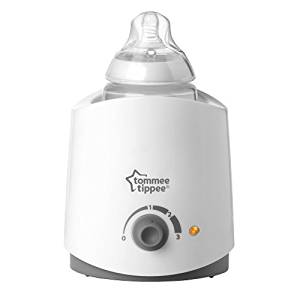 Warming milk in the middle of the night can be a hard work, especially when you have a crying baby in your arms. Without a bottle warmer feeding your baby can be a very lengthy process, every minute of sleep during the night is precious.
Bottle warmers are little miracles and all you have to do is just turn it on, place the bottle inside and wait a couple of minutes. These products will save you time which means your feeding process is shorter in time and will hopefully mean less stress and more sleep.
Tommee Tippee's Closer to Nature Electric Bottle and Food Warmer is an excellent product and will heat your baby's food safely and quickly. It only takes 4 minutes to warm up the milk or any other type of food. Tommee Tippee's Bottle Warmer is designed to preserve all the healthy ingredients.
This bottle warmer is simple to use, you place the bottle or the jar inside the bottle warmer and add some water. Tommee Tippee's bottle warmer allows you to adjust the temperature – it has three settings. Unfortunately Tommee Tippee don't clearly tell you at what degree you are warming your baby's milk therefore you may have to test it a few times to know which one is best. This bottle warmer is designed to fit almost any type and size of bottle or jar.
Tommee Tippee's Food Warmer is designed small enough so that it can be easily transported.
Here are what some other MyBump2Baby mummies thought of the the product;
"I absolutely loved this, it fit perfectly in my changing bag and I literally took it everywhere with me" Helen from Scunthorpe
"The only thing I would change is the fact it doesn't show temperature, that said, you kind of get used to using it so you quickly learn how long different foods need. I used a timer on my phone in the end which was fine. The price was fabulous for what it was and I loved the fact I could easily take this to my parents and it was easy to set up without much fuss" Sarah from Bromley
"I didn't end up using this as much as I thought I would, my little one ended up really enjoying foods at room temperature which was handy, I did pass this on to my sister and she absolutely loved it, she has still got it now 3 children later. I think this is the ideal gift to buy for someone expecting a baby and it won't break the bank either" Heather, St Helens
"We used this a lot in the beginning when i struggled to breast feed and it was great, it was the next best thing to the tommee tippee closer to nature machine which was an absolute god send when we transitioned from boobies to bottles, I actually don't know how I coped without it." Jayne Weston Super-mare
The product comes with dimensions of 12.5 x 13.5 x 16 cm and weighs only 9 grams.
You can buy this product here.
To read our other reviews on food warmers click here.
MyBump2Baby Score

{{ reviewsOverall }} / 10

Readers Score

(0 votes)

MyBump2Baby readers say... Leave a review

Order by:

Be the first to leave a review.

Show more
https://www.mybump2baby.com/wp-content/uploads/2016/10/Tommee-Tippee-Closer-to-Nature-Electric-Bottle-and-Food-Warmer.jpeg
300
300
Carla Lett
https://www.mybump2baby.com/wp-content/uploads/2016/10/Logo-1-300x81.png
Carla Lett
2016-10-12 20:39:00
2019-08-19 21:26:10
Tommee Tippee Closer to Nature Electric Bottle and Food Warmer Review