Tommee Tippee Sleep Bundle Review
Disclosure: This article may contain affiliate links, this means at no cost to you, we may earn a small commission if you purchase a product through them.
My little one is due at anytime now and whilst being a second child should mean I know what I'm doing I still found myself looking for the essential products to help making life with a newborn a little easier.
There is a three and a half year age gap between my two and the range of new products available is incredible! I was a huge Tommee Tippee fan with my first and it's a brand I have naturally navigated towards this time too. Tommee Tippee we're good enough to send me some products which they thought may be useful, especially with getting baby to sleep!
Light and Sound Sleep Aids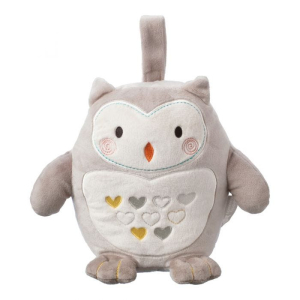 [content-egg-block template=custom/mb2b limit=1 offset=0]
[content-egg-block template=custom/mb2b modules=Ebay limit=1 offset=0]
[content-egg-block template=custom/mb2b modules=Awin limit=1 offset=0]
Sleep aids are a great additional to your little ones sleep routine to help soothe baby to sleep. I used a different brand with my first and it really made a difference to her settling herself and is all getting a good night sleep.
How Do They Work? 
The way they work is to try and help settle your little one without you needing to go in and soothe them in person therefore encourage self soothing and helping them and you to get a better night sleep. This is done through the use of familiar sounds like heartbeat, rainfall and lullabies that could remind baby of being safe and secure in the womb.
Rechargeable – No Need For Batteries! 
Tommee Tippee offer a full size and travel sized sleep aid. Available in Pip the Panda, Ollie the Owl and Bennie the Bear.
The full size is rechargeable via USB so hunting for batteries in the middle of the night is a thing of the past!
CrySensor Technology 
Both versions come with the genius CrySensor technology that listens for sounds from your baby and will play a gentle lullaby or white noise for 20 minutes to help soothe them back to sleep. Meaning it automatically picks up if your baby is starting to stir and starts to try and soothe them before it escalates further. This is an incredible idea as it should hopefully mean that everyone gets a bit more sleep!
Soothing Sounds 
It comes with 6 different soothing sounds including heartbeat, rainfall and white noise or 3 lullabies all of which remind baby of being in the womb and therefore brings them comfort without the need for you to go in and soothe them yourself.
Night Light
It also features a dimmable heart-shaped light which allows you to choose right level of brightness for your nursery and automatically switches off after 30 minutes to save energy.
Travel Buddy! 
The travel Gro friend is exactly the same just in a smaller more convenient size so it can easily be taken on holiday or even just out and about and attached to the pram to help baby sleep when out. It again is rechargeable and has the CrySensor and 6 different sounds. It does not have a light however.
Are They Worth It? 
I love that there are two options for this, providing convenient and practical sleep help whenever it is needed! I'd even go as far to say it really is worth having both! The full size is a great addition to a nighttime routine and the travel size is great for those who holiday a lot or even those with busier lifestyles and who are out a lot. They have a fun and sweet design and will soon become your little ones new best friend.
For more information or to purchase follow:- https://www.tommeetippee.com/en-gb/product/travel-sleep-aids#527=679
Gro egg Room Thermometer 
The Gro Egg has been around for sometime now and is a staple in most households. It's a quick and easy way to see how warm or cold your baby's room is.
How Does It Work? 
It features a small screen which gives an exact temperature but is also surrounded by a coloured light that easily tells you if it's a safe temperature or not.  You can easily see what adjustments need to be made to your baby's sleeping environment, what tog sleepbag they will need and how many layers they should be in.
What Do The Colours Mean? 
Red being too hot, orange being warm, yellow being recommended and blue being too cold.
Blue – means a temperature of 16 degrees Celsius or less and a sleep bag with a tog of 3.5 should be used.
Yellow – means a temperature of 16 – 20 degrees Celsius and a tog rating of 2.5 should be used. This is the recommended temperature for safe sleep.
Orange – means a temperature 20-24 degrees Celsius and is warm and a tog rating of 1 should be used.
Red – means it is too hot as the temps true is 24 degrees Celsius or above.
Night Light and Rechargeable
It's a great night light too so there's always some light in baby's room. It is rechargeable via USB so again the need to have a constant supply of batteries is gone!
There is a newer version of the Gro egg, the Gro egg2 which is the same as the original but features a dimmable night light which has three different levels so you can set it to whatever level you like for baby's room.
Is It Worth It? 
It's a great product that provides an instant reading and is very accurate. It can easily help you make your baby's sleeping environment safe and comfortable for this without really having to do much! For the price it's a no brainer!
To find out more or to purchase follow this link: https://www.tommeetippee.com/en-gb/product/groegg-1
The Original Grobag Sleeping Bags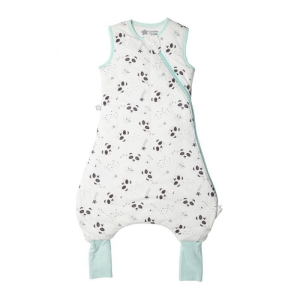 [content-egg-block template=custom/mb2b limit=1 offset=1]
[content-egg-block template=custom/mb2b modules=Ebay limit=1 offset=1]
Sleeping bags are hugely popular now and are recommended for safe sleep. All Tommee Tippee products are safety tested and approved and adhere to British and European Safety Standards.
What Are They Made Of? 
They are made from super soft cotton-rich, fluorescent-free fabric so are kind to baby skin and shouldn't cause any irritation; hopefully allowing baby and you a comfortable night's sleep. They are designed to be slim fitting through the chest and then open out to allow room for baby to move their legs and form the natural "frog-legged" sleeping position, which is important for correct hip development. It has a two way zip opening so nappy changes in the night can be done quickly without having to fill my remove baby from the sleepbag.
Sizes and Tog Ratings
The sleepbags come in four different tog ratings:-
3.5 Tog: ideal for cold winter months and for cold rooms below 14°C
2.5 Tog: suitable for use all year round and for room temperatures between 14-20°C
1.0 Tog: ideal for use in warmer months or in rooms with temperatures between 20-24°C.
0.2 Tog: ideal for heatwaves, hot weather and very warm rooms with temperatures above 24°C.
They also come in different sizes depending on the age, size and weight of your baby, from
0-6, 6-12, 12-18 and even 18-24 months.
Snuggle Sleepbag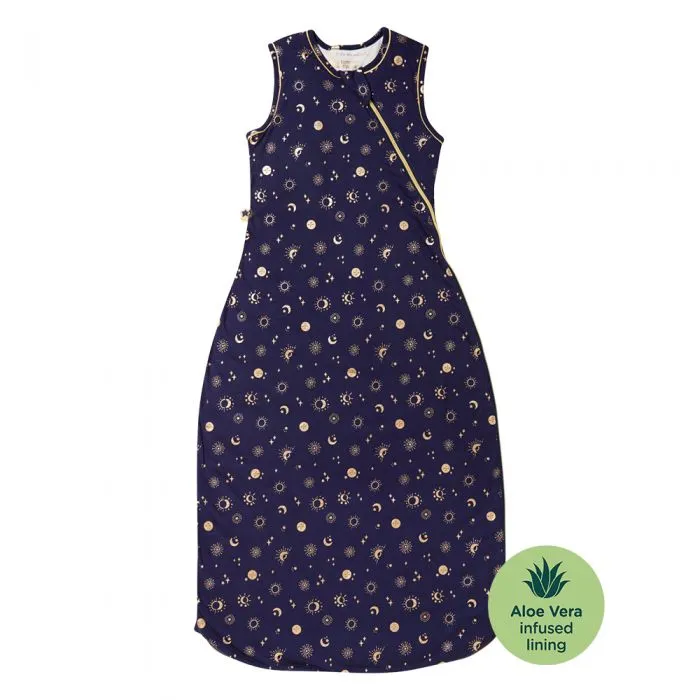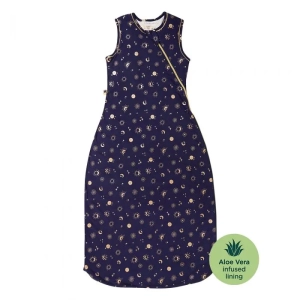 [content-egg-block template=custom/mb2b limit=1 offset=2]
[content-egg-block template=custom/mb2b modules=Ebay limit=1 offset=2]
The Snuggle is just like that standard sleepbag however is designed more to emulate swaddling and is perfect for younger babies.
Swaddling can help a baby be calmer and it reminds them of being secure in the womb. The Snuggle allows for swaddling with arms wrapped within the bag, or with arms out by simply undoing the poppers at the arm holes.
Snuggle sleep bags come in two sizes: 0-4m (7 – 13lbs 8oz / 3.17 – 6.12kg and 51-62cm) and 3-9m (12 – 19lbs 2oz / 5.4 – 8.6kg and 60-71cm) so you can choose the best fit for your baby.
Again like the Sleepbags they are made from super soft cotton-rich, fluorescent-free fabric perfect for baby's delicate skin.
Are They Worth It? 
Absolutely, the lullaby trust recommend sleep bags as part of their safe sleep campaign. Knowing that your baby is warm enough and safe without having to worry about them getting a blanket over their face or getting tangled up in it if you have a wriggler is a complete reassurance.
They come in a huge range of designs and patterns. To find out more and browse the range follow this link:- https://www.tommeetippee.com/en-gb/shop/sleeping/sleepwear
Jess Bleeze is a mum of 1 & has a contagious passion for supporting growing families and supporting small businesses in Tendring & Colchester and throughout the UK.
https://www.mybump2baby.com/wp-content/uploads/2021/10/tommee-tippee-sleep-bundle-review.png
630
1200
Jess Bleeze
https://www.mybump2baby.com/wp-content/uploads/2016/10/Logo-MyBump2Baby_transparent-bg-1-1.png
Jess Bleeze
2021-10-21 16:27:18
2021-12-17 10:16:47
Tommee Tippee Sleep Bundle Review