Vegan Skin Protection for Babies and Toddlers – Toddle Adventure Kit Review
Disclosure: This is a sponsored post but all opinions are our own.
Vegan Skin Protection for Babies and Toddlers
We are extremely fortunate to live in a country that is peppered with countless beauty spots and nature walks for us all to enjoy. It is no surprise that scenic walks are one of the most popular things for UK families to do. Our little ones love to explore and go on new adventures and we love tiring them out whilst creating beautiful memories in the open air.
Taking the whole family out anywhere can often be a little "stressful" even on our most patient days and remembering everything (including the children) can be difficult enough, without worrying about the necessary skin protection for our babies and toddlers. The weather in the UK is very unpredictable, it can look dull and windy when you set off on a walk but within an instant the weather changes and the sun comes out which is lovely but not so lovely when your sun cream is still sat home in the cupboard.
We are really excited to introduce you to Toddle's Adventure Kit – A Natural Vegan Skincare Protection Range for Children
 The perfect kit to protect our children's skin with natural ingredients come rain, wind or shine
This kit is perfect for all forecasts! Whether you're taking the kids out for a wet walk in their wellies or you're off to the beach for a picnic, Toddle has got you covered and it comes in a beautiful kit, an exciting gift for any young explorer. Toddle Adventure kit is the perfect way to be prepared whatever the weather with the 3 essential items that every parent needs.
First Impressions of the Adventure Kit
When George received his adventure kit, he was very excited. The kit came beautifully wrapped and it was clear to see that a lot of effort and thought had gone in to the kit, something you don't get from "regular" high street brands.
The design of the adventure kit and its products is beautiful, everything has been well thought out to provide parents with confidence that they really are protecting their children from all weathers! We love this kit because it is not targeted to one particular type of weather, it can be used on a sunny day as well as in the rain, you don't often find that with skin protectors.
The Sun and Wind Balm
Sun & Wind Balm, which is highly protective with an SPF of 50! This suncream is organic, vegan and great for all skin types including sensitive. This suncream is water resistant, so you don't need to worry about having to re-apply it every 5 minutes when you're out and about.
Our Review of the Sun and Wind Balm for babies and toddlers
 We have tested this out throughout spring including the hottest day of the year so far and with the paddling pool in full force and the windiest days too (even our garden fences took the brunt that day) but not Georges skin which was a relief. This sun and wind balm is thick in texture, smells lovely and definitely a future purchase for us. George reminds me to put it on each day as it is part of his "adventure" clothing which is much better than our usual morning wrestle to protect his skin. This major benefit of using this is suncream above many others I have tried is that it DOESN'T STAIN CLOTHES and if that is not reason enough – I don't know what is.
Happy Germ Hand Gel
Happy Germ Hand Gel, the world's most natural probiotic hand gel! Children's hands are sensitive and regular hand gels contain lots of chemicals to clean the skin. Toddle prefers to use more natural and healthy ingredients, along with essential oils that have natural antibiotic properties. Hand gel has become increasingly popular since covid19 and having a child friendly version is highly recommended for any parent.
Our Review of the Happy Germ Hand Gel
 If there was a time to test a family hand gel, during a pandemic 2020 was it!!! Initially, before we received this hand gel our hands were red raw from washing and anti-bacterial hand gels so this was definitely a welcome review. Since using this all of our hands including Georges have remained soft and moisturised – we were really impressed with this product.
Dribble Proof Lip Balm
Lip Balm, not only is it vegan, but it's also dribble proof! This balm has been specially designed with babies and toddlers in mind, it's full of natural ingredients, such as olive oil, jojoba and shea butter. This kit is great for your little ones and also the environment, it is sold in a glass jar and is bigger than most lip balms available on the market, meaning it lasts longer and there's less waste.
Our Review of the Dripple Proof Lip Balm
Toddle really has thought of everything when it comes to protecting our little one's skin. George suffers with chap lips and this last month before we received the kit they chapped up badly. Trying to tell a toddler not to lick his lips after applying a strawberry lip balm is virtually impossible and other lip products didn't seem to work. We tried this and we were really impressed at how quickly Georges lips improved. We did apply it 3 times a day and then before bed but this is definitely something I would opt to use in the future.
This adventure kit is amazing, it includes some really important products that really protect children's skin! It gives me peace of mind having this kit around, not only is it easy to gather up and take on a family day trip but my child does NOT allow me to forget it. It is now part of his explorer backpack with his compass, torch and all the other equipment he needs to be the best explorer.
We have awarded this fabulous brand with our recommended on mybump2baby badge.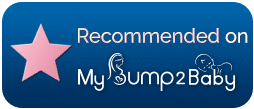 If you would like to purchase this adventure click here or to buy any of the products separately click here.
Carla is the founder of MyBump2Baby. Carla has a huge passion for linking together small businesses and growing families. Carla's humorous, non-filtered honesty has won the hearts of thousands of parents throughout the UK.
She has previously written for the Metro and made appearances on BBC News, BBC 5 live, LBC etc. Carla is a finalist for Blogger of the Year award with Simply Ladies inc. Carla is also the host of the popular Fifty Shades of Motherhood podcast and The MyBump2Baby Expert podcast.
https://www.mybump2baby.com/wp-content/uploads/2020/06/Vegan-Skin-Protection-for-Babies-and-Toddlers.png
247
534
Carla Lett
https://www.mybump2baby.com/wp-content/uploads/2016/10/Logo-MyBump2Baby_transparent-bg-1-1.png
Carla Lett
2020-06-09 08:26:54
2020-06-09 08:34:54
Vegan Skin Protection for Babies and Toddlers - Toddle Adventure Kit Review