At MyBump2Baby, we love to help parents and offer them support and guidance on how to teach their little ones new skills. Today's blog helps you with what you need for baby weaning. In this blog we'll be sharing some great products that you can use throughout your baby weaning journey. If you would like to book a an online or local course with a baby weaning expert you can find providers in our baby weaning section.

What do I need for Baby Weaning
A lot of parents struggle to know where to start with baby weaning. There's a lot to consider such as which highchair to buy, deciding which food to start your baby on and deciding on the best way to serve them the food. We recently recorded a podcast with Mini First Aid on Home safe baby weaning.

What shall I feed my baby?
Deciding on which food you can try your baby with can be hard, it's a good idea to try a range of foods so that you can see what they like and don't like. Vegetables are a great place to start for weaning, they can be mashed, pureed or cut into sticks, just ensure that they are soft so your baby's gums can get through them. As well as fruit and vegetables, such as apples, pears, carrots, parsnips and others, you can try giving your baby some rice. You must ensure that the food you are giving your baby is soft and is cooled to an appropriate temperature. 
There is advice available when it comes to allergens. It is suggested that you should give your baby allergens in very small portions and one at a time, so that you can clearly see what's caused a reaction, should one occur. A list of allergens can be found easily online, so you can be clear about what you're giving your baby. 
Experiencing different flavours
You should try to change up the flavours that your child experiences and also the texture of the food that they eat. This can help to avoid them being picky eaters as they get older. You have two options for delivering your baby's food, you can lead the meal with a spoon or you can allow them to use their own hands to feed themself. Babies often like to do this as it allows them to feel more independent. 
Weaning your baby is a lovely experience, it's exciting to see your baby trying new food and you'll probably spot some funny faces as they try foods with flavours that aren't so sweet, such as broccoli. 
The best baby weaning products 
At MyBump2Baby, we've compiled a list of the best baby weaning products, so that you can have a enjoying experience

This beautifully designed high chair comes with 6 different height positions, along with 3 different tray positions. The tray can also be easily removed from the chair meaning that you can fit the whole family round the dinner table. The chair has built in padding to ensure your baby is comfortable throughout their meal times. The chair is suitable for babies from 6 months up to 3 years, so it's definitely a durable and long lasting high chair. It can be folded flat for easy storage, making it easy to take anywhere you need it to go. Click here to purchase

This fun booster seat will provide hours of fun. It's extremely portable, so mealtimes can happen anywhere you like. This seat will enhance your baby's sensory and fine motor skills. Your baby will love the flashing lights and mirrors that are attached to the seat. The colourful yet simple design is stunning, with safety straps included, so you can move the seat around freely and be confident your baby is safe. The toy tray can be pulled apart to reveal a wipeable snack tray, helping to ensure that your baby doesn't get distracted during meal times. This seat is suitable for babies of 4 months up to 4 years of age. A long lasting design perfect for meal times anywhere. Click here to purchase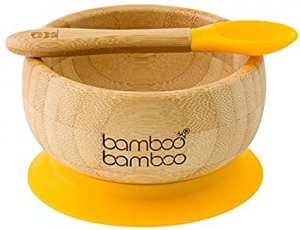 We've all seen babies flip their lunch off their high chair tray right? Well thanks to these fantastic bowls, you won't need to worry about that. Their suction bottom means that they will stick to your baby's tray, so they can't flip their food all over the floor. These beautifully designed bowls are great for the environment. They are made from natural bamboo and food grade silicone, to protect your baby from toxins. The silicone bottom is also removable, making it easy to transition your baby from a bowl that sticks to the surface to a regular bowl. The bamboo bowl and spoon have been designed so that they are soft to touch for your baby. A durable bowl with a very sustainable design. Click here to purchase.

These bibs are perfect for a happy mealtime. Their fun designs feature animals, which can be used to teach your baby the names of each one. These bibs are easy to wash and wipe, so they can also be used for other activities such as painting. During baby weaning, there will likely be a lot of spillages, so you'll need plenty of bibs to get you through, these bibs come in packs of 8 for a very reasonable price. These bibs also have a pouch that can be pulled forwards from the back to catch any food that your baby might drop. These bibs are recommended for babies over 6 months. Click here to purchase

These trays have a very simple design, with the outline of a bee in the middle to make weaning more fun for your baby. These trays are portable and also use suction to allow them not to move around the table or tray you are using to feed your baby. This tray is a good size, with different sections so your baby can choose what they want to eat in the order they want. This food tray is unbreakable and can be used in the microwave, freezer and even the oven! This durable design is perfect for babies over 6 months. Click here to purchase.

We hope this blog has been helpful on everything you need to know about baby weaning. Click here to find a baby weaning course.

https://www.mybump2baby.com/wp-content/uploads/2020/07/what-do-i-need-for-baby-weaning.png
630
1200
Abi Sproston
https://www.mybump2baby.com/wp-content/uploads/2020/02/Logo-300x81.png
Abi Sproston
2020-07-28 14:16:25
2020-08-23 06:28:14
What do I need for Baby Weaning?