What to Get a Mum Who Has Everything This Mother's Day
Mother's day is nearly here again, and I am here with my Mother's Day Gift Guide. I wanted to share this guide with people who are struggling with what to get a mum who already has everything… this mothers day.
Now, I don't know about you, but I absolutely soak up every single bit of mother's day. After all, being a mum is quite possibly the hardest job in the whole world, and I make sure my family knows all about it especially in the weeks leading up to my special day (wink wink), mainly so I get an extra special gift to make me want to continue with motherhood for another year.
My husband is often unsure what to get me for Mother's Day so I end up ordering myself a gift and then getting the money back from him which can take the excitement out of it, so this time, I have created a "What to Get a Mum Who Has Everything This Mother's Day" Mother's Day gift guide to help you and your partner select a luxury gift that will make you smile, after all, that is the least you deserve for being such an awesome mum. I am really excited to be working with Very on my gift guide this year and I hope you love all the items I have chosen as much as I do.
Ugg Fluff Yeah Slide Slipper
As a mum, I love nothing more than slipping into some comfy PJs and getting cosy in the house. Slippers are a vital part of the puzzle for me when it comes to cosiness, and I have had my eye on the new Ugg Fluff Yeah Slide Slipper for a while. The thing is when it comes to slippers they don't tend to be a gift you would buy for yourself, but that is not to say you wouldn't love some.
These ugg Slippers are simply stunning. Imagine the best hug you have ever had, then imagine it in a shoe form, that is the only way I can describe these slippers. These are the must-have slipper style of the season. It is not a surprise that these ugg slippers have scored a massive 5 stars on Very reviews. These slippers are available in sizes 3 – 8 and are the cosiest slippers I have ever owned.
The good news about these slippers is they are actually designed for both indoor and outdoor use thanks to the rubber sole. Many celebrities have been spotted wearing these fluffy slippers outside to add a bit of edge to their outfits, and I would definitely nip to the shop in these beauties. Unlike other slippers, the Elastic slingback provides you with a secure fit, unlike many other slippers that can slide off. I also love the fact that my feet are cosy and warm, but the open toe allows air to flow which stops your feet from getting too hot.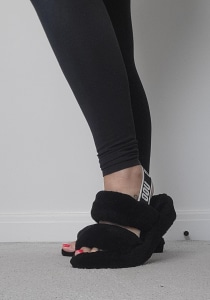 Sterling Silver 925 Halo Drop Earring Earrings
Earrings are one of the most popular pieces of jewellery for women to wear. Earrings can be an incredibly sentimental gift, especially when it is from our children. Earrings can completely change your look, and there are so many different types available. I don't have much jewellery, and I recently fell out of love with my earrings, I used to wear the same ones every time I went to a special occasion and I wanted to get some new ones. I found these gorgeous Sterling Silver 925 Halo Drop Earring Earrings from Very. I love these earrings, they definitely have the WOW factor, they are elegant and classy and go with outfits for any special occasion.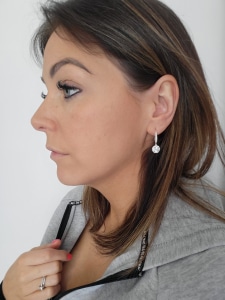 Mysa Aroma Diffuser with 2 Oils Gift Set
In January I made myself a promise to start taking more time for self-care and mindfulness. I have been reading a lot about the benefits of using essential oils and electric oil diffusers and not only have these electric diffusers been proven to reduce stress but they can also improve sleep too. I was keen to get started with one. I read about the Mysa Aroma Diffuser, and I loved that the name Mysa was the Swedish word for cosy (probably the most used word in our household). Mysa represents being in the moment and enjoying life with all of your senses. Running my own business can be stressful and it can be difficult to switch off from everything so I felt that this was the perfect purchase to help with learning to practice mindfulness each day.
I loved that this diffuser came with two bottles of fragrance oils to get started with, fresh linen (a personal favourite) and woody black which is just irresistible. If you would like to learn to take more time for yourself to relax then this would be the perfect gift.
Click here to have a closer look.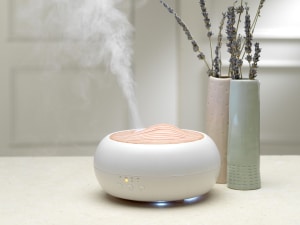 Beauty Works Hair Extensions
Most of the time my hair is scraped into a bun, I am covered in food, and I resemble Miss Trenchbull from the movie Matilda, and that is being kind. Sometimes I just want to feel like the old me again, the old me before children, when I used to straighten my hair in the morning, and it stayed straight all day, the old me where I put an outfit on and it stayed clean all day the only time this can happen is when we have babysitters, and we go out but nevertheless I do love the idea of having a bit of a different look when I go out.
I have been looking into getting hair extensions fitted again, but for someone who wears their mum bun around 95% of the time, it just isn't worth it. I decided that clip-in hair extensions were a great alternative for me, I can clip them in and out whenever I want and I love the beauty works hair, it is smooth and lasts a long time.
Click here to find your colour.
I hope you enjoyed this years Mother's day Gift Guide and I hope you find the perfect gift
Carla is the founder of MyBump2Baby. Carla has a huge passion for linking together small businesses and growing families. Carla's humorous, non-filtered honesty has won the hearts of thousands of parents throughout the UK.
She has previously written for the Metro and made appearances on BBC News, BBC 5 live, LBC etc. Carla is a finalist for Blogger of the Year award with Simply Ladies inc. Carla is also the host of the popular Fifty Shades of Motherhood podcast and The MyBump2Baby Expert podcast.
https://www.mybump2baby.com/wp-content/uploads/2023/03/What-to-Get-a-Mum-Who-Has-Everything.png
630
1200
Carla Lett
https://www.mybump2baby.com/wp-content/uploads/2016/10/Logo-MyBump2Baby_transparent-bg-1-1.png
Carla Lett
2023-02-26 13:05:16
2023-03-14 11:29:58
What to Get a Mum Who Has Everything This Mother's Day