One of the perennial challenges when it comes to child sleep is overtiredness. It's also one of the most counterintuitive! Parents often think, entirely logically, that a tired child will sleep well. Whilst this is true, the line between tired and overtired is so fine that it's often barely visible and although a tired child typically will sleep well, an overtired one is likely to fight sleep as if his life depends on it…
Is Your Child Too tired to sleep?
Understanding overtiredness enables us to initially spot and subsequently prevent it. Babies and children have limited "wakeful windows" which is best understood as the period of time a child can comfortably remain awake between periods of sleep. For a newborn baby, the wakeful window can be as short as 45 minutes! By 2 years old this will have extended out to more like 5 to 5 and a half hours. This is why children require naps to get them through the day.
Think of it like a pressure gauge; when a child wakes for the day, their sleep pressure is nice and low as they are rested from their overnight sleep. As time passes, the pressure starts to steadily build until it reaches its comfortable maximum – at this time the little one is primed for sleep and if their schedule is working well, it will be nap-time. The period of sleep will reduce down the pressure, the child will wake refreshed and then enter a new period of awake time and the pressure will again start to increase. This pattern repeats until bedtime.
But what happens if a child reaches their maximum sleep pressure and, for whatever reason, a nap doesn't happen? Well…the pressure blows. If only it were so simple that a tired child goes to sleep! The world is incredibly exciting to a baby or toddler and whilst the environment provides stimulus, a child will continue to engage. In order for the little one to "keep going" in this way, their body secretes a hormone called cortisol. And that is where the problem starts…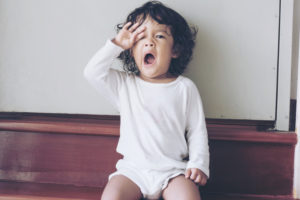 Running on adrenaline
Cortisol affects the body in a similar way to adrenaline. Children appear wide awake, even giddy – sleep is the last thing on their mind. But these little ones are in fact wired. As time goes on babies are likely to become increasingly cranky. A toddler may be less noticeably upset than a baby but their elevated cortisol level is likely to show in their behaviour – they may be particularly noisy, boisterous or even prone to hitting, biting and throwing things.
The nemesis of sleep
Once a child is overtired, getting them to sleep is likely to be a battle. It may well result in your baby crying in sleep. In the same way that if we are unwillingly awake and unable to get back to sleep in the night we may huff, puff and aggressively rearrange our pillow, an overtired baby gets frustrated. They are exhausted and desperately want to be asleep but their body just won't let them. Overtired crying can be some of the most intense and sustained that a parent ever hears. Toddlers may also cry but others will simply mess around – finding interest in anything but sleep, asking question after question and generally seeking to delay having to tackle the foreboding task of trying to sleep despite feeling utterly hyper.
But once they're asleep the worst is over, right?
Unfortunately, getting an overtired child to sleep is only the first hurdle in what can be a very long race. Cortisol hangs around for a long time and an overtired child will typically wake more frequently in the night (or after only 30-40 minutes of a nap) and once awake may find it very hard to return to sleep – cue more crying and/or a little one being awake for an hour or more in the middle of the night. The closer to morning it gets, the harder staying asleep becomes for a child as their cortisol levels begin to rise (a normal function to drive us towards wakefulness as the day approaches). With the additional cortisol caused by the overtiredness, the process simply kicks in too hard and too fast, often meaning a little one feels ready to start the day at 5am.
A cycle then develops where the shortened night sleep and/or inadequate naps maintain the overtiredness which in turn further inhibits the child's ability to take the sleep they so desperately need.
Prevention is better than cure
By far the best plan is to understand your little one's sleep needs (which depend almost entirely on their age) and manage their daytime schedule to ensure they can sleep when and how much they need to. This doesn't mean that life needs to be dictated by a little's one routine – sometimes setting off 15 minutes early to an activity so that your child can take a quick nap in the car is enough to ward off a bedtime meltdown!
Many parents, sensibly, watch their child for signs of tiredness and take that as the cue for a nap. Some children do exhibit very clear sleepy signs right at the start of feeling tired. Others, and it depends largely on temperament, give far less away and by the time a parent sees an obvious sign, the window for getting the child down without a battle is rapidly closing.
Aside from understanding how much sleep a typically needs (which is information I am always happy to provide a parent with free of charge), it is helpful to know what the true "tired cues" are. People often think of things such as a little one rubbing their eyes, pulling their ears or not wanting the parent to put them down. Typically, these are actually very late signs of tiredness. Parents may have more success getting their child to nap without tears if they look to get them down when the little one begins to lose interest in their toys, turns their face away and seeks to avoid engaging or if they adopt a glazed expression – these are all early (but considerably less obvious) tired signs.
In the eye of the storm
If you know that your little one is already overtired, the only way out is to top up their sleep tank. This may mean additional naps and/or an early bedtime. Parents of early-risers often fear an early bedtime will lead to their little one being up even earlier – actually, the opposite is likely as the more a parent can limit their child's overtiredness, the better chance the child has of being able to sleep until a wake-up time that starts with a 6 or 7.
If there are two things a parent remembers when it comes to child sleep, let them be this:
No good comes from keeping a child awake;
Sleep begets sleep!
Little Sleep Stars creates gentle, bespoke sleep plans to enable babies and children up to 6 years to reach their sleep potential. No two children are the same and nor are any two sleep plans but with the right, tailored and gentle plan in place, any child can learn to sleep well. All consultations are carried out using web-based video-conferencing, enabling Lauren to work with clients throughout the UK and even overseas. Little Sleep Stars offers a free, no obligation, 15 minute call to any family needing support with their child's sleep – to book yours visit https://littlesleepstars.as.me/free15minutes
Carla is the founder of MyBump2Baby. Carla has a huge passion for linking together small businesses and growing families. Carla's humorous, non-filtered honesty has won the hearts of thousands of parents throughout the UK.
She has previously written for the Metro and made appearances on BBC News, BBC 5 live, LBC etc. Carla is a finalist for Blogger of the Year award with Simply Ladies inc. Carla is also the host of the popular Fifty Shades of Motherhood podcast and The MyBump2Baby Expert podcast.
https://www.mybump2baby.com/wp-content/uploads/2018/08/when-a-child-becomes-too-tired-to-sleep.jpg
1707
2560
Carla Lett
https://www.mybump2baby.com/wp-content/uploads/2016/10/Logo-MyBump2Baby_transparent-bg-1-1.png
Carla Lett
2018-08-20 18:22:21
2022-02-03 16:37:33
When a Child Becomes Too Tired to Sleep