When to Start Baby Weaning
Disclosure: Some of the links within this article may contain affiliate links, meaning at no cost to you, we may get commission if you decide to make a purchase through one of the links within the article.
Today we have a guest post from the fantastic Yorkshire born Yorkshire fed on baby weaning and when to start.Yorkshire Born Yorkshire Fed provide all the information and support you need when starting on the weaning pathway with your baby. To access our wealth of experience and information on workshops visit our website.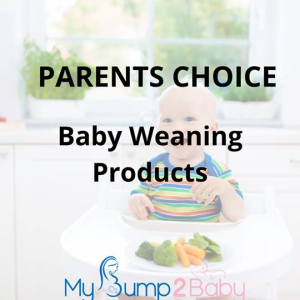 When to start weaning

The most common question I get asked about weaning is 'when do I start weaning?'. Everyone seems happy to give you their opinion on the matter, your social network, family, medical professionals and even your own baby might have an opinion about it!! – all of which will probably be different.
The official guidelines state that it is advisable to wait until 'around 6 months'. There are definitely good reasons for this the main one being that research shows the digestive tract is much more likely to be mature enough to digest more foods, also it is much easier for a parent to only have to make one family meal, at which the baby can join with everyone else (important social development as well). Yorkshire Born Yorkshire Fed also recommend to wait until around 6 months.
There are officially 2 clear signs that your baby is ready for weaning..
When your child can sit up straight, this doesn't necessarily mean they can sit if from lying down, but means that they are holding their head up and that when they eat their airway is nice and clear.
When they have developed hand eye coordination and they can pick objects up and put them to their mouth with ease.
When They Can Swallow Food
We inculde a third sign which is a little vague, but important, which is that they have an ability to actually swallow food. This can be a confusing sign for parents because if you are giving a thin puree as a first food, it will easily move to the back of the throat and be swallowed as if it were milk, where as if using thicker purees or finger foods, the baby need to bite, chew and swallow all of which are skills that will not happen in their first meal.
Weaning Before 6 Months
If you chose to start before 6 months, we strongly advise (unless medically advised to do so) to wait until at least 4 months. If weaning between 4 and 6 months only feed your little one (non acidic) fruits and vegetables.
False Signs of Weaning
There are many 'false signs' that your baby is ready to be weaned, such as when babies change their sleeping patterns or wake through the night, when previously they slept. This is not necessarily a sign of hunger or need for solid food. It is often just that your baby is going through a growth spurt or 'leap' or even that they have just learnt a new skill at 3.34am is a great time to show you that they can clap! You often find this is where grandparents offer their (well meant) advice to begin weaning, but don't forget that research is now 20+ years ahead of when they weaned a child. Another 'false sign' may be that your child takes an interest in you eating and watches you intently when you eat, this is a great developmental stage, but not necessarily a sign they are ready to wean, they no doubt watch you intently when you pee, but you are probably not going to start potty training them!
It is very daunting to be isolated and distanced for everyone at this time, especially new mums who already feel in need of extra support. Hopefully we can go some way to helping by being here for you at least for this part of your journey.
If you join one of our weaning workshops, which are now online, we cover everything you need to know about weaning. Sophie has ten years of NHS experience working in this field. The sessions are informal and very informative. We encourage you to ask questions and even have a follow up page so that you are supported throughout your weaning journey.
The sessions are now delivered via the online platform Zoom, which has an app that is easy to download. You will be provided with a link when you book directly through our website. MyBump2Baby subscribers will also receive a 10% discount when booking, just use code 'mb2b'. We also are offering discounts to parents who are key workers or parents that have been furloughed due to the Corona Virus (message the page direct for details.)
Carla is the founder of MyBump2Baby. Carla has a huge passion for linking together small businesses and growing families. Carla's humorous, non-filtered honesty has won the hearts of thousands of parents throughout the UK.
She has previously written for the Metro and made appearances on BBC News, BBC 5 live, LBC etc. Carla is a finalist for Blogger of the Year award with Simply Ladies inc. Carla is also the host of the popular Fifty Shades of Motherhood podcast and The MyBump2Baby Expert podcast.
https://www.mybump2baby.com/wp-content/uploads/2020/04/when-to-start-baby-weaning.jpg
630
1120
Carla Lett
https://www.mybump2baby.com/wp-content/uploads/2016/10/Logo-MyBump2Baby_transparent-bg-1-1.png
Carla Lett
2020-04-30 23:12:18
2023-02-02 15:19:18
When to Start Baby Weaning