At MyBump2Baby we feel honoured to have the ability to connect so many businesses together, whether it's for advice, collaborations or just a friendly chat. We think collaborations are really important and they are such a powerful way to express messages to your followers.
In a world where everything is now online, working with parent bloggers can be such a powerful marketing tool without breaking the bank.MyBump2Baby works with parent bloggers and aims to get your brand seen by your ideal audience with our budget friendly review and parent blogger service. Contact us or read on to find more information about how we can catapult your brand.
Work with parent bloggers with MyBump2Baby
MyBump2Baby is now home to over 500+ parent bloggers throughout the UK. There are so many benefits when it comes to working with parent bloggers and below are just some of the reasons why you should consider working with parent bloggers to promote your business and online prescence;
Generating sales
Raises brand awareness for your ideal audience
Increase your social followers
Improves SEO
Long term advertising
Increases the chances of gaining long term clients
Increases the chance of being picked up in the media and press
We invest time searching for the best parent bloggers in the UK. MyBump2Baby is now home to over 500 of the UK's best parenting bloggers.
Our team of parent bloggers have worked with both local and national businesses throughout the UK with the help of MyBump2Baby, our parent blogger service is a cost effective way of being seen if you only have a limited budget for your small business.
Supporting Pregnancy and Baby Businesses since 2016
People often forget that MyBump2Baby began as a parenting blog back in 2016 and it quickly became one of the UK's leading parenting platforms to support both parents aswel as local and national pregnancy and baby businesses.
We have a passion for reviewing the latest products, days out, services and we are proud to hold a unique parent blogger section to support your business giving you the ability to get the exposure you have worked so hard for.
Our Unique Small Business Exposure Packages
We offer a range of different packages to any business that is interested in targeting parents and growing families.  Our MyBump2Baby reviews are fully SEO optimised to create a long term marketing strategy that can be found for years to come. We also provide links to your website and social media to increase traffic, generate followers and increase your sales. Click here to contact us for our media pack.
Working with our Parent Bloggers
We work with various different companies that offer a wide range of services and products, we are proud to see so many successful collaborations come from our brand and blogger connection service. If you've never worked with parent bloggers before, it can be daunting and extremely time consuming. If you would like to use our one off blogger brand collaboration service you can or you can add this to your review package with us.
Look out for our Recommended on MyBump2Baby Badge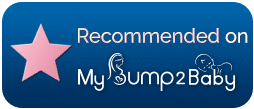 Reviews on our parent blogger and business collaboration service
"Working with Carla and MyBump2Baby has been an uplifting, and fulfilling experience right from the first email! Opening an email on a Monday morning that starts, 'Hello Lovely', lifts your soul
and sets the tone for all future work with MyBump2Baby! Oliiki employed Carla to write a review for our app. She also helped us with a shout out on both Instagram and Facebook and ran a
competition for a give away for us. This generated more traffic to our website. As part of thepackage, she shared our product with her group of preferred bloggers which has lead to 10
MORE blogs about my product. She has been wholly professional, patient when my social media skills let me down and has been keen to help us reach a bigger audience, her preferred bloggers
are really professional and write really well. I really recommend using Carla to enhance your online presence and to boost traffic and sales for your products, and to just lift your soul! Many
thanks Carla and MyBump2Baby!" Claire founder of Oliiki app
" Carla has been absolutely great, since the moment I contacted her about advertising and spreading the word of Boogie Beat she has been amazingly helpful and pointed me in the right
direction throughout; I've never used anything like this before but I'm so glad I have done now! Carla has helped make this completely stress free and the results so far have been great. I cant
recommend this Directory and Carla's great business enough. Thankyou and Well done in everything you do!!" Rachael Boogie Beats
"I have continued my advertising with MyBump2Baby each year as this has been the most successful form of advertising for me. Parents love MyBump2Baby and I can now rest assure
knowing I am the only baby massage featured on ALL search results in my local town" Kyleigh J'adore Mama
https://www.mybump2baby.com/wp-content/uploads/2020/07/work-with-parent-bloggers.png
630
1200
Abi Sproston
https://www.mybump2baby.com/wp-content/uploads/2016/10/Logo-MyBump2Baby_transparent-bg-1-1.png
Abi Sproston
2020-07-13 14:19:13
2020-11-17 05:03:59
Work with Parent Bloggers with MyBump2Baby