Yoga During Pregnancy

MyBump2Baby is the UK's leading pregnancy to pre-school directory where you can find local baby, toddler and pregnancy businesses including antenatal classes.
Today we have an article from Toni from Toni Marie Yoga in Wigan about yoga during pregnancy.
If you are pregnant and looking for ways to stay fit and healthy during your pregnancy then regular Yoga practice is the answer for you. Not only does this ancient practice assist you in your health and wellness whilst pregnant, it also offers many techniques that can assist you during labour too.
Benefits of a Pregnancy Yoga Class
There are so many benefits to taking part in this beautiful and safe way for you to stay active and healthy while pregnant:
● Yoga in pregnancy is a great way to stay active and is healthy for you and your baby.
● Yoga classes in pregnancy use relaxation and breathing techniques with postures that are adapted for pregnancy.
● Yoga has been shown to reduce anxiety and to help women stay calm in pregnancy and labour. It can also improve sleep.
● Many of the breathing techniques you use in yoga can help you get ready for giving birth.If you use them during your labour they will help you stay calm and breathe steadily through your contractions.
● Doing yoga during pregnancy may even mean you need less pain relief during your baby's birth.
● Create friendships with other mums to be, these can carry right through as your child grows
[content-egg-block template=custom/mb2b]
What to expect in a Prenatal Yoga class
A typical yoga class specifically for Pregnancy might involve:
● Breathing. You will be taught a range of different breathing techniques. These are useful for managing stress and anxiety whilst pregnant, but are super effective when in labour to manage the pain of your contractions in a controlled and empowering way.
● Stretching, Strength and Balance. You will be guided through a range of gentle movements to help strengthen your body, stretch and relax your muscles and to encourage great balance. In some classes you may be taught comfortable positions that can aid you during labour. Some specialist classes include a partner workshop so that your birthing partner can learn how to support you whilst in labour.
● Relaxation. At the end of each class time is dedicated to helping you find comfortable positions to aid you resting. You may be guided through a short meditation or mindfulness exercise so that you can take time to rest and reset.
Considerations when taking part in a Yoga class
When taking part in a Yoga class please practice safely and mindfully, considering the following tips:
● If you already practice Yoga regularly. inform your teacher so they can determine the suitability of their class while you are pregnant.
● Always listen to your body and only do what feels good. If you are nauseous or dizzy or don't feel comfortable or safe, skip the pose.
● You don't have to rush through transitions. Take your time and follow the pace at which your body is ready to go. Take any breaks you need.
● As your body is changing, you'll notice that certain poses won't feel as comfortable or attainable as they did before. Use props to adapt your practice as necessary.
● It's generally advised not to drink during yoga. But, during pregnancy, you need a lot more liquids than usual so sip water if needed.
● Unlike regular Yoga practice, please eat regularly and don't practice on an empty stomach.
● Avoid placing pressure on your belly by keeping all twists open.
● Avoid any postures that involve lying on your belly or lie flat on your back, instead lie on your left hand side and prop yourself comfortably.
● Avoid deep backbends to avoid overextending your abdominals
● Avoid intense ab work such as crunching. This can put too much strain on the connective tissues
For those of you that are working, did you know that you are entitled to paid time off work, if your Midwife/GP confirms that it would be in the best interests of the health of you and your unborn child.
[content-egg-block template=custom/mb2b]
Where to find a Yoga class
Always aim to find a class taught by a Yoga teacher with specific training in pregnancy yoga. Ensure the style of Yoga and teacher feels comfortable to you. Avoid hot yoga as this can raise your body temperature too much, causing a condition known as hyperthermia. For more information on Pregnancy Yoga classes please contact Toni at www.tonimarieyoga.com
MyBump2Baby is home to thousands of pregnancy classes throughout the UK. Here are what some pregnant women have said about prenatal yoga classes ;
" I joined a normal yoga class before i became pregnancy when i was feling stressed, I then joined a prenatal yoga class during my first trimester. I was told breathing exercises are really good for you and can actually help you stay calm during the birth. I have now managed to do some simple prenatal yoga poses and i found my flexibility improved a lot. I have had minimal weight gain and do feel very strong and read for this birth, I am so glad i joined a prenatal yoga class during pregnancy." Katie 32
"I joined prenatal yoga because most pregnant women i know, i started in the second trimester after feeling stressed and lacking any other physical activity. I have really enjoyed it so far and plan to carry on with yoga during my parenting journey as my hobby" Amy 28
"Pregnant women in the antenatal centre recommended prenatal yoga, i personally did my classes at home as i started in my third trimester and mainly did it for my pelvic floor as i started to leak and had pelvic girdle pain towards the end, i wish i did this earlier at a local class so i could meet other pregnant women. It taught me to breathe deeply before my due date and i honestly think i picked up a lot from my yoga instructor even though i was in the third trimester. Deep breathing helped and the regular routine at night when i felt very incomfortable. The only thing i would say is next time i will start yoga in the first trimester rathher than the the third trimester"
"I decided to practice prenatal yoga and yoga poses and replace my usual physical exercises, i did want to continue training my abdominal muscles but through gentle stretching. I had an increased risk of premature birth and a c-section so i wanted to an effective exercise that would keep me calm without exercising for long periods of time. I did feel tired and relaxed after yoga but i did find it helped with my mental centering and it did aid delivery when that time came."
[content-egg-block template=custom/mb2b]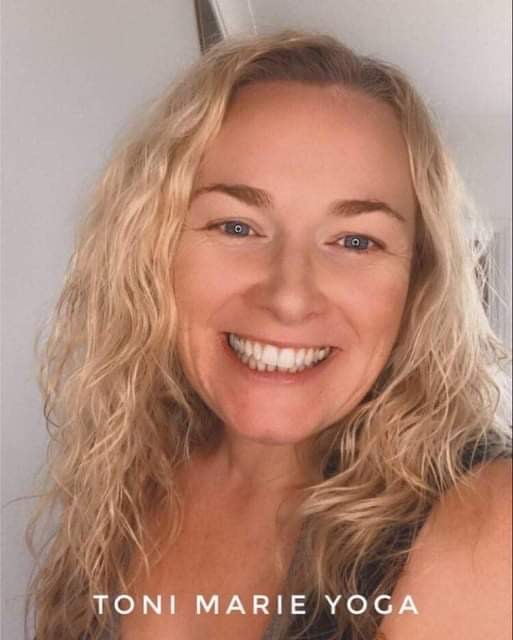 Toni-Marie is a Mum to two beautiful teenage daughters and an additional three bonus children.  With her partner Andy, they are raising their busy blended family of seven together in Golborne.
She is an experienced Yoga teacher offering a variety of Yoga classes across Wigan and Bolton.  She originally gained her Yoga certification on the Gold Coast in Australia, then when she moved back home to the UK she invested lots of time in specialist training so that she could better meet the needs of her diverse clients.  Toni-Marie is fully qualified in Pregnancy Yoga, Mum & Baby Yoga and Massage, Yoga for Cancer, Chair Yoga, Yoga for Additional Needs, Meditation and Yoga Nidra.  Among other classes, she currently offers group Pregnancy and Mum & Baby Yoga classes in Atherton, and in addition is available for private and small group classes.
Toni-Marie prides herself on offering classes that are accessible to all, and especially loves welcoming those new to Yoga.  For more information please contact www.tonimareyoga.com
https://www.mybump2baby.com/wp-content/uploads/2021/06/pregnancy-yoga.png
630
1200
Toni Aspinall
https://www.mybump2baby.com/wp-content/uploads/2016/10/Logo-MyBump2Baby_transparent-bg-1-1.png
Toni Aspinall
2021-06-23 10:14:50
2022-07-14 14:48:19
Yoga During Pregnancy