What are monochorionic monoamniotic twins?
There are many types of twin pregnancies that you can have. It all depends on how many eggs are released and their actions after fertilisation. One type you may have is monochorionic monoamniotic twins. In this blog, we'll let you know what that means.
This article includes:
What are monochorionic monoamniotic twins?
How are monochorionic monoamniotic twins formed?
Momo twins ultrasound
Why are momo twins dangerous?
What is umbilical cord entanglement?
Monochorionic monoamniotic twin pregnancies with umbilical entanglement
Giving birth to monochorionic monoamniotic twins
What are monochorionic monoamniotic twins?
Monochorionic monoamniotic twins, or MCMA twins, are also referred to as momo twins. This type of twin is one of the rarest you can have. Monochorionic monoamniotic twins share the same amniotic sac and one single placenta. They are also identical twins.
Monochorionic twins refer to babies sharing one placenta, and monoamniotic refers to babies sharing a single amniotic sac.
The amniotic fluid sac is responsible for protecting the baby or babies from knocks and infections. The placenta is responsible for providing the babies with essential nutrients during a single or twin pregnancy.
When the amniotic fluid leaks, this is also known as the water's breaking. While this is often perceived as an early sign of labour, it actually doesn't always break. In some cases, a midwife will pop the amniotic sac just before your babies are due to be born. When giving birth to twins in the same sac, this will obviously only involve one sac being popped.
The amniotic sac is filled with fluid which is usually clear when it leaks. You should seek medical advice quickly if your waters do break.
How are monochorionic monoamniotic twins formed?
Monochorionic monoamniotic twins are formed similarly to monozygotic twins (identical twins). They are formed from a single egg fertilised by one sperm that splits in two.
For monozygotic twins, the egg splits within the first four days of fertilisation. In contrast, for monochorionic monoamniotic MCMA twins, the egg doesn't split until around eight days after fertilisation. This means the babies are then left to develop in the same amniotic sac.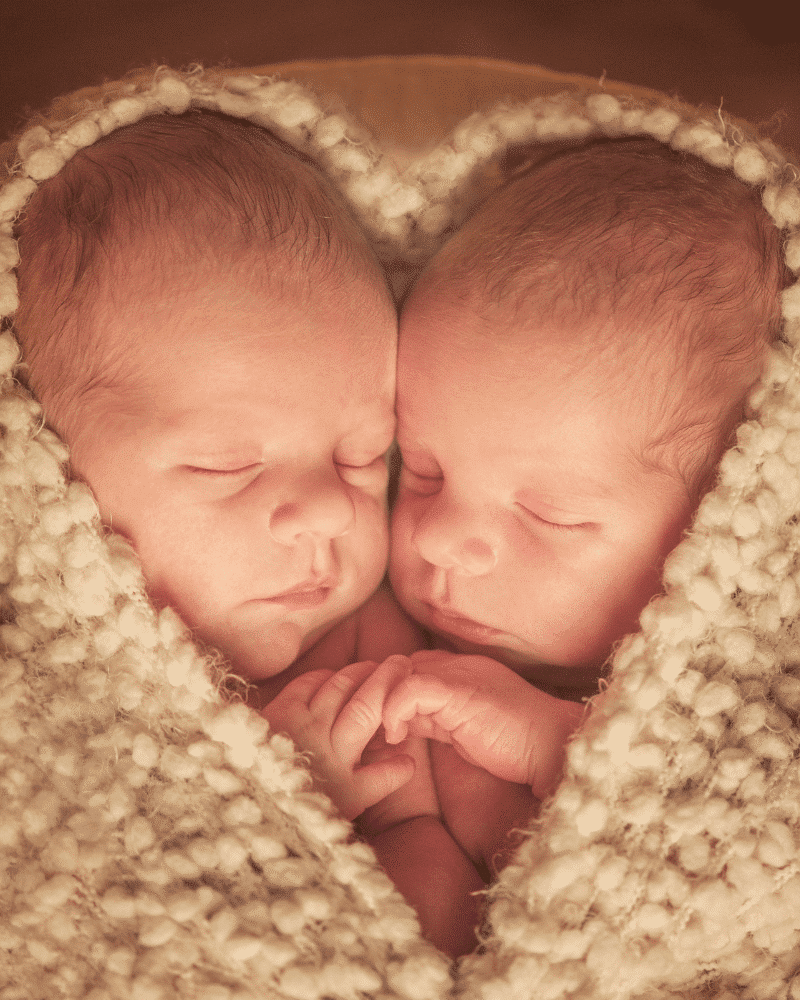 Momo twins ultrasound
When you first discovered that you were pregnant, you probably didn't know you were having twins. Twins can be detected at your first scan, which is usually around the 12-week mark. You may be able to find out what type of twins you're having. If the midwife can't tell, you'll be invited for another scan within the first trimester or soon after.
There are various types of twins you may have, including dizygotic twins or fraternal twins, which are non-identical and monozygotic twins, which are identical. Monochorionic monoamniotic babies are always identical twins. You may also have di di twins, which can be identical or non-identical or mirror twins, though there is no test for this.
During your ultrasound scan, the midwife may be able to identify which type of twins you're having. At a momo twins ultrasound, you will see two babies in one amniotic sac, sharing the placenta. During an ultrasound scan, you will see a white area and then a round black circle; this is your amniotic sac. Inside the sac, you will see the two fetuses. You may already have an idea that you're having twins due to HCG levels with twins. These are typically higher, and you should find out the result after a blood test.
Why are momo twins dangerous?
Monochorionic monoamniotic pregnancies have a 1% chance of occurring. Twin pregnancies such as these will require more frequent monitoring to ensure that both babies and the mother are safe.
Attending your pre-natal appointments when they are due can help healthcare professionals to identify the signs of complications early. This means they can be monitored closely.
Having a twin pregnancy comes with its own complications. These can include an increased risk of diabetes, hypertension and a higher chance of the babies being born prematurely. In addition to these risks, a momo pregnancy can leave you at a higher risk of umbilical cord entanglement.
What is umbilical cord entanglement?
The umbilical cord is responsible for connecting the baby to the placenta so that they can receive vital nutrients. When babies are born, the umbilical cord is cut as they will now receive nutrients through the mouth.
The umbilical cord can stay attached to the baby for a few weeks after birth. After around 1 – 3 weeks, the cord will become dry and fall off.
Umbilical cord entanglement can happen in any pregnancy. It occurs when the umbilical cord loops around itself or part of the baby. In a monochorionic monoamniotic pregnancy, umbilical entanglement can occur when both cords loop around each other.
The risk of umbilical entanglement is that the cord becomes wrapped around the baby's neck and causes a lack of oxygen. It may also knot, meaning the baby can't access nutrients anymore. It can also cause a lack of blood supply.
Unfortunately, there is nothing that can prevent umbilical cords from becoming entangled. One of the most common causes is due to the baby's movements.
Monochorionic monoamniotic twin pregnancies with umbilical entanglement
Umbilical cord entanglement can actually be identified during a momo twins ultrasound scan. After it has been identified, your pregnancy will be monitored more often.
Once you reach the end of the second trimester and enter the third, you may need monitoring more often. During your visits, the doctor will perform tests on the health of your babies. This will include monitoring their heart rates and blood flow.
It can be tricky to recognise if there is a problem. The most common sign is if you notice that your babies are moving less than normal. You should be aware of this during any pregnancy, whether it is an MCMA pregnancy or a singleton pregnancy.
There are some reasons why you may naturally feel reduced movement, such as if you have an anterior placenta. This occurs when the placenta covers the front of your stomach, therefore creating a barrier between you and your babies. You will be made aware of this if it is identified during your pregnancy.
If you do notice reduced movement, seek advice quickly. It might not be anything you need to worry about, but it's always best to get checked out. You may be required to have an emergency premature delivery if the heart rates drop. The healthcare professionals will support you with this and offer valuable advice.
Giving birth to monochorionic monoamniotic twins
Due to the rarity of MCMA pregnancies, you will receive close monitoring throughout. Your midwife will liaise with you on the most appropriate birth plan. These may include planning for a c-section with twins, planning an earlier birth or waiting until labour begins itself.
You will likely have to give birth in a hospital so that you have access to the best care. Try not to worry about giving birth; you will be informed throughout your twin pregnancy and childbirth.
So monochorionic monoamniotic means the babies share the same placenta and amniotic sac! We hope this article has been useful regarding monoamniotic monochorionic twins. Please remember that it's so important to attend all of your prenatal appointments and scans. This allows your pregnancy to be monitored more closely and helps to keep your babies safe. Good luck with the rest of your twin pregnancy!
Hey there, I'm Abigail! 
I recently graduated with a degree in Marketing. I'm currently a freelance blogger and Marketing Assistant. I love learning new things and hope that you find my blogs useful and informative.
See you in the next article!
https://www.mybump2baby.com/wp-content/uploads/2022/12/monochorionic-monoamniotic-twins.png
600
1000
Abigail Sproston
https://www.mybump2baby.com/wp-content/uploads/2016/10/Logo-MyBump2Baby_transparent-bg-1-1.png
Abigail Sproston
2022-12-15 15:26:27
2023-07-26 12:54:00
What are monochorionic monoamniotic twins?