7 Reasons to visit Santa in Lapland

Disclosure: This article may contain affiliate links within the article, which means if you choose to purchase through one of our links, at no cost to you we may earn a small commission.
Today we have an article from our Travel specialist Tracey Isom from Optimise Travel. Tracey shares  7 reasons to visit Santa in Lapland.
Childhood Dreams
When you were little, do you remember being, tucked up warm in bed on Christmas Eve, the central heating crackling in the pipes, snow getting deeper outside your home ready to make snowmen in the morning? Do you remember squeezing your eyes tight shut and willing sleep to come so Santa would come? Do you remember the thoughts in your mind of Father Christmas and his sleigh full of presents, a mince pie or cookies proudly presented as a gift on a plate for the Big Man to enjoy. The magic of Christmas as a child is so unique, joyful and special as his or her imagination whisks your child into a winter wonderland of Santa, his elves, Rudolph and the reindeer.
An Unforgettable Country
A trip to Lapland in the country of Finland is on the bucket list of many adults and children alike, an opportunity to experience the magic of Christmas which cannot be recreated in a grotto in any shopping or garden centre across the country. Finnish Lapland is a place of picture-perfect beauty, far away from light torn cities, and the warmth of the Sami people will create a holiday which is unforgettable and will be treasured forever by all the family!

There are many reasons to visit Santa Claus in Lapland but here we give our top 7;
The Home of Santa
Lapland stretches across three Nordic countries, Finland, Sweden and Norway. Santa's Lapland in Saariselka, is the most northernmost ski resort in Finland at 250km north of the Arctic Circle and one of the remotest resorts providing a wonderful, authentic experience to meet Santa, Rudolph, Blitzen, Prancer and the rest of the reindeer.  Travel easily by "Santa Express" flights from 19 regional UK airports and take a short 25 minute transfer to the charming village of Saariselka enjoying carols sung by your new friends, the elves. With lots of adventures to enjoy in the magical twilight forest where the reindeers roam free and so much more to explore, the whole family will never want to leave.
A Special Visit to Santa Claus
Nothing will ignite a child's love and excitement for Christmas more than a trip to Lapland, Finland to meet Santa in his very own log cabin deep in the woods. The books and stories you have read to your child throughout their early years will burst into life during the experience of a lifetime where the crunchy snow in this winter wonderland is thick and real and the warmth of Santa's cabin will heat your snow flushed cheeks. Adults and youngsters alike will experience the bucket list moment of meeting the real Father Christmas.
At Santa's Lapland, depending on which package you book, you and your family will be whisked along on a magical "Search for Santa" snowmobile sleigh ride or via reindeer ride through the snow-covered forests of Finnish Lapland to Santa's log cabin hidden in the woods.  Here you will be greeted by Santa's helpers, the mischievous elves so watch for sneaky snowballs! And when you find Santa Claus he will have your child's letter to open (delivered by Christmas Magic Mail) to talk through their gift wish list and make sure they are on the Nice list.
When booking Lapland experiences always check with your provider what the experience includes as some packages may not offer private meetings with Santa.  Some providers also include more excursions in the package price instead of being extras. At Santa's Lapland, all the family will meet Santa privately so make sure you take a fully charged camera for lots of photos. A lot of Instagram worthy activities are included in the package cost at Santa's Lapland.
Huskies and Reindeer
Finnish Lapland holidays would not be complete without a Husky safari. This incredible dog sledging experience will see you travel across the arctic pulled along on a sleigh by husky dogs. Adults have the opportunity to drive whilst the little ones have pulled along in the comfort of the sledge. The dogs are friendly and love a fuss after an exhilarating trek through the wilderness. Luckily, the only polar bears you will come across in Finland are in the zoo!
Also included is a snowmobile safari where adults can drive a snowmobile in convoy behind their children being pulled in a sleigh by a guide. With toboggans, children driving mini skidoos and even mini reindeer crazy golf, there is so much fun to be had by all the family.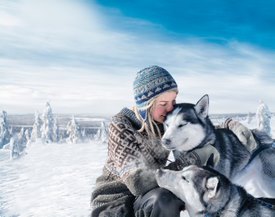 And, of course, the kids will want to meet Santa's reindeers and here they will get to meet Rudolph himself! With a magical reindeer ride to search for Santa, feel your heart bursting at the excitement and magic on the faces of your children. Visit the Reindeer Barn and Centre for fun reindeer rides.
Whilst in Lapland why not take the opportunity to visit reindeer farms and see the how the Sami people (the native inhabitants of Lapland) carry out reindeer herding and really get to grips with nature and your surroundings.
The Northern Lights and the Arctic Circle
One of the top reasons to visit Lapland is the Northern Lights. Finland is an amazing country to view the aurora borealis. This natural light show is best viewed in skies where there is no light pollution, only pure darkness, and is an experience many people travel to destinations all over the world to get the chance to see.
You can enjoy a holiday to Lapland to meet Santa all year round but the best time is November or December at the height of the festive season. It is also a great time to see the Northern Lights, as between December and February the nights are at their longest.
Children will love the colours of the Northern Lights swirling in the sky above. Optional adventure tours include an hour and a half, early evening safari to an uninhibited location for the best views and warmed by a campfire and warm drinks.  Adults can share a snowmobile whilst children are pulled in a specially designed sledge pulled by the guides snowmobile.
Some Lapland accommodation has glass ceilings for you to enjoy the Northern Lights from the warmth of your room or a special viewing room within the hotel. There are also many excursions available to take you into the wilderness for a better view.
As part of the Santa's Aurora package at Santa's Lapland, guests can relax and unwind at a restaurant deep in the wilderness. Enjoy a meal cooked by a Finnish chef before taking a walk and seeing incredible igloos and hearing all about how the aurora borealis has played a huge part in the culture of the Sami people.
Ice and Snow Activities
Why not combine your family trip to Lapland, Finland to experience cross country skiing and other snow sports as well? Lapland is one of the best places to try out snow sports and other winter activities.
Finland is nicknamed "the land of a thousand lakes" so why not try cross country skiing across the beautiful frozen lakes of Lapland?  Enjoy snowmobiling against the backdrop of the stunning Nordic landscape or don your snowshoes and try a bit of snowshoeing through the icy forest trees.
For skiers, longer breaks can include downhill skiing on Saariselka's ski slopes. If you'd prefer a more laid back excitement, visit the Artistic Igloo with ice sculptures and an ice bar to enjoy or have some fun with the elves at Igloo Fantasia or try ice fishing in one of the frozen lakes in Saariselka forest.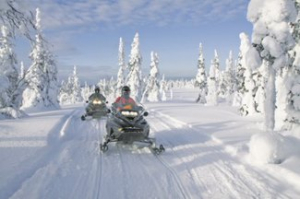 Log Cabins and Igloos!
A visit to Lapland will be one of the holidays you treasure forever so make sure you stay somewhere utterly fabulous as well. There are several incredible hotels and accommodation options for your holiday with some places being more budget-friendly and others being bucket list worthy.
Why not enjoy a bit of luxury in a log cabin for all the family or larger groups. With everything you need, including your own helper to help cook and clean for you each day, enjoy a log fire to warm you after a day of chilly adventures in the snow. With living rooms full of festive decorations and its own Christmas tree, what a wonderful place to spend your holiday. Cabins range from 3 to 6 bedroom cabins and, if not booked as sole occupancy, will be shared with other families.
Or you could stay somewhere like Santa's Holiday Club where the children can enjoy a swimming pool with jacuzzi, slide, lazy river and waves whilst the adults take turns to relax in the sauna or the spa. The hotel offers family rooms, suites and apartments. Santa's Riekonlinna, one of the hotels in the centre of the village, even has a Northern Lights lounge offering wall to wall panoramic windows for photo perfect views.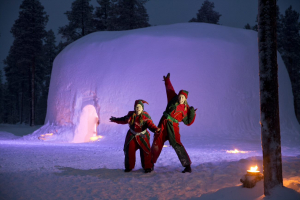 If you're after something a little cheaper but excellent value then Santa's Saariselka Inn provides a central location and traditional Finnish style buildings comprising of bedrooms and suites.
Instead of hotels, what about staying in one of Finland's glass igloos and spending the dark nights sleeping under the artic skies of Lapland watching for a glimpse of the phenomenon that is the Northern Lights. Or how about an ice hotel? Get advice from your travel designer about resorts offering these incredible experiences.
If a 4 – 7 night stay is too much there are a few other ways to visit Lapland such as one-day trips, however, be warned, with flights each way, these start very early and you won't get home until late so not the best option for very young children.
Family Memories to Last a Lifetime
What are your favourite Christmas memories as a child? Maybe it is seeing Santa in a red velvet suit at a local department store? Or maybe sneaking downstairs on a cold Christmas morning to peak at what is under the tree? Now imagine your child having the chance to grow up with memories of a magical Christmas surrounded by real snow in Lapland.  Whether your child is 4 or 14, the memories of a family trip to Lapland will last a lifetime.
A trip to Lapland can be fantastic for all ages but temperatures can bevery low so for very small children it may not always be suitable. Always checkthe itinerary and activities on offer to ensure they are suitable for younger children in terms of activity length and equipment used. Some providers may have alternatives in place if an activity isn't suitable for your child so always speak to your travel designer if you are unsure.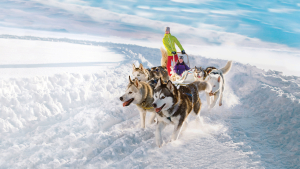 Keeping Warm
With arctic temperatures around -12 but can be as low as -30 degrees so layers are a necessity. Santa's Lapland will provide complimentary arctic thermal wear including outer suits, boots, gloves and woollen socks at no extra charge. Some other resorts may charge for hire or expect you to bring your own.
Where else can I see Santa?
There are plenty of other destinations and attractions around the world to see Father Christmas. The capital city of Finland is Rovaniemi in Lapland which is known as the official hometown of Father Christmas. It is home to Santa Claus Village (which is located on the Arctic Circle) and Santa Park.
There are various resorts offering the meet Santa in Lapland experience however it is wise to check itineraries carefully to see what activities or excursions are included in the price of the trip.  Another Finnish destination for an authentic experience is Levi, which is also the largest ski resort in Finland. Others in Europe include Tregaarden's Christmas House is Norway or Santa World in Sweden. Lapland is one of the closer places to visit Father Christmas if you would like to travel further how about a visit to Santa Claus House in the North Pole, Alaska?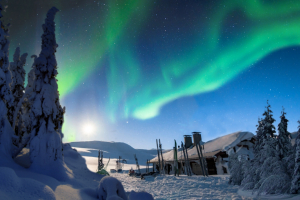 So, there we have it, 7 reasons to visit Lapland. If you would like more information or would like to book the trip of a lifetime to see Santa in Lapland then get in touch for a no-obligation quote. Optimise Family Holidays & Cruises specialises in a range of family holidays in destinations around the world and have some fantastic deals.
For more information on Lapland or any other destinations you can visit their social media or website using the following links;
Telephone – 01322 741409
Email – [email protected]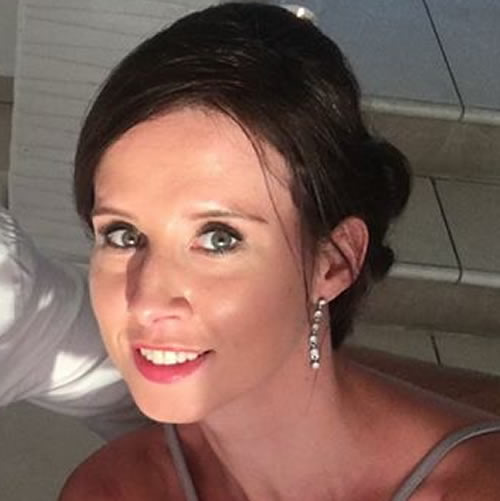 Tracey is a mum of 1 & passionate about supporting small businesses and growing families in North Kent & Bexley and throughout the UK.
https://www.mybump2baby.com/wp-content/uploads/2020/12/7-reasons-to-visit-santa-in-lapland.png
630
1200
Tracey Isom
https://www.mybump2baby.com/wp-content/uploads/2016/10/Logo-MyBump2Baby_transparent-bg-1-1.png
Tracey Isom
2020-12-18 07:27:25
2020-12-18 07:34:20
7 Reasons to visit Santa in Lapland