Christmas Gift Guide 2022
Welcome to our 2022 edition of the MyBump2Baby Christmas Gift Guide!
This year, we are featuring many brilliant businesses to help you find the perfect Christmas gift for your loved ones.
JForster Photography
'Hi, I am Jo, owner of and photographer at JForster Photography based in Horsham, West Sussex. Specializing in Newborn to Reception years.
Not a fan of four walls, I am primarily an outdoor and on-location photographer.
Since having my two boys I have come to love their little and unique characteristics, their lack of adult like inhibitions and ability to find joy and pleasure in the smallest of things.
I want to capture these special young years for you. The outdoors is unrestrained, informal and gives a real feeling of freedom which is perfect to bring out the best in our little humans; and that is what I strive for.
If, however, you have a Newborn I will pack all my gear up and bring it to you and in the comfort of your home will capture some images of your gorgeous babe in the place they feel most relaxed. I even have a handy welcome guide to help you prepare and maybe alay any anxieties you may have.
I look forward to the opportunity of Photographing your little one.
Gift vouchers available. Mention Mybump2baby when you contact us between 1st December'22 and 31st January'23 to learn about our limited time discounts.'
Contact Me
www.facebook.com/Forsterphotography
www.instagram.com/joanna.forster/
Gifts Instead of Flowers
A new way to browse, get ideas and find the perfect gift for under £80 with purchases made directly with the Artist. Think of it like an online craft fair: we cherry-pick artists from all over Britain with amazing businesses and host them on our site.
Gifts Instead of Flowers takes no commission from Artists when purchases are made via the site. That means that by shopping via Gifts Instead of Flowers the people you pay keep 100% of the profit.
The idea of giving gifts, instead of flowers, came from Jan, founder of Gifts Instead of Flowers, when she was gifted bunches of beautiful flowers during an illness – a lovely gesture that was greatly appreciated. But as days went by, the flowers fade and die and she was left with just stems and a few note cards to remind her of the kind thoughts from the person who gave the flowers. So, the idea arose that it would be lovely to give a small gift that could leave a lasting memento for all kinds of occasions
As well as supporting businesses in the art industry, Gifts Instead of Flowers also supports 'William's Fund', a charity set up by the Dodd family after tragically losing their son to childhood cancer at just four years old. Mother, Johanna Dodd, has raised over £1,000,000 so far and has recently pledged to raise a further £1,000,000.
Contact Us
Follow us on Instagram @GiftsInsteadOfFlowers
Kelly the Poet
These Rhyming In Education card packs have been created to help children learn in a simple and fun way. Kelly The Poet has ADHD and struggled to retain information what at university. She came up with this rhyming method which helped her study for her degree. After becoming a mum and a full time carer to her autistic son she knew this rhyming method would help him learn too. So she decided to use her knowledge and experience to create a product that would help children in ways other books and card packs couldn't.
To order a card pack visit
www.instagram.com/kellythepoet
HE AQUATICS
Natural Bournemouth swimmers learn to swim with us! We provide a nurturing swim start, so children are happier and safer in water. Join our swim community today, and explore our Seahorses (0.2-0.6), Dolphins (0.6-1.5), Octopi (1.5-2.5), Whales (2.5-5-7), Goldfishes (5-8) and Angelfishes (8-16) classes, timetables, then check availability and book online today.
Nurture your little natural-born swimmer! We offer baby swimming from 6 weeks and our individual approach means children can join us at any stage at any week of our current term. It is a personalised and Aqua Sensory teaching approach that will make your child's swim journey special. We offer an outstanding swimming programme, a warm pool, and a calm environment, and wellness is always at the top of our list for a healthy and safe swimming experience. At HE AQUATICS we love making a difference.
We offer the Aqua Sensory, Emotions in Water and Water Touch teaching approach for babies and preschool children and the STA Awards system and beginners and improvers of all ages. Our swimming lessons are crafted to develop swimming skills, technique and confidence in the water. Come and feel our enthusiasm and positive attitude towards being in the water and swimming. We communicate verbally and non-verbally using gestures, Makaton signs and movement. We inspire confidence and motivate swimmers using creative skills, perseverance and patience.
Contact Us
https://heaquatics.sportimea.com/courseplugin/c881959fd30978d7d302bc334e6fc1d1
https://www.facebook.com/heaquatics
https://www.instagram.com/heaquatics/
Posh Totty Designs
Posh Totty Designs' handmade and personalised jewellery is the perfect and unique way to show your loved ones just how much you care this Christmas.
The anthesis of throwaway gifting, Posh Totty Designs make high quality timeless jewellery that touches the heart. Each timeless piece is designed to be worn every day but loved and treasured forever.
The jewellery is crafted by a team of professional artisan jewellers in their Brighton workshop and personalised to order with special names, significant dates, or meaningful words.
The jewellery is created from recycled Sterling silver and gold, and ethically sourced birthstones. They also plant a tree with every order to help tread lightly on the planet.
Their jewellery collections include classic and contemporary designs to suit every style and budget.
Here are some gorgeous gift ideas certain to evoke the 'ahh factor' this Christmas or visit their site to view the full range
https://www.poshtottydesigns.com/
Personalised Little Message Envelope Necklace
Add a special personalised message to create a beautiful keepsake they will love forever.
The Russian Ring Collection
The interlinking rings of the Russian Ring symbolise everlasting love. Add your special names, dates, or words to create a modern heirloom piece they can wear every day. We can even add new rings in the future to celebrate any new additions to the family.
Personalised Baby Names Heart Necklace

The perfect gift – a beautiful classic necklace personalised with your loved one's names to capture your world.
Personalised Men's Molten Circle Disc Necklace
Create a truly bespoke piece customised with your chosen initials, names, dates, or meaningful words.
Water Babies
Looking for the ideal gift this festive season? Why not ask a loved one for Water Babies vouchers to help with your lessons in 2023. These can be bought in the office and if you don't want to use them towards lessons, they can also be redeemed against products from our shop and photography.
Maybe you know someone who would like to bring their little one to our classes, we have classes across Buckinghamshire and Bedfordshire, 7 days a week for 0–6 year-olds. Our nurturing and gentle classes provide the perfect environment for your child to learn water confidence and vital safety skills, which are key to developing their swimming ability.
You'll be amazed to see that within a few sessions they'll be moving freely under the water. As they progress through the classes, they'll move from the early days of enjoying freedom and fun (floating, kicking and splashing) to learning to swim independently. Most of our toddlers can swim short distances by around the age of 2 years and have mastered vital skills including how to turn around, hold on and where possible, how to climb out.
Contact Us
To purchase gift vouchers or if you would like further information on our classes, please get in touch:
Call: 01295 709221
Email: [email protected]
Or you can DM us via our social channels:
https://www.facebook.com/WaterBabiesMiltonKeynesBedsNorthantsAylesburyLuton
https://www.instagram.com/waterbabiesbucksandbeds/?hl=en
https://www.youtube.com/channel/UC3-ztJGIApM7kB3CzH4gTYg
ZIPPYUP
ZIPPYUP is a babygrow with head to toe zip to make dressing your baby a breeze! Since becoming a mummy I got to work on making ZIPPYUP a brand not only to dress your babies in lovely babygrows but to make dressing them so much easier. They are perfect for getting your little one quickly dressed after bathtime and they are also handy to have one in your nappy bag for those explosive emergencies!
The classic ZIPPYUP original babygrow is made from 100% cotton, soft fabric and a two way zip it really does make nappies easier to change (especially newborn night changes). All ZIPPYUPs have integrated mitten cuffs for hands and feet. There is also a beautiful selection of organic cotton and a new range of sleeping bags with legs available. With plenty of colours and designs they are the perfect gift to give a new baby or wriggly little one for Christmas.
Contact Us
Zip Up Baby Grows – Original Zipped Babygrow / Sleepsuit By ZIPPYUP
Little Cuddle Snuggles
Little Cuddle Snuggles was an idea by Wendie when she was expecting her first Grandchild and wanted to give the little one a timeless yet original gift that was both truly personal and unique. A present that would create loving memories for many years to come- but try as she might she simply could not find a unique gift for such a special little one. So Little Cuddle Snuggles was created offering personalised gifts, beautifully presented, items full of memories you will want to keep forever.
You too can find a personalised, original gift that expresses your love for a special little one, creating your own memories this Christmas.
Celebrating Baby's First Christmas! Little Cuddle Snuggles range of personalised babygrows are super cute, 100% organic cotton, so soft on baby's skin and available in 2 designs. Order early and receive a free keepsake bag. *
Personalised best friend bunny is a fantastic Christmas companion, scrumeiouley cuddly and adorable.
Personalised Christmas pyjamas are so special, there are two designs available and selling out fast.
Contact Us
Website: https://www.littlecuddlesnuggles.co.uk/
Email: [email protected]
Doctor Mother Other Clothing
Doctor Mother Other's handmade and playful children's clothing & sleepwear make the perfect cosy & comfy look this Christmas season for all the little ones in your life.
We are a small family based business in Scotland where each design is handdrawn with inspiration from our own children. We are proud that each piece is handmade in the UK with supersoft organic cotton and printed with water based child friendly inks.
Choose from a range of new baby gifting options like our sleepsuits with foldover scratch mits or our baby blankets & dribble bibs.
All of our characters tell their own story and the best selling 'splish splashing highland cow' pajamas are the cutest matching look for the festive period, from ages 1- 2 years up to 7- 8 years. And now the adults can match too with Ladies pajamas available!
Contact Us
Visit us online at :www.doctormotherother.com
Instagram: www.instagram.com/doctormotherother
Email: [email protected]
Evergreen Baby Gifts 💚 Beautiful gifts for beautiful babies.
Finding that perfect gift couldn't be easier. Using various suppliers and retailers we source products to create thoughtful, practical and stylish gift bundles for your little one. Each set is created to include essential and handy baby goods, but also attractive and well presented.
The ideal choice for new arrivals, baby showers or other special occasions.
With each set being different in style, there's something for everyone.
All gift bundles come wrapped and presented within a white keepsake box. All gifts come with a complimentary gift bag and gift card.
All you need to do is select which beautiful theme most suits your little love 💚
Our online store also provides a range of baby accessories and products;
💚 Stylish feeding and weaning products.
💚 Teething toys.
💚 Dummy clips.
💚 Comforters
💚 Montessori toys.
💚 Mama to be gifts (coming soon).
Quality, fashionable and affordable items for all your baby needs.
About us:
A small yet blossoming mama ran business. Based in the North East of England, currently trading at local markets and fayres, via social media and online @ www.evergreenbabygifts.com
With every small order we receive, a big smile is created 💚
Contact Us
https://www.instagram.com/evergreen_baby_gifts/
https://www.facebook.com/people/EverGreen-Baby-Gifts/100070496012578/
Farmer Palmer's
A Christmas to Never Forget!
Have you got a new-born who is experiencing Christmas for the first time?

Last year, we shared SOOO many FIRST CHRISTMASES with your little ones and we couldn't be happier to! Farmer Christmas and the Elves will create memories you'll never forget.
Capture their first festive season and take your family photo with Farmer Christmas (one of our seasonal staff will be at hand to take it if you wish). The Elves and other Christmas characters around the farm (including the animals!) will create family traditions for years to come.
So, join us this December, for lots of giggles, fun, and family time!
Please note: If you have an under 2/babe in arms who is accompanying you into the barn with your other child (who has a ticket), you do not need to buy them a separate ticket – unless you want them to receive a gift too.
Daytime Tickets & More Info:
https://bookings.farmerpalmers.co.uk/
https://www.farmerpalmers.co.uk/news/christmas-at-farmer-palmers-2022-2/
Twilight Tickets & More Info:
https://www.farmerpalmers.co.uk/twilight-tickets-farmer-palmers/
https://www.farmerpalmers.co.uk/news/twilight-experience-at-farmer-palmers-2022/
We have many events that run throughout the year, so keep an eye on our socials, or visit us at: https://www.farmerpalmers.co.uk/
Facebook: https://www.facebook.com/FarmerPalmersFarmPark
Instagram: https://www.instagram.com/farmerpalmersfarmpark/
YouTube: https://www.youtube.com/c/FarmerpalmersUk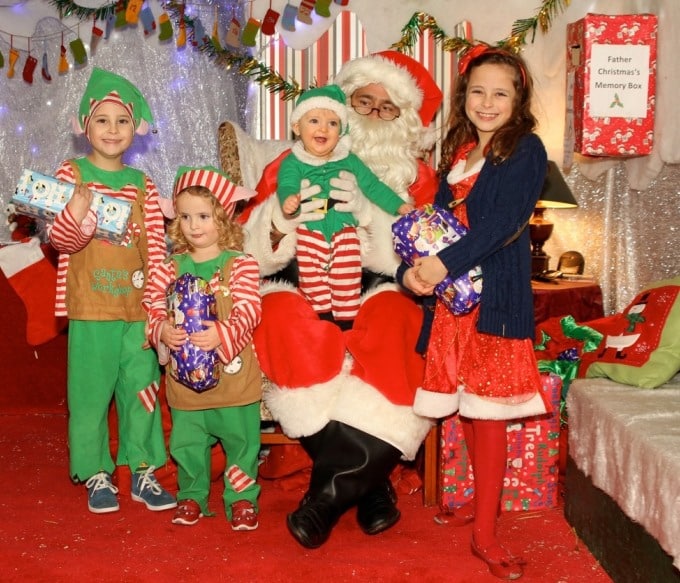 Hi, I'm Louise- mum of one to a little boy called Mason.
I am the Digital Marketing and Admin Assistant for MyBump2Baby.
I enjoy working to provide excellent service to MyBump2Baby's growing families.
Nice to meet you!
You can email me at [email protected]
https://www.mybump2baby.com/wp-content/uploads/2022/11/christmas-gift-guide-2022.png
630
1200
Louise McCamily
https://www.mybump2baby.com/wp-content/uploads/2016/10/Logo-MyBump2Baby_transparent-bg-1-1.png
Louise McCamily
2022-11-21 09:27:56
2022-11-24 14:46:32
Christmas Gift Guide 2022