Get rid of those negative thoughts and feelings with EFT Tapping
This article is written by Judy Bartowiak, our expert Parent Coach in Maidenhead. In this blog, Judy discusses how you can free yourself of any negative thoughts and feelings, surrounding parenting, with a technique called EFT Tapping.
What Are Some Obstacles that Mums May Struggle With?
As a new mum you will be anxious to do your best, get it right, have a happy baby and be a good mum. These are what we call 'compelling outcomes' or what we want 'deep down'. The trouble is that things can get in the way. These obstacles can be
physical such as

tiredness,
illness,
pain etc

emotional such as

regret – maybe baby's birth didn't go as planned
disappointment – maybe you feel your partner doesn't understand or support you or you feel a failure (don't worry, it's natural)
fear – it's a huge responsibility having a new baby especially if baby isn't feeding, sleeping etc

mental such as

trying to juggle work/life/family/money etc
not knowing what to do for the best
not understanding how to communicate with medical professionals
I'm sure I've missed lots out but I hope I've given you an idea of what you can focus on with your tapping because we focus on those negative thoughts and feelings that we want to clear.
What is EFT?
EFT is a sort of 'East meets West' technique. We take the ancient Eastern art of acupuncture (but without the needles!)and add the Western art of talking therapy. So what happens is that we tap with two fingers on the acupressure points to clear the energy path blocked by negative thoughts. As we do that, we say the negative thought or feeling we want to clear.
So using the examples above; a thought might be "I don't know what to do" or "I don't understand" and a feeling might be "I'm confused" or "I'm worried".
Here are the tapping points for you.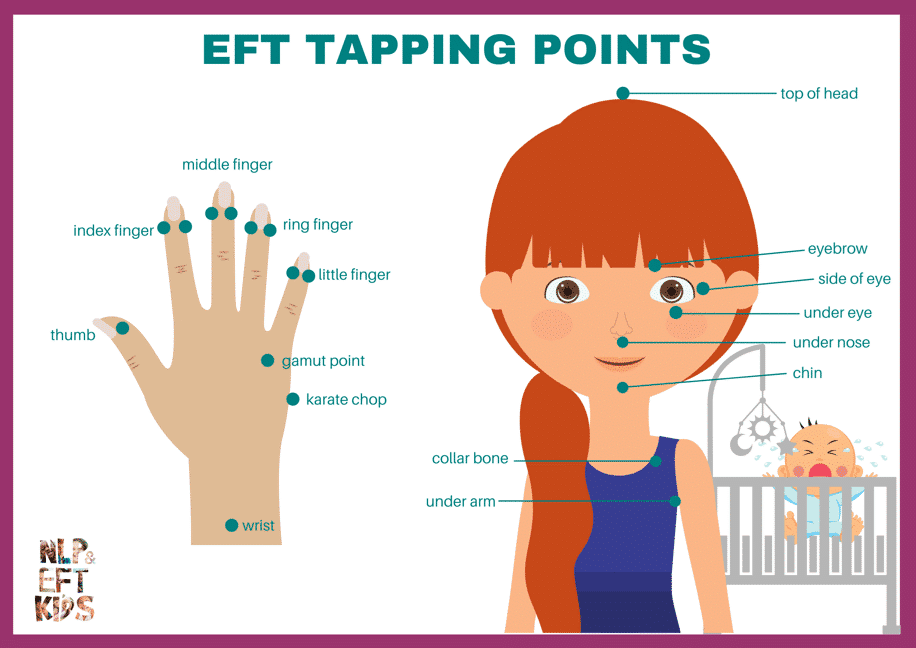 To begin with let's just get familiar with the points.
Start at the top of your head, using two fingers of your dominant hand to tap about 6 times on the crown (top) of your head.
Then tap with two fingers on the start of your eyebrow
Side of the eye
Under the eye
Under the nose
Crease of the chin
On the collarbone
Under the arm (at bra strap level)
Across the inside of the wrist
Practise these a few times so you don't need to be looking at the diagram.
Now what's the thought or feeling you'd like to get rid of?
…………………………………………………………………..
Where are you feeling it in your body?
…………………………………………………………………..
Now guess, what's the colour of this thought or feeling?
…………………………………………………………………..
It might be……
Red anger in my belly
Blue sadness in my heart
Or specific words
I don't feel loved, blue in my heart
I don't feel good enough, black in my tummy
How does this help me and my baby?
Use your intuition to guide you .
You will notice then when you are tapping to clear your negative thoughts and feelings, baby will calm as well because there is an energy between the two of you.
I would not recommend tapping while you're holding baby.
Even if baby is crying, put them in their cot so they are safe and you could stand nearby just saying the words and tapping.
Breathe deeply between each tapping round (all the points) and drink plenty of water as this helps the energy move and clear.
You will soon feel much better, calmer and able to cope. You'll sleep better too and so will baby.
Tapping reduces the cortisol level in your body, the 'fight/ flight/ freeze' response so you'll calm that down and this allows the energy to flow more effectively to your brain so you can think clearly and to your third eye so your intuition is more reliable.
When you tap on yourself, baby gets the benefit, it's called 'borrowing the benefits' and your partner can do it as well, doubling the benefit to baby. You can also do 'surrogate tapping' where you tap for baby. This means guessing what baby might be feeling and tap on yourself with those words.
Please don't tap on baby it may just be annoying for them and make them more agitated. Tapping on yourself will be very effective because of the magic energy connection you have with your baby.
They pick up on your feelings and mirror them so when you tap and calm down your emotions, they do as well. You are their main care giver. When you are anxious, they are anxious. So tapping works like magic.
Contact
Did you enjoy this article? If so, you can contact Judy about her services via the methods below.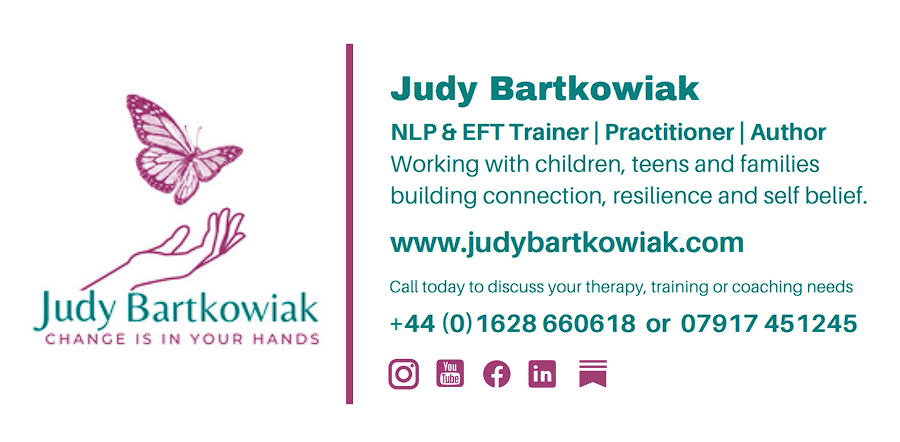 Judy Bartkowiak is an Energy Healer working with families in the Burnham/Taplow area
Website: www.judybartkowiak.com
Working with children, teens and their parents towards self-empowerment, happiness and a positive approach to mental, physical, emotional and spiritual health.
https://www.mybump2baby.com/wp-content/uploads/2023/08/EFT-Tapping.png
630
1200
Judy Bartkowiak
https://www.mybump2baby.com/wp-content/uploads/2016/10/Logo-MyBump2Baby_transparent-bg-1-1.png
Judy Bartkowiak
2023-08-23 12:12:57
2023-08-24 15:02:35
Get rid of those negative thoughts and feelings with EFT Tapping