How soon after loose bowels did you go into labor?

A question asked by lots of women and one that there isn't an easy answer for.
Do loose bowels mean my baby is coming soon?
Before birth, not every woman will experience loose bowels, in fact, only around 4% of women experience diarrhea and go into labor consequently. This makes the reasonable question a more unusual one.
Most women who experience diarrhea before labor also suffer from bad menstrual cramps and bowel problems while on their period. This is due to a hormone-like substance called Prostaglandins being released during both menstrual cramps, and similarly, labor contractions while giving birth. This is covered in more depth later in the article.
There are several other possible causes behind bowel problems at this stage in pregnancy and it can sometimes be difficult to distinguish your possible cause and whether it influences when you go into labor.
Could it be early labor?
Loose bowels alone are not a sign of when labor begins. However, it could potentially be a small symptom alongside others that you have not yet considered. Do you have these other labor signs:
A sudden surge of energy?
Vaginal discharge (not to be confused with a mucus plug AKA Bloody show)?
A "dropped" baby bump?
Braxton Hicks contractions (false labor)?
If you do, you could potentially be on the verge of labor, despite your water not being broken. But it is important to note that this is not the time to go to hospital if this is the case. Doctors will only welcome you to a delivery ward once your waters have broken, your contractions are regular (3 minutes apart), and you have lost your mucus plug (bloody show) which means active labor.
Other causes
If you are not in labor, there could be another reason behind your bowel problems.
Prostaglandins
Prostaglandins are a pseudo, hormone-like substance that are released to stimulate your uterus to contract. They also soften your cervix in preparation for dilation and eventually, birth.
On their period, some women experience diarrhea, and severe menstrual cramps, due to the hormone being released. So, during pregnancy and labor when your uterus is stimulated to contract, the Prostaglandins can also cause a loose bowel, in the same way it can happen during a period. This means that women susceptible to cramps and diarrhea on their period, are also likely to experience this during labor due to the hormone being more prominent.
So, in this case, it could be a sign that your body is releasing the hormones needed for labor and therefore you could be close to giving birth. However, it Is always important to consider other possible causes.
Other late hormone changes
There is a huge influx of other new hormones that are released while your body prepares for birth and this can cause your body to feel unwell, hence the loose bowels. For more details on this we recommend speaking to your midwife.
What have you eaten recently?
An unrelated cause could simply be something in your diet. Foods high in fat and eaten in a large quantity can cause nausea and an upset stomach, leaving you with loose bowels. Spicy and acidic foods can take the same effect on your body. So before jumping to the conclusion of labor, take a moment to reflect on any fatty, spicy, or acidic foods you have eaten in the last few days.
Big body clear-out?
Potentially the biggest myth for this topic is that the cause for pre-labor Diarrhea is your body flushing itself out in preparation for birth! While it may sound some-what logical, it simply isn't true although it may seem it.
This is confused with the release of Prostaglandins mentioned earlier.
What to do
It might be your last week or so of your pregnancy, and with lots to do, the last thing you want to be doing is sat on the toilet! We hear you and have put together a list of things you can be doing to look after your bowels and prevent those toilet troubles.
Throughout pregnancy in general
If you are not due anytime soon but already experiencing an upset tummy, it is important to make sure you are keeping yourself healthy to avoid implications closer to your due date.
Diet
Start by having a healthy diet. It may sound simple but some of the healthiest foods you can be eating may be causing you more time on the toilet than you think. As a rule of thumb, avoid foods high in fat, strong spices, and anything acidic. Foods that fall into these groups can alter the Ph of your digestive system and cause nausea or diarrhea. You can read more about foods to avoid in first month of pregnancy in our blog.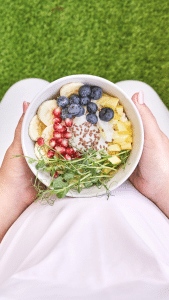 Medication
If a careful diet isn't helping, after visiting your midwife or GP, they may prescribe you with some over the counter anti-diarrhea medication. Always be careful though and take as advised from your health professional.
Avoid staying on the toilet
As silly as it may sound, staying on the toilet too long can cause more harm than good! While on the toilet, painful, itchy, swollen veins around your anus (hemorrhoids) can form and become very dangerous to somebody who is pregnant. So, avoid straining on the toilet for too long and only go when necessary.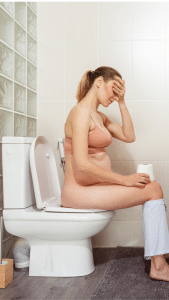 When your due date approaches
It goes without saying that while pregnant, especially as your due date approaches, it is absolutely vital to stay hydrated. But if you suffer with loose bowels, you are even more susceptible to the implications being dehydrated can cause. Having a uterine infection (UTI) can actually lead your body to have early contractions, which have the chance to cause labor and hence, an early birth.
If fully hydrated, try to eat little and often, rather than big stodgy meals. This means your body is able to digest the food more steadily and not develop blockages.
And finally, rest! Any unnecessary stress on your body is going to heighten any side-effects that you have. It's also important to remain calm in preparation for your birth so you don't become panicked at the last minute. You can also look at some ways to prepare for your labor.
When to call a doctor
Although visiting a doctor for this reason may seem extreme, there are some other symptoms that can signal that a bigger problem is on the horizon. Some symptoms include:
A fever
Vomiting
Dark urine
Extreme dehydration
If you do feel as though your loose bowels are not the only indication that something is wrong, we urge you to seek help from a doctor immediately.
And of course, after obvious signs of impending labor such as broken waters and regular contractions (3 minutes apart) we also urge you to go to hospital.
In summary…
Your loose bowel movements may not be any indication of labor at all and although it can be hard to distinguish if it is or not, the best thing we can advise you to do is be wary of certain foods, rest your body and stay hydrated.
But prepare yourself, this could also be a side effect of the labor inducing hormones that your body is releasing! Don't be fooled though, it could still be days before actual labor begins and your little one arrives!
https://www.mybump2baby.com/wp-content/uploads/2023/07/How-soon-after-loose-bowels-did-you-go-into-labor.png
630
1200
Gracie Charlesworth
https://www.mybump2baby.com/wp-content/uploads/2016/10/Logo-MyBump2Baby_transparent-bg-1-1.png
Gracie Charlesworth
2023-07-18 12:01:54
2023-07-19 14:54:37
How soon after loose bowels did you go into labor?