If you are looking to launch your own mummy business, you may have a business idea already, or you could have a million home business ideas floating around in your mind.
Before you decide on your business model, set your business up and start sharing it with people you know and love – you need to be sure that you choose the right business idea for you.
Launching a business takes time and can cost money, so you will want to make sure you are NOT jumping in the fire without considering the good and bad points of your future business.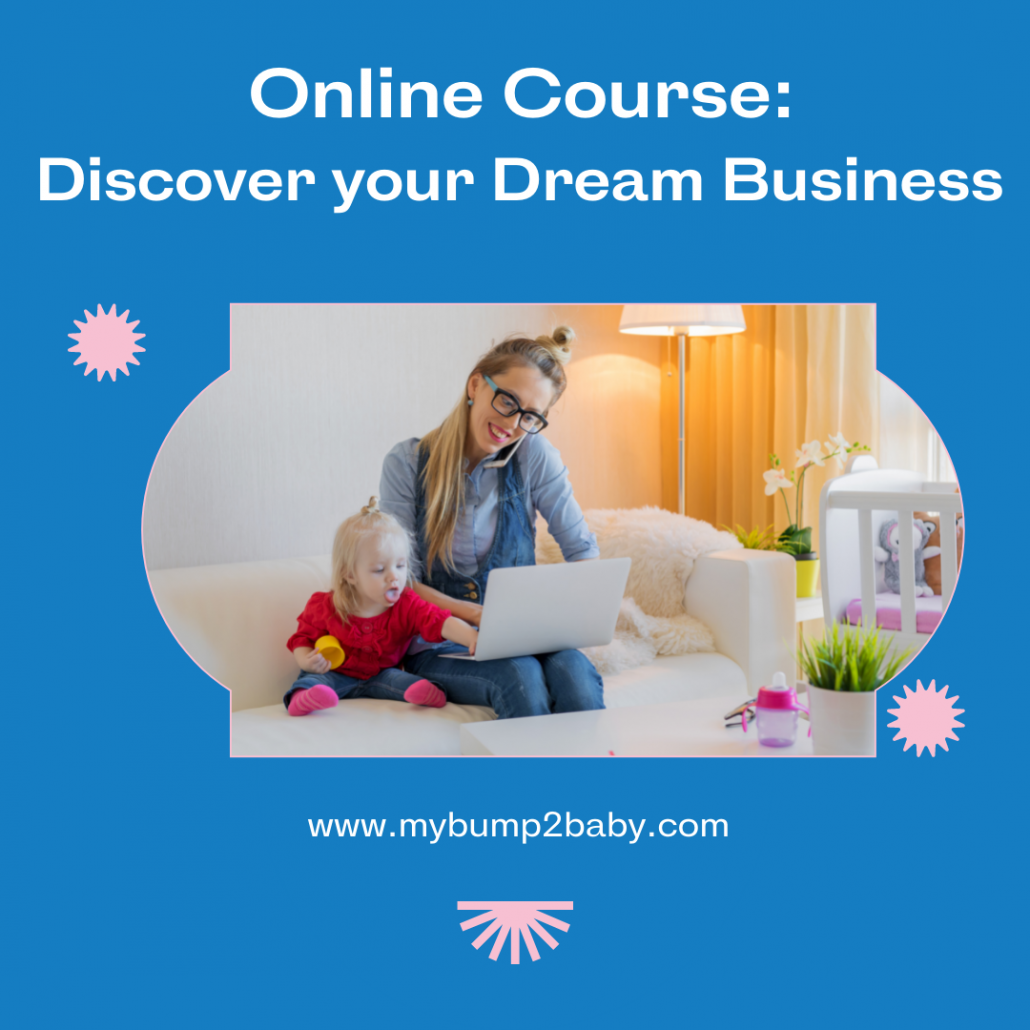 Choosing the Right Business Idea
Choosing the right business idea for you is ESSENTIAL if you want your business to be successful in the long-term.
I work with lots of mums on finding out what matters to them and what they long for when running a business. Through that, we work together to establish what their dream business might be.
Does the "dream business" you have in mind at this present moment truly match what you desire at this present time? Or are you simplifying it/imagining it on a smaller scale due to fear of failure or lack of resources?
I have an e-course that you can access here called "Finding your Dream Business". The feedback on this course has been incredible. It comes with a free course on market research at the moment too, saving you money and helping you with the next stage of your launch. You will have lifetime access to this course so you can revisit it as and when you want.
Business Ideas Can Be Overwhelming
I work with lots of mums on launching their own business confidently and successfully.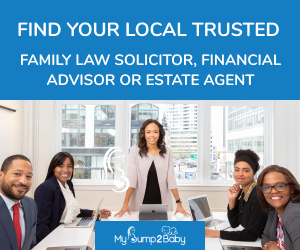 Sometimes, as mums, our ideas can seem so unreachable and overwhelming in our minds, and, as a result we NEVER create our dream businesses.
So many of the mums that I work with have had business ideas in their minds for years, but they have so many ideas that they get overwhelmed and end up not taking action.
Other mums I work with know their business ideas, have done their research, and are now ready to take the leap into the business world. It is at this stage that we will work together on a great business launch.
So, Are You Ready to Start a Mummy Business?
If you are reading this and you are ready to be your own boss, then GREAT!!!
If you are on maternity leave and you want to start a business, you can read our article on starting a business during maternity leave.
I want to reassure you that working from the comfort of your own home, managing your own schedule and creating the perfect work-life balance for you,  all whilst you earn money, is absolutely possible.
I know this is possible because I have done it. I launched my home business during maternity leave back in 2016 and I have never looked back.
My business is now one of the UK's leading parenting platforms and my business runs itself without me needing to be present, so I can work more closely with mums like you, to help you succeed in business.
"But…. I don't have money the money to launch my own business yet… "
This is a common reason why many mums put off starting their business. It's a bit like the chicken and the egg all over again, isn't it?
You want to start a business, and need money to do that, but you don't have money to start your business!!!
BUT, what if I told you that it is possible to launch a business with minimal investment?
Now, don't get me wrong, this isn't possible for every single business type, but, for most home business ideas, launching your own business without a large investment is very possible!!!
Below, in step one, I have mentioned a few small business ideas that would allow you to work your own hours, and begin your new business and new working life.
Here are my 3 steps to success:
Step 1 : Find Your Perfect Business Idea
There are so many business ideas for mums, and we are so lucky that, in this day and age, the world is literally at our fingertips. Only yesterday I was coaching a mum in Australia that found me online, and tomorrow, I have a coaching session with another mum in Dubai.
A few years ago, being able to reach these people would have been virtually impossible for me.
As one of my one-to-one or e-course clients, we would go through tasks first to identify what you want from your business, which is a very crucial step to launching a successful business, which many of the mums I work with have benefitted greatly from. If you want to access the Discover your Dream Business E-course you can do that here.
So, What Type of Small Businesses Are There For Mums?
Below are home-based business ideas for mums; these ideas would just need an internet connection and a computer, and then you can be on your way to earning extra income.
Craft Business – If you are a crafter, this could be a great option for you. You would just need some storage space to store your crafts and materials- whether it be in your home office or even in your bedroom.
Freelance Writing business – You could launch your own blog or write blogs for businesses. Being a freelance writer is very popular, especially today, where businesses are online and most of them are blogging or accessing a freelance writer for their blogs.
Consulting Business – Do you have expertise where you could offer consulting?
Food business – Are you a good cook? Could you teach people how to cook online?
Tutoring Business – Could you tutor people on a particular subject?
Virtual Assistant – With lots of businesses now outsourcing to freelancers, a virtual assistant could be a great move if you have previously worked in administrative services.
Sell Online Courses – Have you got knowledge that you can share? Why not create online courses? I create online courses for stay-at-home mums and small business owners that want to take their business to the next level.
Social media manager – Managing social media is huge for businesses, and it is also the perfect role for stay-at-home mums who want to work on their own terms. This is great if you are already a social media manager for a friend, or even if you have experience using social media.
Life coach – Life coaching is becoming increasingly popular, especially over the last few years. More people are now staying in more and investing in themselves. You may have life coaching experience or have taken courses, and, if so, this could be the perfect business for you.
Graphic Designer – With apps like canva and pic monkey, you may have a keen eye for design, and if that is the case, you could offer graphic design to small businesses.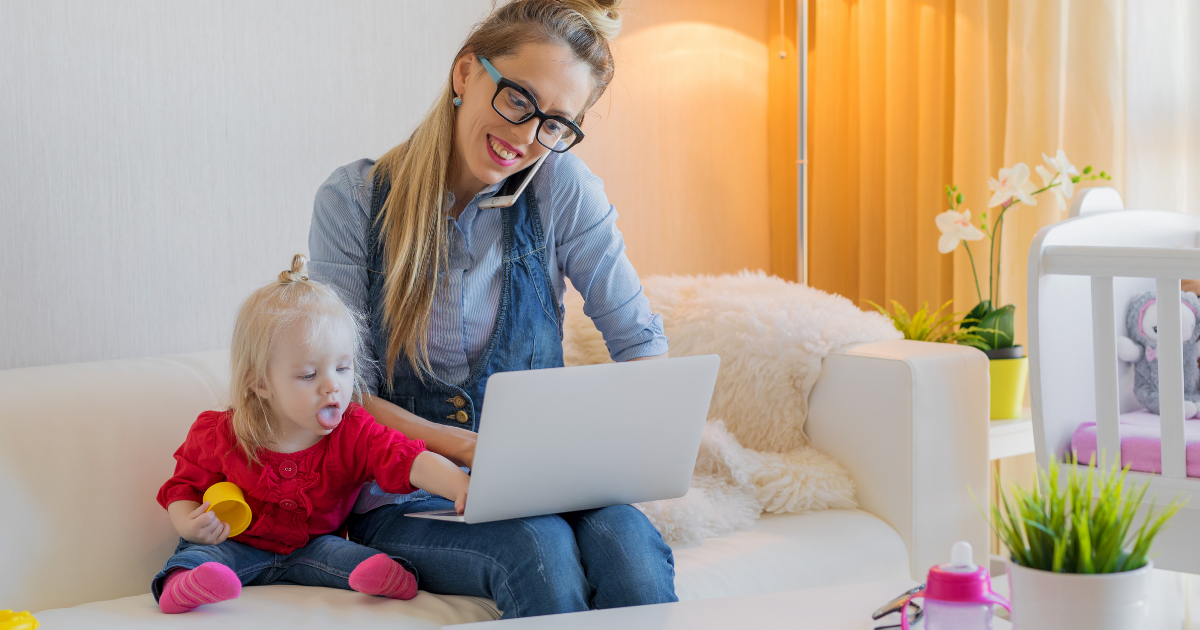 Step 2 – Does your business ideas fit into your life?
Understanding what you want from your business is absolutely critical before making any final decisions. What hours do you want to work? What flexibility do you want? What do you need to earn? These are all questions that you need to ask yourself before committing.
Step 3 – How much would your business cost?
How much can you spend on launching your business? Ask yourself, what do you actually need to run your business? Could you launch on social media, to begin with? Are you going to sell online or launch a physical store?
I asked some of my clients for  feedback on how they launched their own business, whilst being a stay at home mum:
"I was searching high and low for home business ideas and I had no idea there were so many but I didn't know enough about them to know which option was right with me. I decided to book Carla for a one to one session and we discovered that my perfect home business idea was a virtual assistant, I absolutely love my home business, I work around my family and now I work with Carla on taking my business to the next level with my own team of virtual assistants, my typical tasks include chasing payments, booking appointments and managing social media"
" I did graphic design at uni before I had kids, I then became a teacher, i still love teaching and I love graphic design too so I now am an online teacher and train people to create their own graphics. I use my teaching experience to work around my family"
"My target market is businesses, i researched skills that I needed to get my journey started in freelance writing, i enjoy writing and realised that I didn't need a huge investment to get started. I did choose to go through some formal training with experts as it did make me feel more confident and I also took on some flexible jobs to get me started and to build up my knowledge. I worked with Carla on leaving my day job and now i have flexibility around my young children is amazing"
If you would like to enquire about working with simple head to www.mybump2baby.com/contact or email me [email protected]
Carla is the founder of MyBump2Baby. Carla has a huge passion for linking together small businesses and growing families. Carla's humorous, non-filtered honesty has won the hearts of thousands of parents throughout the UK.
She has previously written for the Metro and made appearances on BBC News, BBC 5 live, LBC etc. Carla is a finalist for Blogger of the Year award with Simply Ladies inc. Carla is also the host of the popular Fifty Shades of Motherhood podcast and The MyBump2Baby Expert podcast.
https://www.mybump2baby.com/wp-content/uploads/2021/11/mummy-business.jpg
630
1200
Carla Lett
https://www.mybump2baby.com/wp-content/uploads/2016/10/Logo-MyBump2Baby_transparent-bg-1-1.png
Carla Lett
2021-11-02 20:07:10
2022-01-12 12:43:05
Mummy Business - 3 Things You NEED To Consider