Passive Income Ideas for Moms – 7 Ideas You can Start Now
I am truly passionate about sharing passive income ideas for moms because passive income streams give us, as moms, so much more freedom. More freedom to work around our families. Not only that, but it also gives us the ability to earn money while we are busy being a mom.
You might already have a business, and you are unable to take on any more clients, but you want to earn more income. You might be a stay-at-home mom wanting a few extra pennies without having to sacrifice your time, or you might just want to earn extra money so you can go on a few extra days out with the kids (or away from them) – whatever your reason for wanting more, you can start generating passive income fairly quickly if you put in the work.
But, is it really possible to earn an income whilst you are chilling watching Selling Sunset with a glass of Vino on a Wednesday evening once the kids are in bed?
The Good news is YES it is absolutely possible. I know this because this happens to me regularly.
Now, I know that earning money while watching any binge-worthy Netflix series might sound too good to be true. Although it is entirely possible, it does require some effort from you. But here's the good news: once your hard work is complete, and your creation is released to the wider world (thank you, internet), it will take minimal effort to maintain, and you'll have the chance to earn extra cash 7 days a week, 24/7.
Earning Passive Income Changed My Life
When I first became a mum, 2 things were really important to me (3 including the child obvs).
Time
Money
I am sure we can all agree that Statutory Maternity Pay is rubbish, and for many of us, going from a full-time (7 hours a day, 5 days a week income) to a measly hundred odd pounds a week is a kick in the teeth, especially after pushing a baby out of our lady garden (or having our stomach muscles cut open).
But once I learnt to survive on that amount (with thanks to my husband), I realised that maternity leave was the perfect time for me to create passive income streams that will give me a more freeing tomorrow.
From a young age, like many of us, I had been programmed to believe that we get paid per hour, which means the more hours we work, the more we get paid, and whilst that is true for the majority of the "employed" people we know, I realised that it didn't have to be my reality.
So when I launched my business (My Bump 2 Baby LTD), I worked on automation, passive income streams, and away from trading my time for money because I wanted to choose my hours. I wanted to be able to help people in my sleep, and I wanted to be able to take a step back whenever I needed to, without my income being directly affected as a result.
So, What is a Passive Income Stream?
A passive income is a source of income that requires little effort to maintain. Perfect for mums who have limited time available but want to earn a full-time income or even just some extra cash without having to sacrifice their time in the future.
Passive Income Ideas for Moms
If you are looking for a great passive income idea, you have come to the right place.
Earning from a passive income stream whilst you are busy making memories with your family sounds like a dream come true, doesn't it? And just 6 years after making that decision, here I am, typing away as I sit with a hot cup of cocoa, sharing my knowledge with amazing people like you because I CHOOSE to and not because I have to.
I am really passionate about helping mums earn money without having to trade their time with their family, and I can help you too 🙂
Here are My Best Passive Income Ideas for This Year
Blogging

Amazon KDP

Selling online courses

Selling digital products

YouTube

A directory

Membership website
I am now going to share more about each one, and why I think they are a great way to earn passive income online.
Blogging – The Cosiest Job in the WORLD.
Blogging income can be HUGE. I began my blog with my own cheap website, no money, and no experience.
Of course, I had to try, test, and work everything out, which took years, with a lot of tantrums and tears along the way, but I got there.
My blog generates a passive income of around 7k per month in ad revenue without me needing to be present. I have just spent 6 weeks off with the kids (wine was needed), and I had my biggest month in blogging income, and I worked less than 10 hours in the whole of August (crazy eh?).
There are tons of other ways you can monetize your blog too, like working with the brands you love, sponsored content, and affiliate marketing too, but today we are talking about passive income.
Amazon KDP Journals and Notebooks
Amazon KDP is a great way to run a business without having to invest in stock. The only investment you need to make is your time initially.
All you do is create a journal, a notebook, or a book of some kind; you then self-publish it to the Amazon website, and every time someone orders, Amazon takes care of the printing and posting, and you get paid royalties.
We have some awesome journals available: from a fertility journal, a pregnancy journal, a maternity leave journal, and a busy mum journal – this is very new to me (currently under launch), so I will let you know how this goes. But the good news is you don't need a website either, and you can design your creations from your phone on an app like Canva and upload to Amazon and even create a Sendowl account and sell on there.
If you are a busy mum, you can check out my planner here.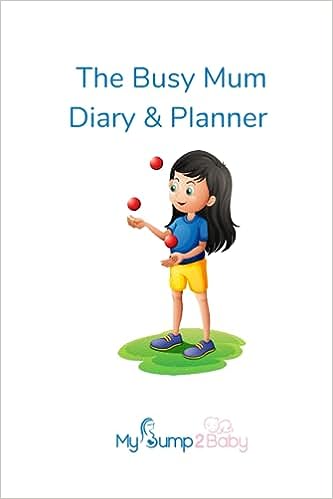 Sell an online course
My blogging course has been an incredible passive income stream for me, I decided that once I got over 50,000 visitors to my blog each month, I would share what I learned along the way (minus the tantrums and tears). Last year we reached that goal, so I decided to create a course helping other people launch successful blogs.
Once your course is outlined and the videos and handouts are created you will be able to sell the same course over and over and over again with minimal input from you.
My clients sometimes struggle with creating online courses, they are unsure what to create a course on. It is easy to forget, but we all hold knowledge someone else would like to know. you might think you don't but think about things people always ask you, Perhaps you worked in sales, and you were a top seller, or maybe you are good on computers and could teach someone else struggling. Courses are a great way to share your knowledge and start making money without giving up your time.
Sell Digital Products
In a world where everything is online, digital products have become a hugely popular way to generate passive income online. If you have an eye for design and you love creating you can get started and make money with Canvas on a free version.
You might want to create a potty training chart or a baby development chart, once the digital product has been created and uploaded somewhere that someone can buy it and you can make sales all day long (Using Sendowl is a great way to sell your product if you don't have a website).
Start a YouTube Channel
Imagine recording a video and getting paid long after recording and publishing. I launched my YouTube channel whilst pregnant with my little one, and it is growing into a great additional income stream. People find my videos long after they have been created generating me a passive income each day. Again, you won't get monetised on YouTube overnight, but by dedicating time and sharing videos regularly you will soon get monetised and start earning a decent amount.
An Online Directory
Although My Bump 2 Baby was launched as a blog in 2016, we also added a directory to it the same year to support both pregnancy to preschool businesses and parents and parents-to-be. This did require us to invest funds to get the directory created.
As the directory grew, we were constantly asked about boosted listings, and now we charge a small fee to list in our directory we also have promotional boosted business listing opportunities too, the businesses add their own listing via our directory which means there is no involvement from us, again a completely passive income with the listings.
Memberships
You may already have a business that relies on one off sales, if that is the case think about introducing a membership for your clients so you can start generating income on a subscription basis, this makes things a lot less stressful when sales are slow.
We have a subscription model in our directory and it is a great way to get recurring income.
I hope you have found this blog on passive income ideas useful and if you would like more tips join my passive income mailing list where I share lots of juicy tips and support.
Remember you can have it all – You just have to choose to!!!!!
Carla is the founder of MyBump2Baby. Carla has a huge passion for linking together small businesses and growing families. Carla's humorous, non-filtered honesty has won the hearts of thousands of parents throughout the UK.
She has previously written for the Metro and made appearances on BBC News, BBC 5 live, LBC etc. Carla is a finalist for Blogger of the Year award with Simply Ladies inc. Carla is also the host of the popular Fifty Shades of Motherhood podcast and The MyBump2Baby Expert podcast.
https://www.mybump2baby.com/wp-content/uploads/2023/09/passive-income-ideas-for-moms.png
630
1200
Carla Lett
https://www.mybump2baby.com/wp-content/uploads/2016/10/Logo-MyBump2Baby_transparent-bg-1-1.png
Carla Lett
2023-09-07 12:19:16
2023-09-14 21:05:49
Passive Income Ideas for Moms - 7 Ideas You can Start Now