What You Need to Know About Labour
Disclosure: Some of the links within this article may contain affiliate links, meaning at no cost to you, we may get commission if you decide to make a purchase through one of the links within the article.
What you need to know about labour…
Unless you have been pregnant before you have no idea what labour will be like and the unknown is quite scary. You find yourself asking your friends and family for their childbirth stories and quite frankly a lot of the time you wish you had never bothered, they all seem to finish their stories with "but it's so worth it in the end" which really does not help the feelings of panic and anxiety at all. So what do you actually need to know about labour?
When I was pregnant I would ask the midwife and friends… "how will I know when I'm in labour" and their responses were "you'll just know"…. GREAT thanks for that!!!!
Signs and Symptoms that You Could Be Going in to Labour
There are a few signs that labour is starting these can be;
Waters breaking
Back ache
Urge to go to the toilet (the baby is pressing on your bowel)
A bloody show (the plug of mucus from the cervix has come away)
Regular contractions
What happens when your waters break?
After the many pregnancy chick flicks I have watched in my time, I always assumed that there would be a huge gush of water just before labour begins however this is not the case most of the time the waters break during labour.
If your waters do break you may feel a slow trickle, or a sudden gush of water that you cannot control. It can be difficult to tell amniotic fluid from urine as it can be similar in colour (straw like colour). When your waters break, the water may be a little blood-stained to begin with.
Keep a close eye on the colour of the waters, it should not be cloudy or smelly, also ensure that you are not losing blood as this could mean that you and your baby require urgent attention.
Remember that without amniotic fluid your baby is no longer protected and there is a risk of infection. If your waters break before labour starts, phone your midwife right away.
What Do Contractions Feel Like?
Contractions are your uterus tightening and then relaxing, they are often described as a stronger version of period pains. The contractions are pushing your baby down and opening your cervix (entrance to the womb), ready for your baby to go through. When you start having regular and more painful contractions that feel stronger and last more than 30 seconds, labour may have started.
It is likely that your midwife will advise you to stay at home until your contractions become frequent. Call your midwife when your contractions are lasting between 30-60 seconds and occurring every five minutes, call your midwife for advice.
Tips on How to Cope Once Labour Begins
Keep moving – this can take your mind of the pain and the gravity helps pull the baby downwards.
Drink plenty – Keep energy levels up by drinking plenty of sports drinks.
Have a snack – Eat snacks if you can to help with your energy levels if you feel up to it. This can sometimes be difficult as many women don't feel very hungry at this time.
As the contractions get stronger and more painful, you can try relaxation and breathing exercises – your birth partner can help by doing these with you.
Your birth partner can rub your back as it can help relieve pain.
If you have a tens machine start using it now.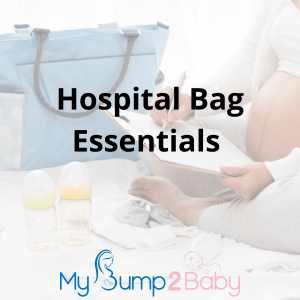 So When should you go to the hospital or birth centre?
If you are experiencing contractions and you are unsure when you should go to the hospital, it is best to call the maternity unit for advice. The last thing you want to do is drive all the way to the hospital to be told to go home.
If you are having contractions but your waters have not yet broke. You will most likely be told to wait until your contractions are:
regular and strong
about five minutes apart
lasting about 45-60 seconds
It is important to remember that second babies often arrive more quickly than the first so phone your midwife a little earlier than you normally would.
Don't forget your notes and remember to phone the hospital or unit before leaving home so they are aware that they are expecting you.
If you are planning a home birth, follow the procedure you have already agreed with your midwife.
Take a tour of your maternity unit before the big day
Speak to your midwife about having a tour of the maternity unit before the big day.
If you have any special requests that you would like during your childbirth experience speak to your midwife so that she can ensure your desires are met or if they cannot be met she can explain why they can't.
Maternity Unit
Take your notes to the maternity unit's reception. You will then be taken to the labour ward where you can change into a hospital gown or other clothes of your own. Choose something that is loose, light and ideally made of cotton so that you don't get too hot. Ensure you are keeping your energy levels up by having plenty of snacks and energy boosting drinks.
The Midwifes Examination
The midwife will ask you for more information on what has been happening and then she will proceed to examine you further;
The midwife will:
take your pulse, check your temperature and blood pressure.
check your urine
check the baby's position by feeling your abdomen.
record or listen to your baby's heart
check how far your labour has progressed by completing an internal examination to see how far your cervix has opened.
These checks will be repeated at intervals throughout your labour.
Remember to show the midwife your birth plan so they can try and meet your wishes.
Delivery rooms
Delivery rooms have become a lot homelier than they used to be. Most delivery rooms now have chairs, bean bags, birthing balls and mats. This means that you can move about in labour and change position to get more comfy. Some have baths, showers or birthing pools. You should feel comfortable in the room where you are giving birth.
Water births
If you are interested in a water birth speak with your midwife about this beforehand to ensure that your hospital has the facilities for this and they can make the arrangements for this well in advance.
Carla is the founder of MyBump2Baby. Carla has a huge passion for linking together small businesses and growing families. Carla's humorous, non-filtered honesty has won the hearts of thousands of parents throughout the UK.
She has previously written for the Metro and made appearances on BBC News, BBC 5 live, LBC etc. Carla is a finalist for Blogger of the Year award with Simply Ladies inc. Carla is also the host of the popular Fifty Shades of Motherhood podcast and The MyBump2Baby Expert podcast.
https://www.mybump2baby.com/wp-content/uploads/2016/09/what-you-need-to-know-about-labour.jpg
1631
1165
Carla Lett
https://www.mybump2baby.com/wp-content/uploads/2016/10/Logo-MyBump2Baby_transparent-bg-1-1.png
Carla Lett
2016-09-26 19:49:47
2023-02-02 13:17:36
What You Need to Know About Labour