How I Became a Baby Wearing Mummy | Kosie Carriers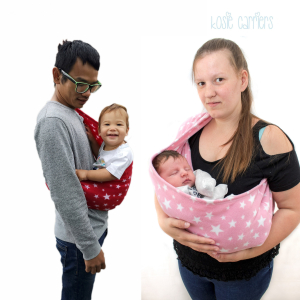 With lots of childcare experience and being a qualified maternity nurse I knew exactly how I was going to parent. My baby was going to be well-balanced, content and in a routine although able to cope with change. . . Then I met my daughter.
From the moment she was born I knew something wasn't quite right. The nurses tried to help her settle by putting her to sleep on her stomach in the special care baby unit (don't panic she had a breathing monitor so it was safe to do so!) however nothing would soothe her. I tried everything from a dummy to rocking but the only time she was not crying was when she was feeding or asleep in my arms. Eventually after trips to the doctors achieved nothing, I took her to the out of hours where a paediatrician diagnosed her with reflux and prescribed medicines. The medicines took the edge off but she still needed the comfort of my arms and regular feeding as she was vomiting most of the food back up.
Then my mother in law came over and brought the sling she had made for me. I politely thanked her and didn't think much of it. I never saw myself as a baby wearing mummy, I believed that baby wearing encouraged babies to be too dependent on the care giver. The next day I wanted to prepare some food for lunch and with every time I put my daughter in the bouncer leading to crying I put the sling on and began making lunch. Before I knew it my daughter was asleep and I was able to prepare lunch and do a little bit of housework.
After a few days of using the sling I realised that I could go one step further as after a while of pottering around I was able to lift the sling over my shoulder and put my daughter down while still having the sling around her so she was kept snug and warm and didn't notice my body heat disappearing therefore staying asleep! Now there was still times where she wouldn't settle or the transfer to the cot would fail but it was a drastic difference to having her in my arms 24/7.
From then on the sling went everywhere with me and I would use it as a breastfeeding cover, a blanket and a sling. It was referred to as my little girls' happy place. I was able to breastfeed her walking around the shops and nobody would notice a thing! Sometimes she would throw up but that wasn't too much of a problem as I would put it on a quick wash and it would be ready to go again.
Well when I read all the books studying childcare and preparing to be a parent, no one mentioned that my baby may not have read those same books. Parenting is hard but it is the most rewarding thing in the world. Using the sling made it a little bit easier for me and I'm glad I get to share that with other parents though my website.
Now Amy owns the fabulous Kosie Carriers in a bid to support other parents.
 You can visit their website here
 Follow them on
Carla is the founder of MyBump2Baby. Carla has a huge passion for linking together small businesses and growing families. Carla's humorous, non-filtered honesty has won the hearts of thousands of parents throughout the UK.
She has previously written for the Metro and made appearances on BBC News, BBC 5 live, LBC etc. Carla is a finalist for Blogger of the Year award with Simply Ladies inc. Carla is also the host of the popular Fifty Shades of Motherhood podcast and The MyBump2Baby Expert podcast.
https://www.mybump2baby.com/wp-content/uploads/2019/03/cover.jpg
2560
2560
Carla Lett
https://www.mybump2baby.com/wp-content/uploads/2016/10/Logo-MyBump2Baby_transparent-bg-1-1.png
Carla Lett
2019-03-28 15:03:57
2019-03-28 15:10:41
How I Became a Baby Wearing Mummy | Kosie Carriers